From the casual watch BABY-G for active women, a new sports line "G-SQUAD" ※ will comfortably support everyday exercise and training .
A line up with feminine coloring with mat texture and good compatibility with asure leisure wear. Beginning all-black all white, basic navy beige lavender color combines indigo pink gold indices with vapor-deposited finish, designs you can choose according to style and preference. Also, make the case thinner so that it will not interfere with exercise. It also has an auto double LED light that is useful for workout in the dark and has practicality.
Timer with 3-axis acceleration sensor, timer capable of measuring up to 5 × 20 sets, maximum 200 lap memory, step reminder function to inform you that the number of steps is small during a certain period of time, daily health management and sports Equipped with useful features at times. In addition, BABY-G's first smartphone link function is installed, and daily activity record management and exercise setting are realized by daily activity record management and exercise setting from the smartphone side in cooperation with the special application "BABY-G Connected" by Bluetooth® communication Did. It is possible to calculate calorie count and target step count, furthermore create / transfer timer menu, step log with 5 step exercise intensity, store stopwatch measurement data, check all data at calendar. By cooperating with applications, we are also pursuing the essential functions of the clock such as automatic time correction.
It is the appearance of New BABY-G to support women's active healthy everyday with useful functions and fresh designs.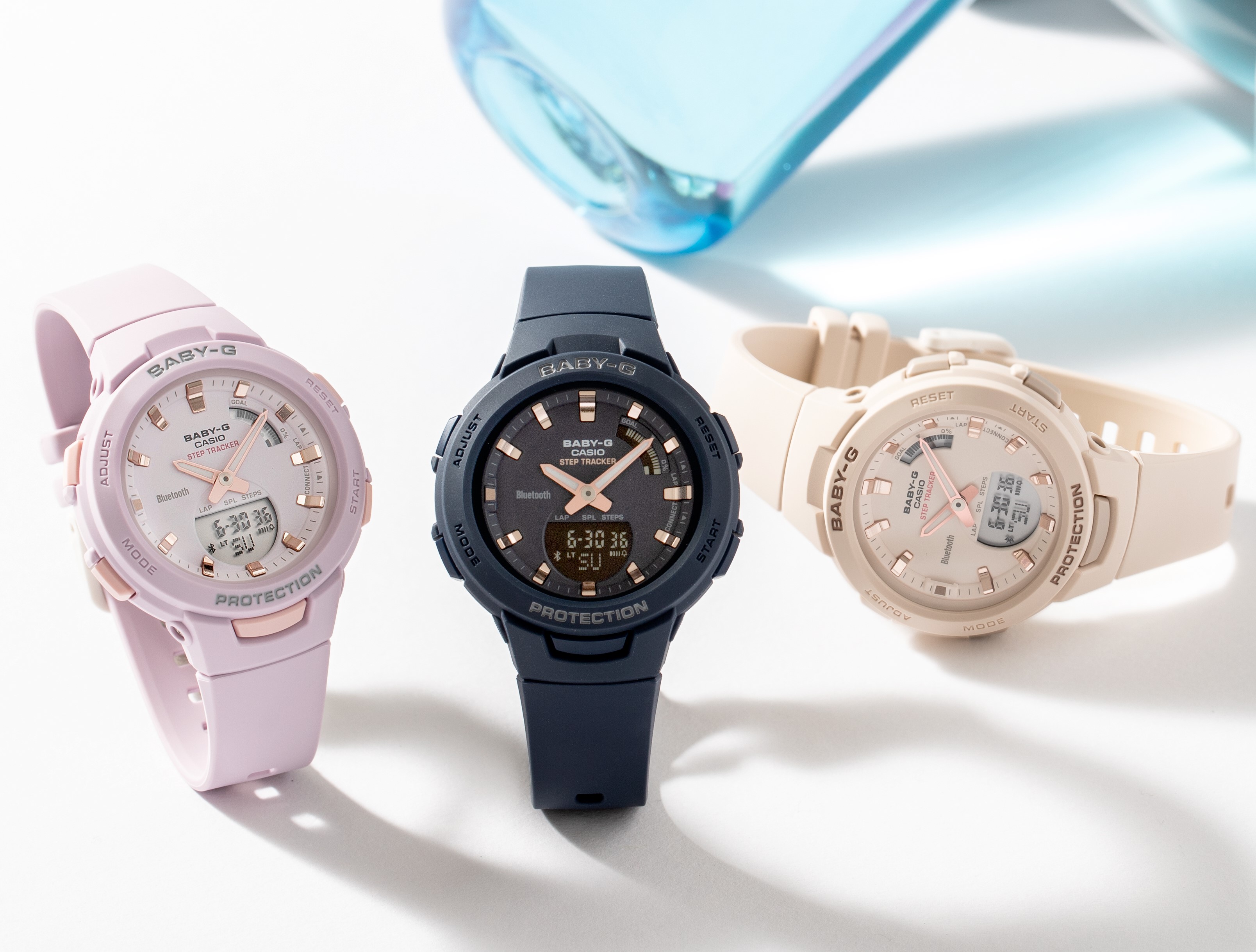 ---
BSA-B100 Profile / Casio Baby-G
Average Amazon Price: $100 (yes, we may earn a commission on qualifying purchases from our links to Amazon)
Year of first release: 2018
Nominations: best design, best functions, best size, best for sports
The most distinctive specs:
– 100-meter water resistance (good for swimming but not for deep diving)
– Baby-G Connected App (you may manage all watch settings through your phone)
– Mobile link (Wireless linking using Bluetooth(R)) (for time sync with your phone data)
– Step count (A built-in 3-axis acceleration sensor begins counting steps the moment you start to walk.)
– Stopwatch with Target Time alarm (lap/split display switching, up to 10 Target Times, 200 lap time records)
– Interval timer with up to five time settings (Auto repeat up to 20 times, skip, auto start, alert sound)
– Super Illuminator (double) illuminates the face and digital display
– Dual time (Home time swapping)
Other colors and full specs: BSA-B100 Wiki Page