A pair model using Red as a theme color appeared from G – SHOCK which continues design evolution by fusing with various cultures of the world and casual watch BABY – G for active women.
It is a brand color of G – SHOCK and it is designed using Red which gets high support from the street. As a whole treated with glossy red treated red, the gold coloring on the dial gives an impact. Below the clear night sky in mid-winter, I imagined a brilliantly shining illumination and night scenery, and it is a pair model that I designed G-SHOCK, BABY-G.
For the base model, the GA-100 whose liquid crystal is symmetrically designed in the big case, BGA-195 which the studs dial emits a brilliant shine is adopted. In addition, gold IP IP treatment was given to the beauty tablets and sticking to the color of the details. By designing the accent coloring, I finished it with coolness in the sparkle.
As a pair model in winter, it is an appearance of a pair model active with casual fashion scene, with accent on hand.
GA-100VLA-4A
BGA-195VLA-4A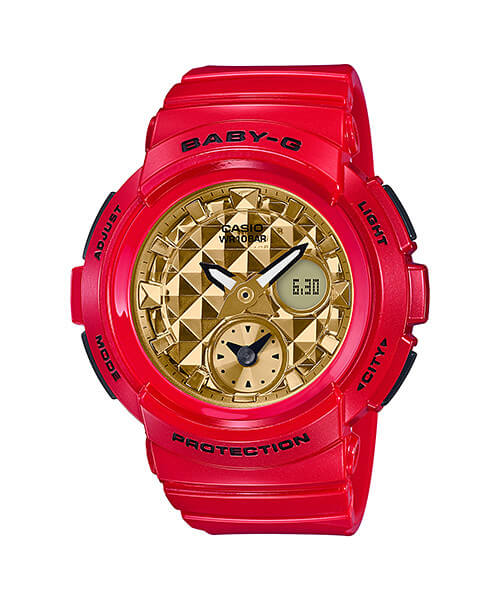 ---
BGA-195 Profile / Casio Baby-G
Average Amazon Price: $110 (yes, we may earn a commission on qualifying purchases from our links to Amazon)
Year of first release: 2016
Nominations: best design, best price
The most distinctive specs:
– 100-meter water resistance (good for swimming but not for deep diving)
– World time (31 time zones)
– Stopwatch (Measuring capacity: 59'59; Measuring modes: Elapsed time, split time, 1st-2nd place times)
– Countdown timer (Countdown range: 60 minutes)
– Hand shift feature (Hands move out of the way to provide an unobstructed view of digital display contents)
– Full auto-calendar (to year 2099)
Other colors and full specs: BGA-195 Wiki Page