G-SHOCK's footprint condenses a variety of practical functions in a small wristwatch, such as strengthening tough specifications starting with impact resistance performance of drop strength, timekeeping functions such as stopwatch, sensors measuring temperature, atmospheric pressure, altitude, etc. It was a history of going. In the 2000s, it also has a function to receive standard radio waves and a solar charging function. In addition, dust- and mud-proof mechanisms, and mechanisms to protect the module from the three forces of shock, centrifugal gravity, and vibration were also developed, and the structure became more complicated.
One of the turning points was the "GB-6900", which works with smartphones released in 2012. With the increase in functionality and the increasing difficulty of operation, smartphones that had become completely popular and became a living infrastructure were selected as G-SHOCK partners.
Pursue smart operability by selecting Bluetooth Low Energy, which consumes less power, as a communication protocol, and replacing frequently used operations, such as automatic time correction, stopping voice call operation, and searching for paired terminals, with apps. . At that time, it showed a different direction from the smart watch that was being developed in the world at the time, and proposed a practical way to use the next-generation watch, which is unique to G-SHOCK.
Currently, the number of supported models is increasing, mainly in the top series, and the app is also being upgraded. It supports a wider variety of functions, such as setting alarms and timers, and switching between home time and world time displays. On the other hand, we have also developed "Smart Access," which enhances the operability of the G-SHOCK body. The combination of an electronic crown switch and a multi-motor makes it possible to intuitively operate multiple functions on analog watches.
Such improvements in operability have many effects on the design. The buttons and display can be simplified, and the range of analog model designs has expanded. Pursuit of smart operability, not just accumulation of functions. The evolution of G-SHOCK can be felt from these details.
Middle-size model that realizes a novel exterior by laser engraving technology based on the "MTG-B1000D" with layer composite band specifications. Uses a "new core guard structure" that protects the module with a box-shaped frame. Case size W51.7 × H55.8mm, 20 ATM water resistant.
Black IP is applied to the case and band and laser engraved with three types of dot patterns of different sizes. Finished with a graphical camouflage pattern
The hands, indial, and crown are unified in a cool-colored gold color. Perfectly matches the camouflage pattern
---
MTG-B1000 Profile / Casio G-Shock
Average Amazon Price: $750 (yes, we may earn a commission on qualifying purchases from our links to Amazon). Check the Price on Amazon →
Year of first release: 2018
Lineup: MTG (MTG means METAL-TWISTED G-SHOCK. All watches incorporate new core guard structure. An inner case is installed in a box-shaped frame formed by screws that securely connect the bezel, case back and band connection pieces. A stronger structure is realized by absorbing shocks with the exterior instead of the core. Besides, MTG watches belong to PREMIUM line and have the best materials, functions and technologies.) All G-Shock MTG Watches →
Best for: Office and Formal Wear, Top in G-Shock Lookbooks
The most distinctive specs:
– 200-meter water resistance (good for swimming but not for deep diving)
– G-SHOCK Connected App (you may manage all watch settings through your phone)
– Mobile link (Wireless linking using Bluetooth(R)) (for time sync with your phone data)
– Smart Access (the system for analogue movements achieves multi-functionality and easy operability simultaneously through a combination of multiple motors and an electronic crown)
– Tough Solar (CASIO's original solar-charging system converts not only sunlight but also light from fluorescent lamps and other sources into power)
– Radio-controlled Watch; Multi band 6 (additional way for time sync. This watch receives time calibration radio signals that keep the displayed time accurate)
– TRIPLE G RESIST (Shock resistant, Centrifugal force resistant, Vibration resistant)
– Core Guard structure (integrates the lugs and pipes that connect the band into single pieces, creating a wall that isolates the watch's module from impact. The resin of the center case is also reinforced with carbon fibers, which further enhances module protection, while reducing overall weight)
Other colors and full specs: MTG-B1000 Wiki Page
Only Limited Editions: MTG-B1000 Limited Editions
G-Shock MTG-B1000 Rating System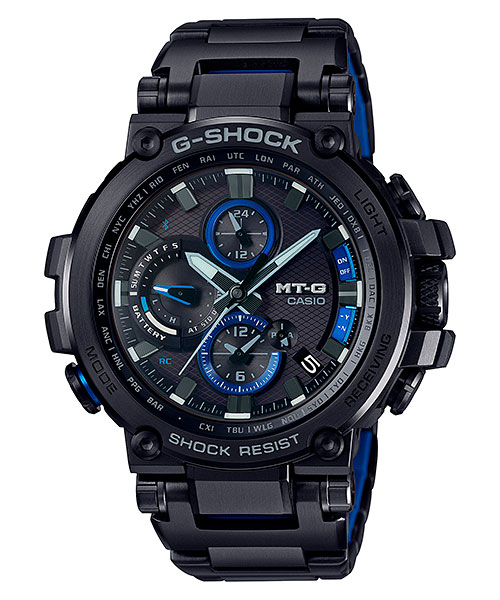 | | |
| --- | --- |
| Size | ★★★★ |
| Weight | ★★★★★ |
| Functions | ★★★★★ |
| Materials | ★★★★★ |
| Battery Years | ★★★★★ |
| Price | ★★★★ |