Enjoy the G-Shock GST-B200 official video. The watch was first released in 2019 and is loved for Carbon Core Guard structure and many other features.
GST-B200 belongs to G-STEEL G-Shock Collection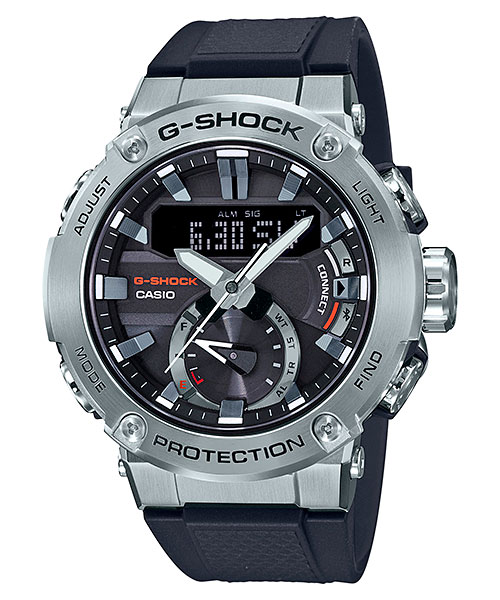 G-Steel are refined watches and combine high-quality materials with G-Shock's standard of toughness. Its layered guard structure boasts a double-layer bezel construction of stainless steel and resin or resin and fine resin which delivers the hard, sleek beauty of metal while retaining the impact absorption of resin.
---
GST-B200 Profile / Casio G-Shock
Average Amazon Price: $270 (yes, we may earn a commission on qualifying purchases from our links to Amazon). Check the Price on Amazon →
Year of first release: 2019
Lineup: G-STEEL (G-Steel are refined watches and combine high-quality materials with G-Shock's standard of toughness. Its layered guard structure boasts a double-layer bezel construction of stainless steel and resin or resin and fine resin which delivers the hard, sleek beauty of metal while retaining the impact absorption of resin.) All G-Shock G-Steel Watches →
Best for: Office and Formal Wear, Top in G-Shock Lookbooks
The most distinctive specs:
– 200-meter water resistance (good for swimming but not for deep diving)
– Tough Solar (CASIO's original solar-charging system converts not only sunlight but also light from fluorescent lamps and other sources into power)
– G-SHOCK Connected App (you may manage all watch settings through your phone)
– Mobile link (Wireless linking using Bluetooth(R)) (for time sync with your phone data)
– Carbon Core Guard structure (integrates the lugs and pipes that connect the band into single pieces, creating a wall that isolates the watch's module from impact. The resin of the center case is also reinforced with carbon fibers, which further enhances module protection, while reducing overall weight)
Other colors and full specs: GST-B200 Wiki Page
Only Limited Editions: GST-B200 Limited Editions
G-Shock GST-B200 Rating System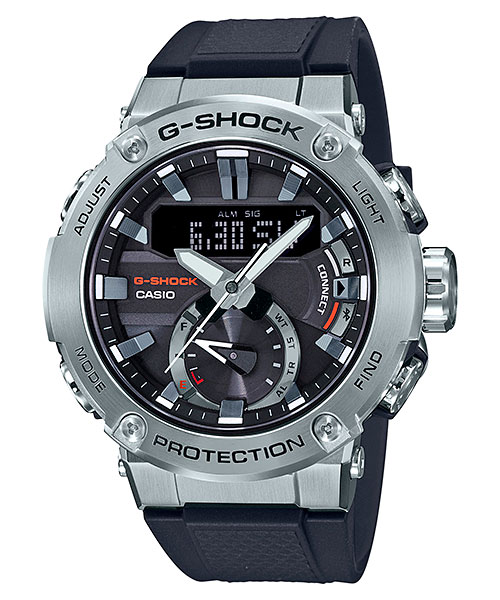 | | |
| --- | --- |
| Size | ★★★★ |
| Weight | ★★★★★ |
| Functions | ★★★★★ |
| Materials | ★★★★★ |
| Battery Years | ★★★★★ |
| Price | ★★★ |