Enjoy only the most distinctive features of G-Shock GBX-100 Series. The Watch belongs to G-LIDE Model Range and first appeared in 2020.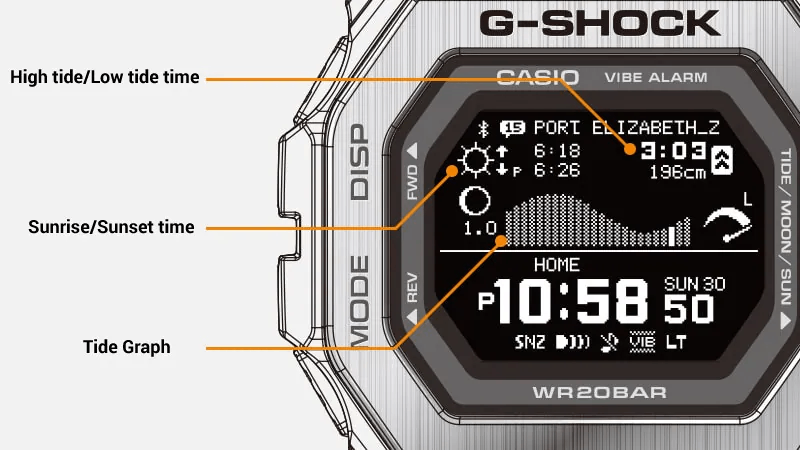 Measurement Functions. Functions include Tide Graph and Moon Data, along with training features that measure distance travelled, elapsed time, pace, and more. A phone app lets you check tide information for any of a selection of major surfing spots around the globe.
High-Resolution MIP LCD. The MIP LCD is more than enough for data-heavy display with both numbers and graphics. Tide and moon data, the current time, various measurements and more are all displayed in high resolution.
Forged Stainless Steel Bezel. The double-layer bezel is made with a combination of stainless steel and resin. The surfaces of stainless-steel parts feature a hairline and honed finish.
Setting tide point via smartphone. Available to set easily on the watch by selecting from approximately 3300 major surf point around the world that are built into the dedicated application.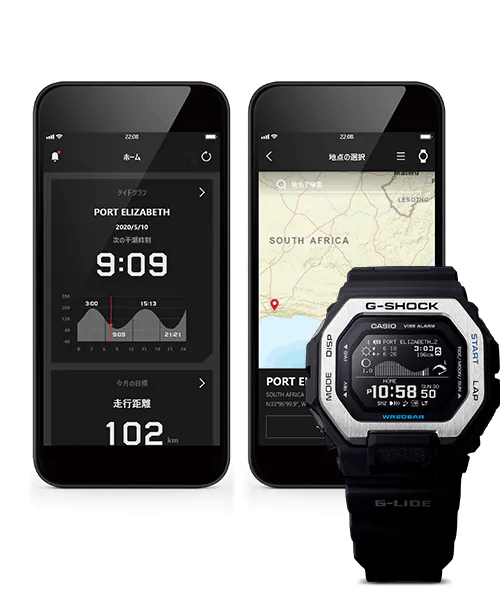 G-SHOCK MOVE FREE Smartphone App. -Tide Point Setting
-Automatic time adjustment*
-World Time for over 300 cities*
-Phone Finder
* Updating of internal data according to the latest time zone/ daylight saving time information
Shock Resistant. Shock-resistant construction protects against impact and vibration.
---
GBX-100 Model Range *may be updated
*Want to be the first to know about new G-Shock Updates? Here we store all recent Monthly G-Shock Updates →
---
GBX-100 Profile / Casio G-Shock
Average Amazon Price: $190 (yes, we may earn a commission on qualifying purchases from our links to Amazon). Check the Price on Amazon →
Year of first release: 2020
Best for: Top in G-Shock Lookbooks
Lineup: G-LIDE (Extreme Sports Line with Tide Graph, Moon Data, high tide and low tide times, and sunrise and sunset times. Designed and specifically made for the surfing market. Surfers like G-LIDE for unique surfing functions and for good water resistance). All G-Shock G-Lide Watches →
Nominations: best design, best functions
The most distinctive specs:
– 200-meter water resistance (good for swimming but not for deep diving)
– MIP (Memory In Pixel) LCD (improves display readability of standard functions like Tide Graph, Moon Data, high tide and low tide times, and sunrise and sunset times)
– G-SHOCK Move App (Increase motivation by managing measurement data and training history with the app, which automatically creates training plans tailored to set targets)
– Mobile link (Wireless linking using Bluetooth(R)) (for time sync with your phone data)
– Training Function (Display of distance, speed, pace, and other calculated values based on accelerometer, auto/manual lap times, Auto Pause, target alert setting (time, calories burned) on/off, training display customization (elapsed time, distance, pace, lap time, lap distance, lap pace, average pace, speed, average speed, calories burned))
– Step count (A built-in 3-axis acceleration sensor begins counting steps the moment you start to walk.)
– Moon data (moon age of the specific date)
– Tide graph (tide level for specific date and time)
– Sunrise, sunset time display (Sunrise time and sunset time for specific date, daylight pointers)
Other colors and full specs: GBX-100 Wiki Page
Only Limited Editions: GBX-100 Limited Editions
G-Shock GBX-100 Rating System