The Rangeman seems to be the limited edition model of choice these days. Here's the GW-9400FBJ-4JR with an orange case and blue trim. This limited edition has been on the radar for a while and has just been announced by G-Shock Japan for July.
Year of Release: 2015
Collaboration Company: http://g-shock.jp/special/kobe/
The watch is a collaboration with the Kobe City Fire Bureau and is also known as the "Kobe City Fire tie-up model." The colors match the Fire Bureau's disaster prevention uniforms and helmets. The EL light displays Kobe City Fire Bureau with a rescue rope graphic when activated and the case back sports a special logo emblem. The GW-9400FBJ-4JR features Tough Solar, Multi-Band 6, Triple Sensor, and carbon fiber insert band.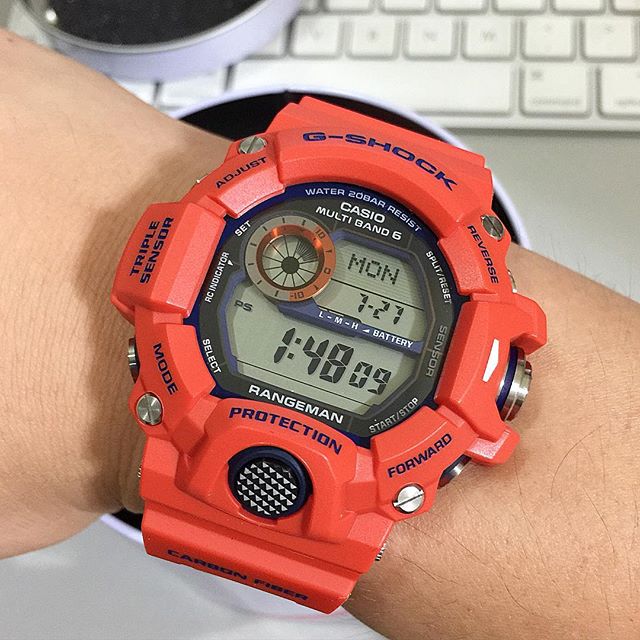 To be continued…
---
GW-9400 Profile
Average Amazon Price: $240 (yes, we may earn a commission on qualifying purchases from our links to Amazon)
Year of first release: 2013
Lineup: PROFESSIONAL (G-Shock Professional Line includes watches that can really help you survive under hard, tough conditions. They are well equipped and have the best tough specs.) All G-Shock Professional Watches →
Nominations: best design, best resistance, best functions
The most distinctive specs:
– 200-meter water resistance (good for swimming but not for deep diving)
– Tough Solar (CASIO's original solar-charging system converts not only sunlight but also light from fluorescent lamps and other sources into power)
– Radio-controlled Watch; Multi band 6 (additional way for time sync. This watch receives time calibration radio signals that keep the displayed time accurate)
– Digital compass (measures and displays direction as one of 16 points)
– Thermometer (can measure and display the outside temperature in a range from -10 C to 60 C)
– Barometer (measures the air pressures and displays tendencies in the weather)
– Altimeter (The electronic mechanism "estimates" the altitude based on the air pressure)
– Sunrise, sunset time display (Sunrise time and sunset time for specific date, daylight pointers)
Other colors and full specs: GW-9400 Wiki Page