Grabbing your Pro Trek PRG300-8 watch with Triple Sensor technology and heading out for a hike is an excellent way to enjoy the great outdoors, but if you desire a bit more excitement this summer, going whitewater rafting is hard to top. Not only will this leave your body full of adrenaline, but it offers a unique way to get intimately involved with Mother Nature.
Consider these important tips ahead of your whitewater rafting trip:
Choose a professional guide
Raft Masters reported that it is essential to do your research and select a licensed outfitter to lead your trip. Whitewater rafting can be very dangerous, and it is important that your guide be familiar with the route, equipment and all safety measures.
Always wear a life jacket and helmet
Even for experienced swimmers or folks who have been whitewater rafting, ignoring these safety devices is a big mistake. You may not be going through particularly intense rapids, but any sort of choppy water can be difficult to handle without a life jacket. Likewise, rocks, fallen trees and other naturally occurring items could cause serious injury if you do not protect yourself with a helmet. Ask your guide to make sure your jacket and helmet are the right size and fit.
Work with your group mates
The New River Gorge website stated that many folks over-estimate the amount of effort it takes to stay afloat while whitewater rafting. Instead of paddling as hard as you can, work with the people in your raft to create a smooth, uniform rhythm. Have someone in the back steer, and designate someone to keep an eye out for hazards and things to avoid. Everyone else should paddle in unison to make your trip smooth and avoid over-exhaustion.
Understand all safety precautions
Your guide will likely have a detailed presentation about how to stay safe during your trip, and it is critical to make sure you fully understand each rule. Otherwise, if you find yourself in an unsafe situation, you may not know the best way to act.
One of the most important things to remember is that if you do end up outside of your raft, keep your limbs close to your body. Whitewater rafting routes often contain many rocks and boulders, which could easily injure your feet or hands if you are swimming the way you normally would. Hold on to your life jacket tightly and wait for help or less choppy water.
Stay calm and have fun
Above all else, keep a cool head during your whitewater rafting trip. If you are panicked or anxious, you may end up forgetting the safety precautions and making an ill-advised decision. Stay relaxed as you travel along and try to remain calm in more dangerous situations.
Despite the possibility of any danger, whitewater rafting is immensely rewarding, and you should remember to have fun and enjoy yourself. Any unsafe conditions are brief and fleeting, and at times a whitewater rafting trip can even be rather relaxing.
Related watches: PRG300-8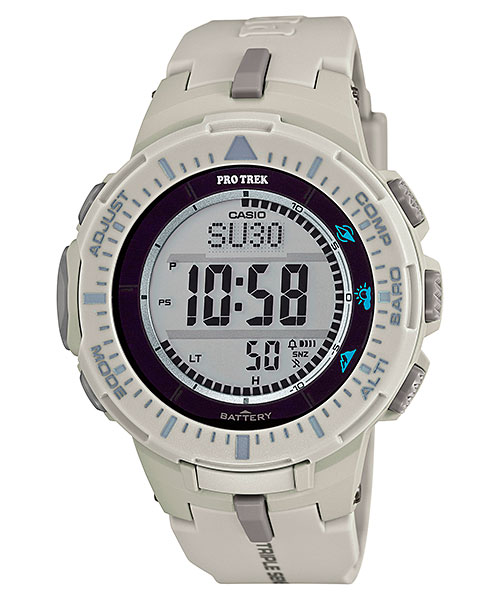 ---
PRG-300 Profile / Casio ProTrek
Average Amazon Price: $190 (yes, we may earn a commission on qualifying purchases from our links to Amazon). Check the Price on Amazon →
Year of first release: 2015
Nominations: best design, best functions, best size
The most distinctive specs:
– 100-meter water resistance (good for swimming but not for deep diving)
– Tough Solar (CASIO's original solar-charging system converts not only sunlight but also light from fluorescent lamps and other sources into power)
– Digital compass (measures and displays direction as one of 16 points)
– Thermometer (can measure and display the outside temperature in a range from -10 C to 60 C)
– Barometer (measures the air pressures and displays tendencies in the weather)
– Altimeter (The electronic mechanism "estimates" the altitude based on the air pressure)
– Altimeter data memor (Depending on the model, up to 40 sets of elevation data can be stored in the watch's data memory and re-accessed at any time)
– Sunrise/sunset display (After entering the geographical location, sunrise and sunset times can be displayed for any given date)
Other colors and full specs: PRG-300 Wiki Page
ProTrek PRG-300 Rating System

| | |
| --- | --- |
| Size | ★★★ |
| Weight | ★★★★★ |
| Functions | ★★★ |
| Materials | ★★★ |
| Battery Years | ★★★★★ |
| Price | ★★★★★ |