Toshinari Namiki is a professional angler who is active both domestically and internationally and is also a PRO TREK ambassador. Along with his lure brand OSP name, "OSP T.NAMIKI limited model" that carved Mr. Namiki's commitment and belief in fishing appeared.
The bus fishing best tournament to be held in the United States "Bus Master Classic" It is the first Japanese contestant and Mr. Namiki who is participating in the American tournament for the first time in ten years. This time, adopted the PRW-7000 series has been developed incorporating the needs in his fishing scene in the base model ※ .
I made the case · dial for black, the second hand and the in dial for red, we applied Mr. Namiki's concept color to the entire watch face. In addition, light gray was adopted as a band, and it made it a calm design that also faces the daily use as well as the fishing scene. "Bass or Die" which is Mr. Namiki's belief in the position at 6 o'clock band, and OSP logo on idle ring. In addition to the case back, "Toshi Namiki" "Osprey Spiritual Performer" engraved. Designs that symbolized Mr. Namiki and OSP were given everywhere.
Fishing time function to notify direction, altitude and barometric pressure by triple sensor, alarm at fishing time, and tide graph which is effective for phishing in the area affected by the tide level. In addition, it is the emergence of the limited model which names the professional angler from the PRW – 7000 series equipped with the function as a full – scale outdoor gear, such as 20 ATM water resistant to withstand violent activities at the waterside.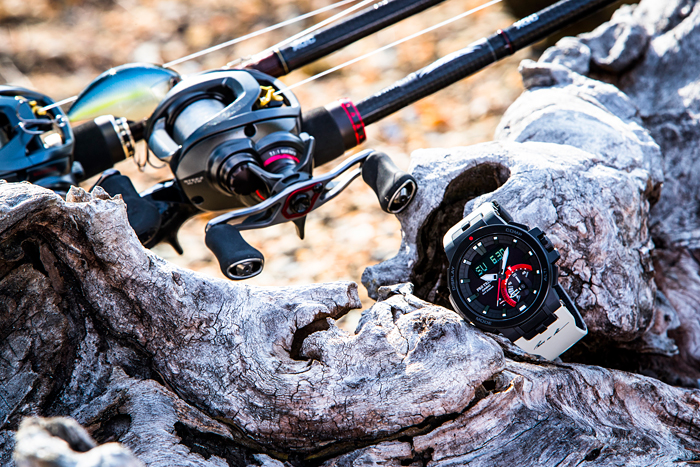 ---
PRW-7000 Profile / Casio ProTrek
Average Amazon Price: $625 (yes, we may earn a commission on qualifying purchases from our links to Amazon). Check the Price on Amazon →
Year of first release: 2017
Nominations: best design, best functions, best size
The most distinctive specs:
– 200-meter water resistance (good for swimming but not for deep diving)
– Low temperature resistant (stable operation of the watch is guaranteed even at a temperature of -20°C)
– Radio-controlled Watch; Multi band 6 (additional way for time sync. This watch receives time calibration radio signals that keep the displayed time accurate)
– Tough Solar (CASIO's original solar-charging system converts not only sunlight but also light from fluorescent lamps and other sources into power)
– Digital compass (measures and displays direction as one of 16 points)
– Thermometer (can measure and display the outside temperature in a range from -10 C to 60 C)
– Barometer (measures the air pressures and displays tendencies in the weather)
– Altimeter (The electronic mechanism "estimates" the altitude based on the air pressure)
– Smart Access (the system for analogue movements achieves multi-functionality and easy operability simultaneously through a combination of multiple motors and an electronic crown)
– Tough Movement (A CASIO-original thin analog movement made possible by hybrid mounting protects against damage and enables auto home position correction that helps keep you on time all the time)
– Sunrise/sunset display (After entering the geographical location, sunrise and sunset times can be displayed for any given date)
– Tide indicator (Once the high tide time has been entered for a selected location, the watch can display the low and high tide phases at this location on any given date)
– Fishing Timer (Know when they are biting. The watch displays a fish symbol when it is the perfect time for fishing)
– Sapphire crystal (no scratches, no flares)
– Carbon-resin wrist strap (On their own, carbon and resin are stress-resistant and durable — together they create a wrist strap that is extra robust and extremely durable)
Other colors and full specs: PRW-7000 Wiki Page
ProTrek PRW-7000 Rating System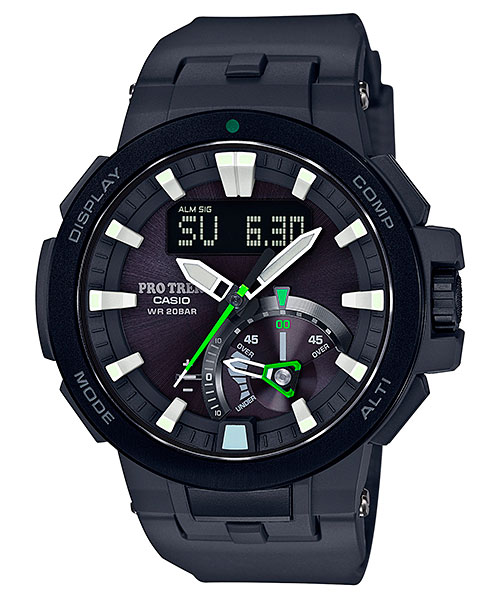 | | |
| --- | --- |
| Size | ★★★ |
| Weight | ★★ |
| Functions | ★★★★ |
| Materials | ★★★★★ |
| Battery Years | ★★★★★ |
| Price | ★★ |