Contrasted coloring for the band, case, and protector of this model adds a selection of new color to the fashionable BGA-180 Series.
A "lug protector" made of fine resin on the band not only creates an attractive design element, it also helps to protect the back of the watch from impact.
Feature-wise, the BGA-180 also includes a TIDE GRAPH feature. In the Timekeeping Mode, the small hand of the dial at 9 o'clock normally indicates current tide information. Each press of the button at 4 o'clock in the Timekeeping Mode advances the tide information indicated by the dial hand by one hour.
A great design, powerful features to support surfing activities and much more makes this model the perfect choice for today's active woman.
BGA-180-2B2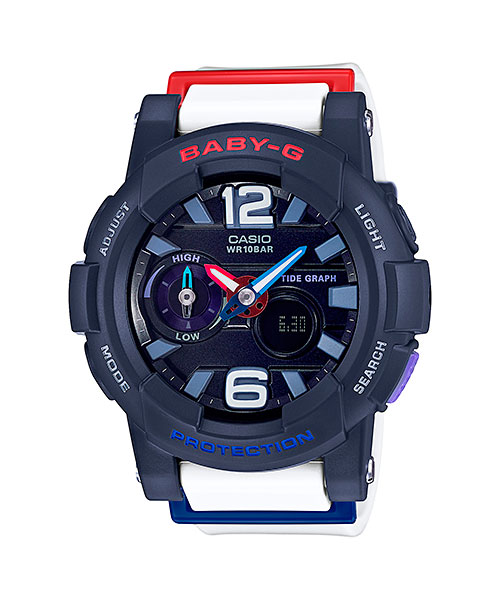 Specifications of BGA-180-2B2
Mineral Glass
Shock Resistant
100-meter water resistance
Case / bezel material: Resin
Resin Band
[learn_more]
LED light
Selectable illumination duration, afterglow
World time
31 time zones (48 cities + coordinated universal time), daylight saving on/off, Home city/World time city swapping
Hand shift feature (Hands move out of the way to provide an unobstructed view of digital display contents.)
Thermometer
Display range: –10 to 60°C (14 to 140°F)
Display unit: 0.1°C (0.2°F)
*Changeover between Celsius (°C) and Fahrenheit (°F)
Moon data (moon age of the specific date)
Tide graph (tide level for specific date and time)
Tidal Trend Indicator (Shows tidal changes over the next 12 hours.)
1-second stopwatch
Measuring capacity: 59'59
Measuring modes: Elapsed time, split time, 1st-2nd place times
Countdown timer
Measuring unit: 1 second
Countdown range: 60 minutes
Countdown start time setting range: 1 to 60 minutes (1-minute increments)
Counter (Keep track of a count up to 999.)
Daily alarm
Hourly time signal
Full auto-calendar (to year 2099)
12/24-hour format
Button operation tone on/off
Regular timekeeping
Analog: 2 hands (hour, minute (hand moves every 20 seconds))
Digital: Hour, minute, second, pm, month, date, day
Accuracy: ±30 seconds per month
Approx. battery life: 2 years on SR726W × 2
Size of case: 49.3 × 44 × 15.4 mm
Total weight: 46 g
LED:Amber
BGA-180-2B3
Specifications of BGA-180-2B3
Mineral Glass
Shock Resistant
100-meter water resistance
Case / bezel material: Resin
Resin Band
[learn_more]
LED light
Selectable illumination duration, afterglow
World time
31 time zones (48 cities + coordinated universal time), daylight saving on/off, Home city/World time city swapping
Hand shift feature (Hands move out of the way to provide an unobstructed view of digital display contents.)
Thermometer
Display range: –10 to 60°C (14 to 140°F)
Display unit: 0.1°C (0.2°F)
*Changeover between Celsius (°C) and Fahrenheit (°F)
Moon data (moon age of the specific date)
Tide graph (tide level for specific date and time)
Tidal Trend Indicator (Shows tidal changes over the next 12 hours.)
1-second stopwatch
Measuring capacity: 59'59
Measuring modes: Elapsed time, split time, 1st-2nd place times
Countdown timer
Measuring unit: 1 second
Countdown range: 60 minutes
Countdown start time setting range: 1 to 60 minutes (1-minute increments)
Counter (Keep track of a count up to 999.)
Daily alarm
Hourly time signal
Full auto-calendar (to year 2099)
12/24-hour format
Button operation tone on/off
Regular timekeeping
Analog: 2 hands (hour, minute (hand moves every 20 seconds))
Digital: Hour, minute, second, pm, month, date, day
Accuracy: ±30 seconds per month
Approx. battery life: 2 years on SR726W × 2
Size of case: 49.3 × 44 × 15.4 mm
Total weight: 46 g
LED:Amber
BGA-180-4B4
Specifications of BGA-180-2B4
Mineral Glass
Shock Resistant
100-meter water resistance
Case / bezel material: Resin
Resin Band
[learn_more]
LED light
Selectable illumination duration, afterglow
World time
31 time zones (48 cities + coordinated universal time), daylight saving on/off, Home city/World time city swapping
Hand shift feature (Hands move out of the way to provide an unobstructed view of digital display contents.)
Thermometer
Display range: –10 to 60°C (14 to 140°F)
Display unit: 0.1°C (0.2°F)
*Changeover between Celsius (°C) and Fahrenheit (°F)
Moon data (moon age of the specific date)
Tide graph (tide level for specific date and time)
Tidal Trend Indicator (Shows tidal changes over the next 12 hours.)
1-second stopwatch
Measuring capacity: 59'59
Measuring modes: Elapsed time, split time, 1st-2nd place times
Countdown timer
Measuring unit: 1 second
Countdown range: 60 minutes
Countdown start time setting range: 1 to 60 minutes (1-minute increments)
Counter (Keep track of a count up to 999.)
Daily alarm
Hourly time signal
Full auto-calendar (to year 2099)
12/24-hour format
Button operation tone on/off
Regular timekeeping
Analog: 2 hands (hour, minute (hand moves every 20 seconds))
Digital: Hour, minute, second, pm, month, date, day
Accuracy: ±30 seconds per month
Approx. battery life: 2 years on SR726W × 2
Size of case: 49.3 × 44 × 15.4 mm
Total weight: 46 g
LED:Amber
Official source: http://www.casio-intl.com