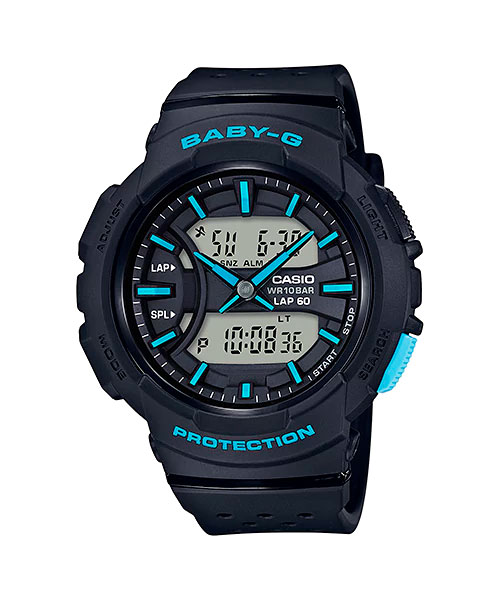 Women's Running Baby-G with an advanced stopwatch and stylish sporty design. The hour markers and hands have a narrow oblong shape, which positively affects the readability of the analog zone, and the digital display is divided into two separate zones for more accurate indication of data on the dial. The perforated strap [with many round holes] resembles the design of sports shoes, and the holes themselves improve air ventilation between the watch and skin during intense training. The stopwatch has a capacity of 100 hours, and the watch is stored in memory up to 60 laps. To start the stopwatch, just press one button, and not go into the stopwatch mode – for quick access to the desired function. The timer with auto-repeat after a certain period of time, the clock emits a sound signal. World clock, alarm and dual time on the dial are other basic features of the BGA-240.
Important Information
Price — 120$ *average Amazon Price, we may earn commission from purchases
Year of first Release — 2017
Module Number — 5510
Model Range — COUNTDOWN TIMER
Other Divisions the BGA-240 belongs to: *you may find all watches of the division by clicking on the link
Battery Type — CR1220 (Baby-G Batteries)
---
Feedback from users *accumulated information from our own comments and emails, forum threads, socials, reviews, etc.
PROs
+ small, lightweight
+ great features with sleek design
CONs
– the digital display is only visible in direct sun light and the light does not illuminate it at all
– appears to not be properly sealed from moisture
---
BGA-240 Model Range *may be updated
Official Marketing Focus from Casio
The BGA-240 Series is a new model designed for runners. Coloring that matches today's sportswear, hour markers that are designed for ease of reading, and sharp analog hands that create a sense of speed, all add up to a design suitable for sportswear.
The band is punched with holes creating a motif that resembles today's sports fashion items. It also allows air to pass through for cooling while engaged in sports. The inside of the band has a protector that enhances the fit to the wrist.
Function-wise, the watch comes with a digital readout that can display lap times (time for a fixed distance interval) and split times (elapsed time from the start, up to any point), and memory for up to 60 lap/split times. This information can be used when running to set target times and to control your pace.
Official BGA-240 Specs / Features *for base version BGA-240-1A2
Case / bezel material: Resin
Resin Band
Neobrite
Shock Resistant
Mineral Glass
100-meter water resistance
LED light
Auto light switch, selectable illumination duration (1.5 seconds or 3 seconds), afterglow
Dual time
1/100-second stopwatch
Measuring capacity:
00'00″00~59'59″99 (for the first 60 minutes)
1:00'00~99:59'59 (after 60 minutes)
Measuring unit:
lap time (1/100 second (for the first 60 minutes), 1 second (after 60 minutes))
split time (1/100 second (for the first 10 hours), 1 second (after 10 hours))
Measuring modes: Elapsed time, lap/split times, 1st-2nd place times
Memory capacity: 60 records (used for lap times and split times)
Countdown timer
Measuring unit: 1 second
Countdown range: 24 hours
Countdown start time setting range: 1 minute to 24 hours (1-minute increments and 1-hour increments)
Other: Auto-repeat
3 multi-function alarms (with 1 snooze alarm)
Hourly time signal
Full auto-calendar (to year 2099)
12/24-hour format
Button operation tone on/off
Regular timekeeping
Analog: 2 hands (hour, minute (hand moves every 20 seconds))
Digital: Hour, minute, second, am/pm, month, date, day
Accuracy: ±30 seconds per month
Approx. battery life: 3 years on CR1220
Size of case : 46.4×42.6×15.3mm
Total weight : 41g
---
Enjoy our Baby-G BGA-240 Watch Review
Immediately drew attention to the black button [bottom right], which seems to stand out against a white background. Well, that's all, I think, this is probably a quick activation and transition to the stopwatch mode. After all, the watch is about sports, which means that the functions of quick sports access should be nearby. Not. Looked closely, the black button is called not "Start", but "Search". Pressing switches me to the 12 hour display mode of the current time. Such a fast function for myself, as for me. Anyway, the word "Search" in a watch without radio synchronization is not very relevant, do not you think? Read Full Review →
---
Recent News about BGA-240
---
You ask, we answer…
What does 100-meter water resistance in BGA-240 mean?
The watch is good for swimming but not for deep diving.
What does Stopwatch in BGA-240
do?
Measuring capacity: 99:59'59; Measuring modes: Elapsed time, split time, 1st-2nd place times.
What does Dual Time in BGA-240 mean?
In addition to the time in your current location, which is indicated by wide hour and minute hands, a second time can be indicated by the electronic dial.
What battery does BGA-240 have?
3-years battery.