The representative of the new generation Baby-G with a steel case and elegant design. The design of the dial is very similar to the 110 series, but the engineers completely redesigned the case in favor of elegance – now MSG is a cross between the classic women's Sheen and shock-resistant sports Baby-G. The combination of two materials – steel and polyurethane not only gives a significant advantage in resistance to mechanical stress, but also looks stylish and modern. Double time on the dial will allow you to see time in two time zones at the same time without having to activate a separate world time mode – for those who often travel to the same place. The watch also has a stopwatch, timer, alarm clock, calendar and dial backlight.
Important Information
Price — 200$ *average Amazon Price, we may earn commission from purchases
Year of first Release — 2018
Module Number — 5551
Model Range — COUNTDOWN TIMER
Other Divisions the MSG-400 belongs to: *you may find all watches of the division by clicking on the link
Battery Type — SR726W × 2 (Baby-G Batteries)
---
Feedback from users *accumulated information from our own comments and emails, forum threads, socials, reviews, etc.
PROs
+ dual time – you can set your home city and the world time city, and the time gets set automatically
+ date and time in Digital format
+ upto 5 Alarms and Hourly notification
+ option to set daylight saving on and off
+ automatic and manual light
+ option to move the handles so that you can view the times without them blocking
+ option of set the time format in 12/24 hrs
CONs
– the light from the bottom side of the dial isn't helping to view the options available in the watch
---
MSG-400 Model Range *may be updated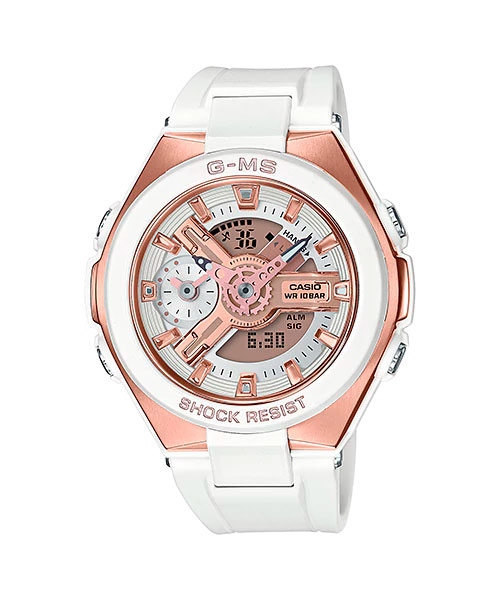 Official Marketing Focus from Casio
From the BABY-G G-MS lineup of watches for the active and sophisticated woman of today comes a selection of brilliant design models. The generous use of gold and pink gold color metal parts creates a collection of models that add a touch of brilliant charm to the feminine wrist. Metal is also used for the face rings, band ring, and buckle, and the cool, metallic gear-like look is great for adult women.
Function-wise, these models come with Dual Dial World Time, which shows the current time in another time zone using a small dial at 9 o'clock.
All of this and much more provides plenty of support for the world-traveling woman on the go.
Official MSG-400 Specs / Features *for base version MSG-400G-1A2
Case / bezel material: Resin / Stainless steel
Resin Band
Neobrite
Shock Resistant
Mineral Glass
100-meter water resistance
LED light (Super Illuminator)
Auto light switch, selectable illumination duration (1.5 seconds or 3 seconds), afterglow
World time
31 time zones (48 cities + coordinated universal time), daylight saving on/off, Home city/World time city swapping
1/100-second stopwatch
Measuring capacity: 59'59.99"
Measuring modes: Elapsed time, split time, 1st-2nd place times
Countdown timer
Measuring unit: 1 second
Countdown range: 60 minutes
Countdown start time setting range: 1 to 60 minutes (1-minute increments)
5 daily alarms
Hourly time signal
Hand shift feature (Hands move out of the way to provide an unobstructed view of digital display contents)
Full auto-calendar (to year 2099)
12/24-hour format
Button operation tone on/off
Regular timekeeping
Analog: 2 hands (hour, minute (hand moves every 20 seconds)), 1 dial (world time hour and minute)
Digital: Hour, minute, second, pm, month, date, day
Accuracy: ±15 seconds per month
Approx. battery life: 2 years on SR726W × 2
Size of case : 45.6×41×13.5mm
Total weight : 42g
---
Enjoy our Baby-G MSG-400 Watch Review
The dial is reminiscent of the GA-110 and BA-110 series – the same hour markers, the same multilayer structure and very similar hands. Thanks to the golden hour markers, the readability of the analogue part of the dial does not raise questions. What can not be said about the digital display – all the same, small numbers and letters on the inversion display are also not quite clear. At night, the Super Illuminator saves the situation only partially – the LED is weak, even the arrows with marks are difficult to see, not to mention the electronic window. The arrows have a luminescent coating, but there is not much sense from it. Although all this is my personal opinion, maybe someone will not notice such subtleties. Read Full Review →
---
Recent News about MSG-400
---
You ask, we answer…
What does 100-meter water resistance in MSG-400 mean?
The watch is good for swimming but not for deep diving.
What does World time in MSG-400 mean?
It displays the current time in major cities and specific areas around the world (31 time zones).
What does Stopwatch in MSG-400 do?
Measuring capacity: 59'59.99"; Measuring modes: Elapsed time, split time, 1st-2nd place times.
What is Hand shift feature in MSG-400?
Hands move out of the way to provide an unobstructed view of digital display contents.