| | |
| --- | --- |
| Size | ★★★ |
| Weight | ★★★★★ |
| Functions | ★★★★ |
| Materials | ★★ |
| Battery Years | ★★★★★ |
| Price | ★★★★ |
---
Official EFV-C110 Series Description.
Free yourself to focus on life. Get an analog-digital combination timepiece with a 10-year battery you won't have to worry about for ages.
The face design offers enhanced depth and dimensionality for a dynamic, sporty look. Digital inset dials deliver a variety of functions, including world time, 1/100 second stopwatch, and countdown timer. With genuine leather band for a touch of added style.
---
EFV-C110 Model Range *may be updated
---
Quick Content Guide
---
General Information
---
Edifice EFV-C110 Display Guide
Timekeeping
This watch features separate digital and analog timekeeping.
– In the Timekeeping Mode, press (A) to toggle the display between the date screen and the time screen.
Telememo
Telememo lets you store up to 30 records, each containing name and telephone number data. Records are automatically sorted based on the characters of the name.
World Time
World Time digitally displays the current time in 30 cities (29 time zones) around the world.
– All of the operations in this section are performed in the World Time Mode, which you enter by pressing (C).
Alarms
You can set three independent Daily Alarms. When an alarm is turned on, the alarm tone sounds when the alarm time is reached. One of the alarms is a snooze alarm, while the other two are one-time alarms.
---
Enjoy our Edifice EFV-C110 Watch Review
It would be more interesting, but here we have only minute markers creating a tachymeter effect. It is a frequent component of analog timepieces emphasizing automobile sports. Let's not forget, the EFV-C110 is a budget series, which means its task is to "impress", but also to be reliable and affordable. The mirrored bezel is impressive, and the inscriptions "START/STOP" also hint at the presence of a stopwatch/timer [which is true, only in a digital form]. Read Full Review →
---
The most distinctive specs of EFV-C110 — Autosports Inspired and 10-years battery
*Editorial
— 100-meter water resistance (good for swimming but not for deep diving)
— Telememo 30 (Lets you store up to 30 records, each containing name and telephone number data)
— Countdown timer (Countdown range: 24 hours)
— 3 daily alarms (with 1 snooze alarm)
— Stopwatch (Measuring capacity: 23:59'59.99"; Measuring modes: Elapsed time, split time, 1st-2nd place times)
— World Time (Current time in 29 time zones)
— 10-year battery
---
Other Edifice EFV Watches *similar by price and functions but different by cases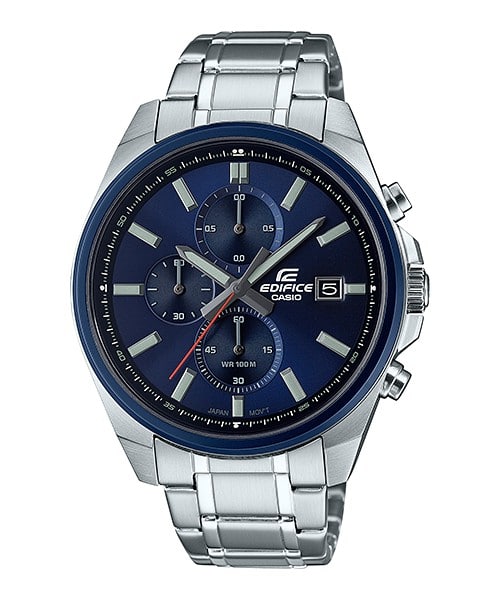 These are not all Edifice EFV Series. Here is a list of All Edifice EFV Watches →
---
Official EFV-C110 Specs / Features *for base version EFV-C110L-1AV
Case size (L× W× H) 51.3 × 46.9 × 13.7 mm
Case / bezel material: Stainless steel / Aluminum
Weight 95 g
Band: Genuine Leather Band
100-meter water resistance
Approx. battery life: 10 years on CR2025
Mineral Glass
World time
29 time zones (30 cities), daylight saving on/off
Stopwatch
1/100-second stopwatch
Measuring capacity: 23:59'59.99"
Measuring modes: Elapsed time, split time, 1st-2nd place times
Timer
Countdown timer
Measuring unit: 1 second
Countdown range: 24 hours
Countdown start time setting range: 1 minute to 24 hours (1-minute increments and 1-hour increments)
Alarm/hourly time signal
Daily alarms
3 independent daily alarms (2 one-time alarms and 1 snooze alarm)
Hourly time signal
Calendar
Full auto-calendar (to year 2099)
Accuracy: ±30 seconds per month
Other features
Telememo
Memory capacity: Up to 30 sets of data, with 8-character name and 16-digit telephone number
Others: Remaining memory screen, auto-sort
12/24-hour format
Regular timekeeping:
Analog: 2 hands (hour, minute; hands move every 20 seconds)
Digital: Hour, minute, second, am/pm, month, date, day
---
Recent News about EFV-C110
---
Not sure about EFV-C110? There are more Edifices!