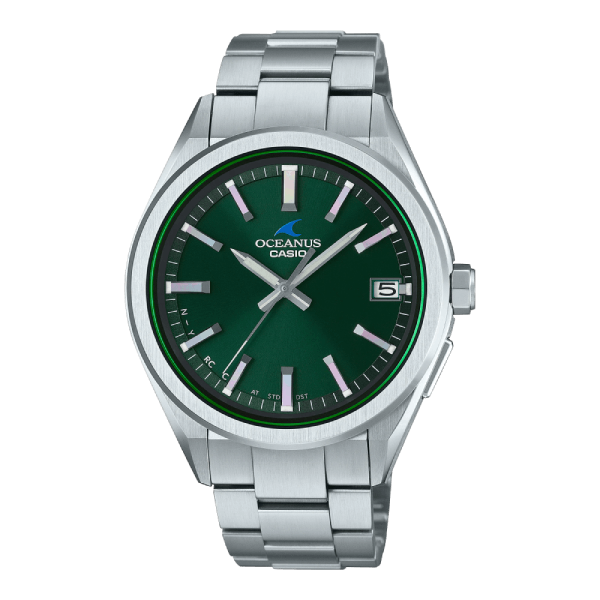 ---
Important Information
Year of first Release — 2019
Module Number — 5596
Battery Type — Solar
---
OCW-T200 Model Range *may be updated
---
Official Marketing Focus from Casio
With the brand concept of "Elegance, Technology", a new model has appeared from the classic line of "OCEANUS", which has both advanced technology and European sporty design. Adopted a large Arabic index that shines a beautiful metal. In addition, the use of a tapered case with a solid feel and a edgy form creates a sporty design. In terms of functionality, it is also equipped with the smart access of the "Watch in Watch Concept", which is popular for its convenience and high visibility even in Manta Ray. The in-dial layout allows you to check the time in two cities at the same time, improving usability in world time. Not only can you select the local time simply by pulling and turning the crown, but you can also easily switch to the home time.
---
Official OCW-T200 Specs / Features *for base version OCW-T2000C-2A
Case/Bezel Material: Titanium
Solid band
One push three fold type Nakadome
Metal band (titanium)
Neobright
Inner reflection-free sapphire glass (dual curve)
Titanium carbide processing
10 ATM water resistant
Tough solar (solar charging system)
Radio wave reception function: Automatic reception (up to 6 times/day) (Chinese radio wave up to 5 times/day)/manual reception,
<Japan> Reception radio wave: JJY, frequency: 40kHz/60kHz (Fukushima/Kyushu compatible stations model)
< North America> Received radio waves: WWVB, frequency: 60kHz
<Europe> Received radio waves: MSF/DCF77
, frequency: 60kHz /77.5kHz <China> Received radio waves: BPC, frequency: 68.5kHz
*For cities that can receive home time settings If set, you will receive stations tailored to the city. The time difference is set by the selected city.
Automatic needle position correction function
World time: 29 cities in the world (29 time zones, daylight saving time automatic setting function) + UTC (Coordinated Universal Time) time display, home time city replacement function
Stopwatch (1/20 seconds, 120 minutes total, auto start function)
Timer (set unit: 1 second, maximum set: 120 minutes, measured in 1 second units)
Time alarm
Battery charge warning function
Power saving function (in a dark place, after a certain period of time, the hand movement is stopped to save power)
Date/day display
Fully automatic calendar
Driving time from full charge to the state without solar power generation When
using the function: Approximately 5 months In the 
power saving state: Approximately 27 months
Home time city (city compatible with receiving function) / Received radio wave
Tokyo / Japan standard radio JJY40 JJY60
(Honolulu), (Anchorage), Los Angeles, Denver, Chicago, New York/US standard radio WWVB
London, Paris, Athens/UK standard radio MSF/German standard radio DCF77
Hong Kong/China standard radio BPC
*() Each city may receive if the conditions are good.
* If the radio wave is not received, it will operate with normal quartz accuracy (average month difference ±15 seconds).
---
---
Recent News about OCW-T200
---
You ask, we answer…
What does 100-meter water resistance in OCW-T200 mean?
The watch is good for swimming but not for deep diving.
How does Tough Solar in OCW-T200 work?
CASIO's original solar-charging system converts not only sunlight but also light from fluorescent lamps and other sources into power.
What is Smart Access in OCW-T200?
It's the system for analogue movements achieves multi-functionality and easy operability simultaneously through a combination of multiple motors and an electronic crown.
How does Oceanus Connected App in OCW-T200 work?
You may manage all watch settings through your phone.
---