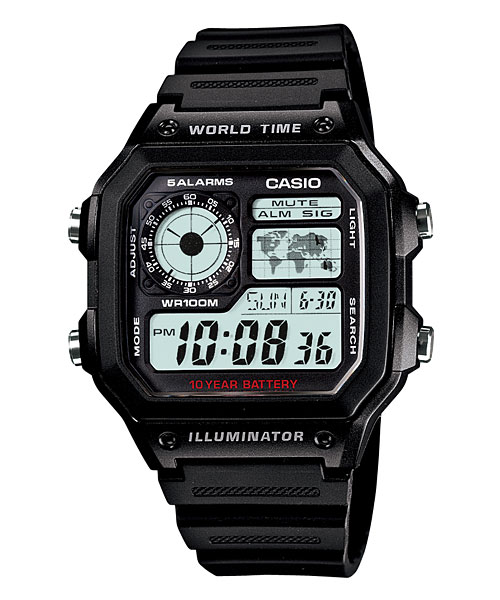 ---
About AE-1200 in Short. The AE1200 series is a plastic-bodied, LCD digital, multifunction watch. Like the vast majority of Casio watches, it is made to be used hard, so even though it does not have a massive, bulletproof case like a G-Shock, it is still good for a very useful 100m water resistance and has a 10-year battery life.
---
General Information
---
AE-1200 Model Range *may be updated
*Want to be the first to know about new Collection Updates? Here we store all recent Monthly Collection Updates →
---
Other Casio Digital AE Watches *similar by price and functions but different by cases
These are not all Casio Digital AE Series. Here is a list of All Casio Digital AE Watches →
---
Casio AE-1200 on the wrist!
---
Casio AE-1200 Display Guide *for key functions only. For you to know how it works))
Timekeeping
The Timekeeping Mode's Multi Time feature gives you quick and easy access to the current time and date in four different cities, numbered from T-1 (Time 1) through T-4 (Time 4). T-1 is your Home City Time and T-2, T-3 and T-4 are Local Times. Local Times are kept in synchronization with your Home City Time (T-1).
– The digital dial at the top of the screen indicates the current Home City Time (T-1).
World Time
World Time shows the current time in 48 cities (31 time zones) around the world.
– All of the operations in this section are performed in the World Time Mode, which you enter by pressing C.
Countdown Timer
To use the countdown timer
Press D while in the Countdown Timer Mode to start the countdown timer.
– When the end of the countdown is reached, the alarm sounds for 10 seconds or until you stop it by pressing any button. The countdown time is reset to its starting value automatically when the alarm sounds.
Stopwatch
The stopwatch lets you measure elapsed time, split times, and two finishes.
– The display range of the stopwatch is 23 hours, 59 minutes, 59.99 seconds.
– The stopwatch continues to run, restarting from zero after it reaches its limit, until you stop it.
---
Official AE-1200 Specs / Features *for base version AE-1200WH-1
Case / bezel material: Resin
Resin Band
Resin Glass
100-meter water resistance
LED light
Selectable illumination duration, afterglow
Multi Time (4 different cities)
World time
31 time zones (48 cities + coordinated universal time), daylight saving on/off, Home city/World time city swapping
1/100-second stopwatch
Measuring capacity: 23:59'59.99"
Measuring modes: Elapsed time, split time, 1st-2nd place times
Countdown timer
Measuring unit: 1/10 second
Input range: 1 second to 24 hours (1-second increments, 1-minute increments and 1-hour increments)
5 daily or one-time alarms
Hourly time signal
Full auto-calendar (to year 2099)
12/24-hour format
Button operation tone on/off
Regular timekeeping: Hour, minute, second, pm, month, date, day
Accuracy: ±30 seconds per month
Approx. battery life: 10 years on CR2025
Size of case : 45×42.1×12.5mm
Total weight : 39g
---
You ask, we answer…
What does 100-meter water resistance in AE-1200 mean?
The watch is good for swimming but not for deep diving.
How does Multi Time in AE-1200 work?
The digital display shows the current time in 4 different zones.
What is World Time in AE-1200?
It's the current time in 31 time zones.
What does Stopwatch in AE-1200 do?
Measuring capacity: 23:59'59.99"; Measuring modes: Elapsed time, split time, 1st-2nd place times.
---