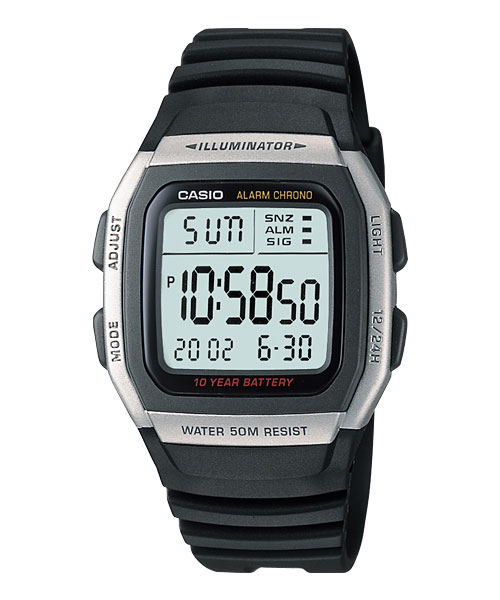 ---
About W-96 in Short. The sporty style of a digital watch, combined with the dependability of a 10-year battery makes this watch perfect for any time. Its dual-time capability allows you to see up to 2 times simultaneously or the date with day of the week. With the added features of an alarm, stopwatch and hourly time signal, you'll never lose track of time.
---
General Information
---
W-96 Model Range *may be updated
*Want to be the first to know about new Collection Updates? Here we store all recent Monthly Collection Updates →
---
Other Casio Digital W Watches *similar by price and functions but different by cases
These are not all Casio Digital W Series. Here is a list of All Casio Digital W Watches →
---
Casio W-96 on the wrist!
---
Casio W-96 Display Guide *for key functions only. For you to know how it works))
Timekeeping
To set the time and date
1. In the Timekeeping Mode, hold down A until the seconds start to flash, which indicates the setting screen.
2. Press C to move the flashing to select other settings.
3. When the setting you want to change is flashing, press D to change it.
– Pressing D while the seconds are in the range of 30 to 59 resets them to 00 and adds 1 to the minutes. In the range of 00 to 29, the minutes are unchanged.
4. Press A to exit the setting screen.
Stopwatch
The stopwatch lets you measure elapsed time, split times, and two finishes.
– The display range of the stopwatch is 23 hours, 59 minutes, 59.99 seconds.
– The stopwatch continues to run, restarting from zero after it reaches its limit, until you stop it.
Dual Time
Press C to enter the Dual Time Mode
In the Dual Time Mode, hold down A until the hour setting starts to flash, which indicates the setting screen.
Press C to change the selection (Hour – (C) – Minutes)
Press D to increase the setting.
Press A to exit the setting screen.
Alarm
The multi-function alarm lets you specify the hour, minutes, month, and day for the alarm. You can set up the alarm so it sounds once when the alarm time is reached, or for a snooze alarm that repeats up to seven times, every five minutes.
You can also turn on an Hourly Time Signal that causes the watch to beep twice every hour on the hour (pressing D).
---
Official W-96 Specs / Features *for base version W-96H-1AV
Case / bezel material: Resin
Resin Band
Resin Glass / Spherical Glass
50-meter water resistance
LED backlight
Afterglow
Dual time
1/100-second stopwatch
Measuring capacity: 23:59'59.99"
Measuring modes: Elapsed time, split time, 1st-2nd place times
Multi-function alarm (with 1 snooze alarm)
Hourly time signal
Full auto-calendar (to year 2099)
12/24-hour format
Regular timekeeping: Hour, minutes, seconds, pm, year, month, date, day
Accuracy: ±30 seconds per month
Approx. battery life: 10 years on CR2025
Size of case : 43.9×35.7×12.5mm
Total weight : 32g
---
You ask, we answer…
What does 50-meter water resistance in W-96 mean?
The watch is suitable for everyday use, showering, bathing, shallow-water swimming, snorkeling, water related work, fishing, but not diving.
What is Dual Time in W-96?
In addition to the time in your current location, which is indicated by wide hour and minute hands, a second time can be indicated by the electronic dial.
What alarms does W-96 have?
Multi-function alarms (The daily alarm reminds you about recurring events with an acoustic signal at the time you have set).
What battery does W-96 have?
10-years battery.
---