---
About GA-200 in Short. Popular among young people, G-Shocks, thanks to the design of the dial, the theme of motorcycle racing. The display backing in the form of an "X" with four screws – immediately reminiscent of powerful racing bikes. While the stopwatch is running, you can monitor the speed, which is displayed in a separate window, and the time measurement limit is 100 hours – enough for even the longest races. The auto-repeat timer is especially useful when doing intermediate exercises in your workout. Other features of the GA-200 are alarm, calendar, world clock and backlight for night mode.
---
General Information
Price
$137 *average Amazon Price, we may earn commission from purchases
Year of First Release
2013
Model Range
STANDART ANA-DIGI
Battery Type
CR1220 (Casio Batteries

)

Manual
5229 (official)
---
Feedback from users *accumulated information from our own comments and emails, forum threads, socials, reviews, etc.
---
GA-200 Model Range *may be updated
*Want to be the first to know about new G-Shock Updates? Here we store all recent Monthly G-Shock Updates →
---
The most distinctive specs of GA-200 *Editorial
— 200-meter water resistance (good for swimming but not for deep diving)
— ISO 764 class magnetic resistant (A magnetic-resistant plate is mounted on the module. The plate prevents magnetic fields from interfering with proper movement of the hands in daily use)
— Stopwatch with 100-hour Measuring capacity
— World time for 29 time zones (48 cities)
---
Other G-Shock GA Watches *similar by price and functions but different by cases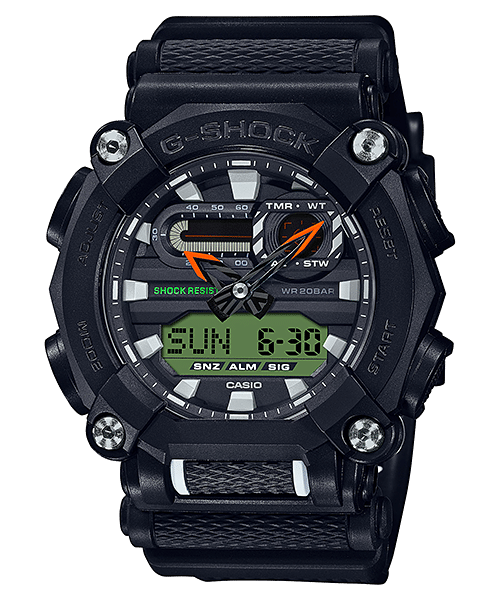 These are not all G-Shock GA Series. Here is a list of All G-Shock GA Watches →
---
Official Casio Description. Very mechanical and very metal, the gears and dials of these models make each glance of the dial a visual adventure. These black models are based on a very popular, long-selling G-SHOCK basic design.
---
Official GA-200 Specs / Features *for base version GA-200-1A
Case / bezel material: Resin / Stainless steel
Resin Band
Magnetic Resistant
Shock Resistant
Mineral Glass
200-meter water resistance
LED light
Auto light switch, selectable illumination duration, afterglow
World time
29 time zones (48 cities + coordinated universal time), city code display, daylight saving on/off, Home city/World time city swapping
1/1000-second stopwatch
Measuring capacity: 99:59'59.999"
Measuring modes: Elapsed time, lap time, split time
Others: Speed (0 to 1998 units/hour), Distance input (0.0 to 99.9)
Countdown timer
Measuring unit: 1 second
Countdown range: 24 hours
Countdown start time setting range: 1 minute to 24 hours (1-minute increments and 1-hour increments)
Other: Auto-repeat
5 daily alarms (with 1 snooze alarm)
Hourly time signal
Full auto-calendar (to year 2099)
12/24-hour format
Regular timekeeping
Analog: 2 hands (hour, minute (hand moves every 20 seconds)), 1 dial (speed)
Digital: Hour, minute, second, pm, month, date, day
Accuracy: ±15 seconds per month
Approx. battery life: 3 years on CR1220
Size of case : 55.1×52.5×16.7mm
Total weight : 80g
---
Recent News about GA-200
---
You ask, we answer…
What does 200-meter water resistance in GA-200 mean?
The watch is good for swimming but not for deep diving.
What type of battery does GA-200 have?
3 years CR1220.
Does GA-200 have alarm?
Yes, it has 5 daily alarms (with 1 snooze alarm).
---