Important Information
Year of first Release —  2020
Module Number — 5637 / Manual
Model Range — STANDART ANA-DIGI (This Line includes Digital and Analog displays on G-Shocks that are the best in "price/quality" category. Usually have traditional digital functions, but with beautiful hands. Don't worry, the hands won't prevent you from seeing digits, since there is a special Hand Shift technology that moves them to the neutral position).
Other Divisions the GA-900 belongs to: *you may find all watches of the division by clicking on the link
Battery Type — CR2016 (G-Shock Batteries)
GA-900 Model Range *may be updated
---
The most distinctive specs of GA-900 *Editorial
— Decagonal bezel (very unique industrial style for modern G-Shocks)
— Hand Shift (moves the hands to neutral position for a better digital screen readability)
— 200-meter water resistance (good for swimming but not for deep diving)
— Battery life: 7 years (the longest lasting battery for a non-solar G-Shock watch with an analog display)
---
Official GA-900 Video
Official Marketing Focus from Casio
G-SHOCK announces a new lineup of heavy-duty model that is great for wear in tough environments and as street fashion items as well.
The industrial design motif of this model is created by a 10-sided bezel that resembles the shape of a nut. The bezel is secured by four screws for a tough and rugged look. Combination timekeeping is provided by analog hands along with a digital display for the ultimate in operational ease. The design of the hands and the graphic figures that appear in the digital readouts create a powerful face design that enhances readability. The band connection and all buttons have checkered surfaces that prevent slipping and contribute to operational efficiency.
Official GA-900 Specs / Features *for base version GA-900C-1A4
Case / bezel material: Resin
Cloth Band
Shock Resistant
Mineral Glass
200-meter water resistance
LED light (Super Illuminator)
Selectable illumination duration (1.5 seconds or 3 seconds), afterglow
Hand shift feature (Hands move out of the way to provide an unobstructed view of digital display contents.)
World time
31 time zones (48 cities + coordinated universal time), daylight saving on/off, Home city/World time city swapping, One-touch UTC Time Zone Access
1/100-second stopwatch
Measuring capacity: 23:59'59.99″
Measuring modes: Elapsed time, split time, 1st-2nd place times
Others: target time alarm, direct timing start from the timekeeping mode
Countdown timer
Measuring unit: 1/10 second
Countdown range: 60 minutes
Countdown start time setting range: 1 to 60 minutes (1-minute increments)
5 daily alarms (with 1 snooze alarm)
Hourly time signal
Full auto-calendar (to year 2099)
12/24-hour format
Button operation tone on/off
Regular timekeeping: Hour, minute, second, pm, month, date, day
Accuracy: ±15 seconds per month
Approx. battery life: 7 years on CR2016
Size of case : 52.8×49.5×16.9mm
Total weight : 63g
---
GA-900 Comparison Table with similar G-Shock Watches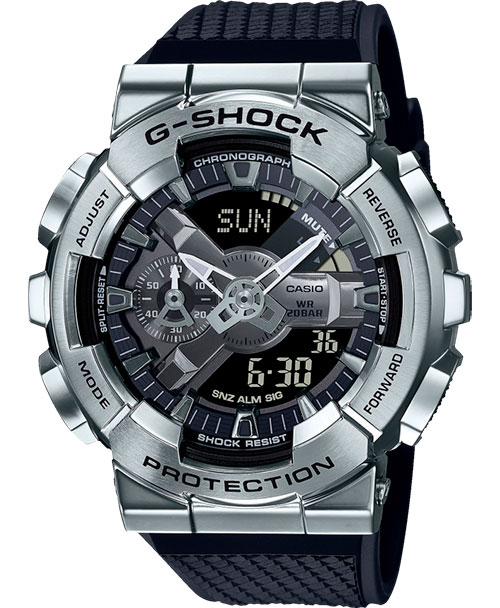 | | | | |
| --- | --- | --- | --- |
| | | | |
| | | | |
| | | | |
| | | | |
| | | | |
| | Neobrite (hands and hour markers) and LED light (Super Illuminator) | LED light (Super Illuminator) | Neobrite (hands and hour markers) Double LED light |
| | | | Carbon (Carbon Core Guard) |
| | | | |
| | | | |
| Size (mm) *we consider 48.9×42.8×13.4 to be a traditional watch size (as in DW-5600). So you are to compare how far or close the watch is to this size | | | |
| Full features (if you want to know more) | | | |
---
Recent News about GA-900
---
You ask, we answer…
How does Hand Shift in GA-900 work?
It moves the hands to neutral position for a better digital screen readability.
What is Decagonal bezel in GA-900?
It is very unique industrial style for modern G-Shocks.
What Battery life does GA-900 have?
7 years (the longest lasting battery for a non-solar G-Shock watch with an analog display).