Here we accumulate all G-Shock GW-M5610 Limited Watches. The watches are very unique by style and materials and produced only in limited numbers (for example only 100 items). As a result, the price is usually high but you got a very special watch that brings you awesome emotions.
P.S. We are trying to update the listing every month, but if we missed smth, you are welcome to leave a comment or write to us. Let's make this listing even better!
---
GW-M5610RB-4 — RED, BLACK, AND WHITE RB SERIES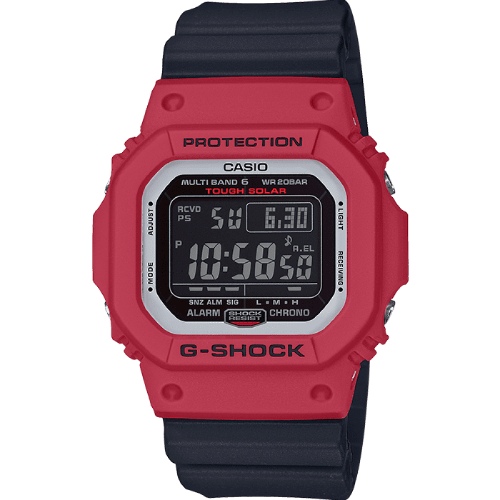 Year of Release: 2019
About the Watch Design. Grab the GW-M5610RB-4ER, the latest addition to the G-SHOCK range in a matte red, black and white colour combination.
This watch features a solar powered battery for non-stop charging throughout the day and radio controlled timekeeping for consistent accuracy in its time telling ability.
Based on the classic DW-5600, this retro watch features a large digital screen showing both local and world time, providing optimal visibility.
You pay for: 200-meter water resistance, Tough Solar, Radio-controlled Watch; Multi band 6
Full information: Colors, Detailed Specs, Photos, News on GW-M5610 Wiki Page →
---
Official GW-M5610 Specs / Features *for base version GW-M5610-1
Full-Auto Illuminator
Automatically deactivates the Auto EL backlight function when surrounding light is sufficient, and activates it under dim light or dark conditions.
Shock-resistant
Shock-resistant construction protects against impact and vibration.
Solar Power
A solar cell provides power for operation.
Radio signal reception (EU, USA, Japan, China)
Whether in Europe, North America and Japan or in the outer reaches of Canada, Central America and China – once the watch has been set to the local time, it receives the relevant signal and shows the correct time wherever you are. In many countries, it also sets itself automatically to summer and winter time.
World time function
Displays the current time in major cities and specific areas around the world.
Stopwatch function – 1/100 sec. – 24 hours
Elapsed time, split time and final time are measured with 1/100-sec accuracy. The watch can measure times of up to 24 hours.
Timer – 1/1 min. – 24 hours
For fans of precision: the countdown timers help you to remember specific or recurring events by giving off an audible signal at a preset time. The time can be set to the nearest minute and up to 24 hours in advance. Ideal for people who need to take medicines every day or those who do interval training.
5 daily alarms
The daily alarm reminds you about recurring events with an acoustic signal at the time you have set. This model has 5 independent alarms for flexible reminders of important appointments.
Snooze feature
Each time you stop the alarm, it sounds again after a few minutes.
Button tones on/off
The button tones for using the mode button can be turned off. This means that the watch no longer beeps when switching from one function to another. Preset alarm or countdown timers remain active when the button tones are deactivated.
Automatic calendar with Date, Day and Month
Once set, the automatic calendar always displays the correct date.
12/24-hour timekeeping
Times can be displayed in either a 12-hour or 24-hour format.
Mineral glass
The tough mineral glass resists scratching.
Resin case
Resin band
Synthetic resin is the ideal material for wrist straps thanks to its extremely durable and flexible properties.
Buckle
Battery level indicator
An indicator shows the current battery level.
Water resistance classification (20 bar)
Perfect for free diving without scuba gear: the watch is water resistant up to 20 bar according to ISO 22810.
Dimensions (H x W x D)
46,7mm x 43,2mm x 12,7mm
Weight
approx. 51,7 g
---
The Listing of All G-Shock Limited Watches →
---
What is special in G-Shock Limited Watches?
Such G-Shocks are very Exclusive. The company works with influential designers, brands, artists, and musicians to create new masterpieces.
Why are they so expensive?
Limited G-Shocks are manufactured from exclusive materials, using unique styling and in limited numbers. You will not find such watches everywhere.