The MT-G, Metal Twisted G-Shock, is a completely refined G-SHOCK series crafted at Casio's Yamagata factory in Japan for select premium styles. Meticulously assembled from materials and components made entirely in-house, the elegance of a luxury timepiece is combined with a rugged performance chronograph to take you across oceans and continents. The stainless steel covering with gold accents of the MT-G employs G-SHOCK's advanced Core Guard Structure, resin and alpha Gel® to ensure mechanical integrity, coupled with LED-infused Tough Movement for ongoing precision. Multi-Band 6 atomic timekeeping ensures accuracy through radio-controlled time/date updates from global transmitting stations, along with Triple G Resist for shock, gravitational drop and centrifugal force resistance. The MT-G is the epitome of modern wrist couture.
Price — 1000$ *average Amazon Price, we may earn commission from purchases
Year of first Release —  2013
Module Number — 5369 / Manual
Model Range — MTG (MTG means METAL-TWISTED G-SHOCK. All watches incorporate new core guard structure. An inner case is installed in a box-shaped frame formed by screws that securely connect the bezel, case back and band connection pieces. A stronger structure is realized by absorbing shocks with the exterior instead of the core. Besides, MTG watches belong to PREMIUM line and have the best materials, functions and technologies.)
MTG-S1000 Model Range *may be updated
---
The most distinctive specs of MTG-S1000 *Editorial
— 200-meter water resistance (good for swimming but not for deep diving)
— Smart Access (the system for analogue movements achieves multi-functionality and easy operability simultaneously through a combination of multiple motors and an electronic crown)
— Tough Solar (CASIO's original solar-charging system converts not only sunlight but also light from fluorescent lamps and other sources into power)
— Radio-controlled Watch; Multi band 6 (additional way for time sync. This watch receives time calibration radio signals that keep the displayed time accurate)
— TRIPLE G RESIST (Shock resistant, Centrifugal force resistant, Vibration resistant)
— Core Guard structure (integrates the lugs and pipes that connect the band into single pieces, creating a wall that isolates the watch's module from impact. The resin of the center case is also reinforced with carbon fibers, which further enhances module protection, while reducing overall weight)
— Tough Movement (A CASIO-original thin analog movement made possible by hybrid mounting protects against damage and enables auto home position correction that helps keep you on time all the time)
---
Other G-Shock MTG Watches *similar by price and functions but different by cases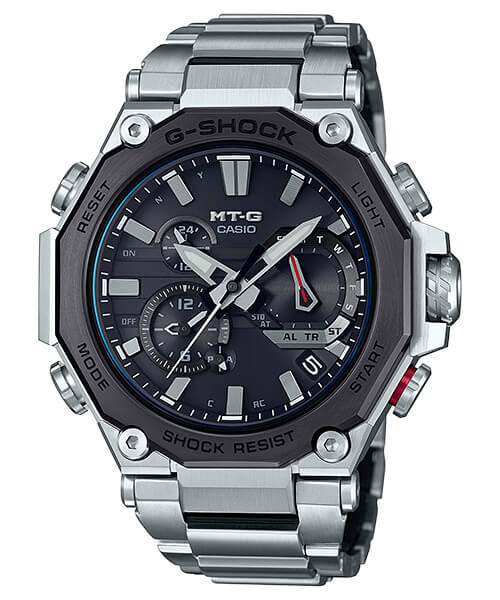 These are not all G-Shock MTG Series. Here is a list of All G-Shock MTG Watches →
---
Official Marketing Focus from Casio
This watch is new addition to the MT-G lineup that combines metal and resin into attractive, high-function timepieces.
This model feature a new Core Guard Structure that provides outstanding shock resistance.
The metal bezel on the front of the watch and metal back cover create a frame that houses inner workings to reduce the chance of impact force reaching the watch's module. In addition, α gel is used at points of contact on the bezel and back cover to further absorb impact. All of this is in addition to G-SHOCK's renowned Triple G Resist structure. The case and band surfaces are done to a hairline finish, while the beveled surfaces of parts are sallaz polished to a shiny finish. The large resin dial ring combines CASIO original cutting technology and new evaporation technology, which enable both light weight and outstanding shock resistant.
Official MTG-S1000 Specs / Features *for base version MTG-S1000BD-1A
Case / bezel material: Resin / Stainless steel
Solid Band
One-touch 3-fold Clasp
Layered Composite Band
Neobrite
TRIPLE G RESIST (Shock resistant, Centrifugal force resistant, Vibration resistant)
Sapphire Glass with non-reflective coating
Black IP
200-meter water resistance
Solar powered
Time calibration signal reception
Auto receive up to six* times a day (remaining auto receives canceled as soon as one is successful)
*5 times a day for the Chinese calibration signal
Manual receive
The latest signal reception results
Time Calibration Signals
Station name: DCF77 (Mainflingen, Germany)
Frequency: 77.5 kHz
Station name: MSF (Anthorn, England)
Frequency: 60.0 kHz
Station name: WWVB (Fort Collins, United States)
Frequency: 60.0 kHz
Station name: JJY (Fukushima, Fukuoka/Saga, Japan)
Frequency: 40.0 kHz (Fukushima) / 60.0 kHz (Fukuoka/Saga)
Station name: BPC (Shangqiu City, Henan Province, China)
Frequency: 68.5 kHz
The auto hand home position correction
World time
29 time zones (29 cities + coordinated universal time), daylight saving on/off, auto daylight saving time (DST) switching, Home city/World time city swapping
1/20-second stopwatch
Measuring capacity: 1:59'59.95"
Measuring mode: Elapsed time
Other: Auto-repeat
Countdown timer
Measuring unit: 1 second
Countdown range: 120 minutes
Countdown start time setting range: 1 to 120 minutes (1-minute increments)
Daily alarm
Low battery alert
Power Saving (hands stop to save power when the watch is left in the dark)
Full auto-calendar (to year 2099)
Date display
Day indicator
Regular timekeeping
Analog: 3 hands (hour, minute (hand moves every 10 seconds), second)
3 dials (24-hour, world time hour and minute, day), date
Accuracy: ±15 seconds per month (with no signal calibration)
Approx. battery operating time:
5 months on rechargeable battery (operation period with normal use without exposure to light after full charge)
27 months on rechargeable battery (operation period when stored in total darkness with the power save function on after full charge)
Size of case : 58.6×53.5×15.5mm
Total weight : 188g
---
Recent News about MTG-S1000