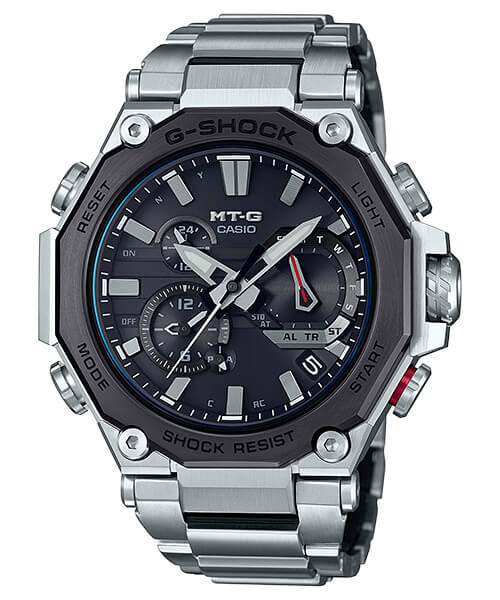 Important Information
Year of first Release —  2020
Module Number — 5636 / Manual
Model Range — MTG (MTG means METAL-TWISTED G-SHOCK. All watches incorporate new core guard structure. An inner case is installed in a box-shaped frame formed by screws that securely connect the bezel, case back and band connection pieces. A stronger structure is realized by absorbing shocks with the exterior instead of the core. Besides, MTG watches belong to PREMIUM line and have the best materials, functions and technologies.)
Other Divisions the MTG-B2000 belongs to: *you may find all watches of the division by clicking on the link
Battery Type — Solar (G-Shock Batteries)
MTG-B2000 Model Range *may be updated
---
The most distinctive specs of MTG-B2000 *Editorial
— Dual Core Guard Structure (that incorporates a carbon fiber-reinforced resin case, leveraging the light weight and rigidity of carbon fiber)
— Сarbon monocoque case (that seamlessly integrates the case and case back)
— Triple G Resist (to resist dropping shocks, centrifugal gravity, and vibration, ensuring toughness)
— New layered-composite band (made with a higher proportion of resin, paired with metal parts. They are both about 15% lighter than the predecessor model)
— G-SHOCK Connected App (you may manage all watch settings through your phone)
— Tough Solar (CASIO's original solar-charging system converts not only sunlight but also light from fluorescent lamps and other sources into power)
— Mobile link (Wireless linking using Bluetooth(R)) (for time sync with your phone data)
— Radio-controlled Watch; Multi band 6 (additional way for time sync. This watch receives time calibration radio signals that keep the displayed time accurate)
— 200-meter water resistance (good for swimming but not for deep diving)
---
Official MTG-B2000 Video
Official Marketing Focus from Casio
The new MTG-B2000 watches further advance the Metal Core Guard Structure used in previous MT-G series watches by employing a new Dual Core Guard Structure that incorporates a carbon fiber-reinforced resin case, leveraging the light weight and rigidity of carbon fiber. The watch features a dual structure with a carbon monocoque case that seamlessly integrates the case and case back. This is surrounded by metal frame, giving the watch a refined metal look when viewed straight on and from the sides. This new structure achieved a watch with more visible metal while retaining the popular mid-sized case and weight that users found to be so wearable in the MTG-B1000 released in 2018. The MTG-B2000 watches also feature Triple G Resist to resist dropping shocks, centrifugal gravity, and vibration, ensuring toughness.
The MTG-B2000BD and MTG-B2000D models both come with a new layered-composite band made with a higher proportion of resin, paired with metal parts. They are both about 15% lighter than the predecessor model. The MTG-B2000B comes with a soft urethane band for enhanced wearability and optimum fit, which also accentuates the bold impression of the watch.
Official MTG-B2000 Specs / Features *for base version MTG-B2000BD
Case / bezel material: Carbon / stainless steel
Layered composite solid Band
Shock Resistant
Spherical Glass (Sapphire Glass with non-reflective coating)
200-meter water resistance
Neobrite and LED light (super illuminator, with afterglow function)
Power Source: Tough Solar power system (solar-charging system)
Construction: Triple G Resist (shock-resistant, centrifugal force-resistant, vibration-resistant)
Mobile link (Wireless linking using Bluetooth®) (automatic time adjustment, easy watch setting, world time: over 300 cities, phone finder, watch status display, self-check function)
Radio Wave Reception: Automatic reception up to six times a day (except for use in China: up to five times a day); manual reception
1 second Stopwatch; measuring capacity: 24 hours
Countdown timer
Measuring unit: 1 second (maximum 24 hours)
Auto hand home position correction;
Date / day of the week display
Dual time (27 time zones, with automatic daylight saving time setting function, with home time time change function)
Power Saving (Display goes blank to save power when the watch is left in the dark.)
Full auto-calendar (to year 2099)
Black IP (ion plating)
Screw lock type crown
Carbon core guard structure
One-push three-fold type Nakadome
Accuracy: Radio-controlled (via atomic watch signals), Bluetooth (via phone app)
Approx. battery operating time on after full charge:
About 29 months with the power-saving function ON
Size of case : 55.1×51.0×15.9mm
Total weight : 156g
Recent News about MTG-B2000
---
You ask, we answer…
How does Tough Solar in MTG-B2000 work?
It's CASIO's original solar-charging system that converts not only sunlight but also light from fluorescent lamps and other sources into power.
What is Triple G Resist in MTG-B2000?
It is an ability to resist dropping shocks, centrifugal gravity and vibration, ensuring toughness.
What does G-SHOCK Connected App in MTG-B2000 do?
You may manage all watch settings through your phone.