Time to "touch" the watches that mark a new era in watchmaking for the Japanese brand. That means incorporating biomaterials as the main component in manufacturing cases and straps. This innovation may seem insignificant to some, but it could eventually lead to the widespread industry-wide use of eco-friendly materials. And the Japanese manufacturer, if successful, will be one of the first to stand at the origins. Let's review the PRW-61Y-3 in the traditional Mag review.
The new PRW-61 is the first CASIO watch made with bioplastics derived from renewable organic substances.
Each time I look at my wrist with the new PRW-61Y-3, I realize the strap [and not only] carries micro-parts made of corn, castor oil, and other biomaterials. Agree, it sounds very unusual, and this is even though the watch is the same as it used to be [i.e., there are almost no visual differences].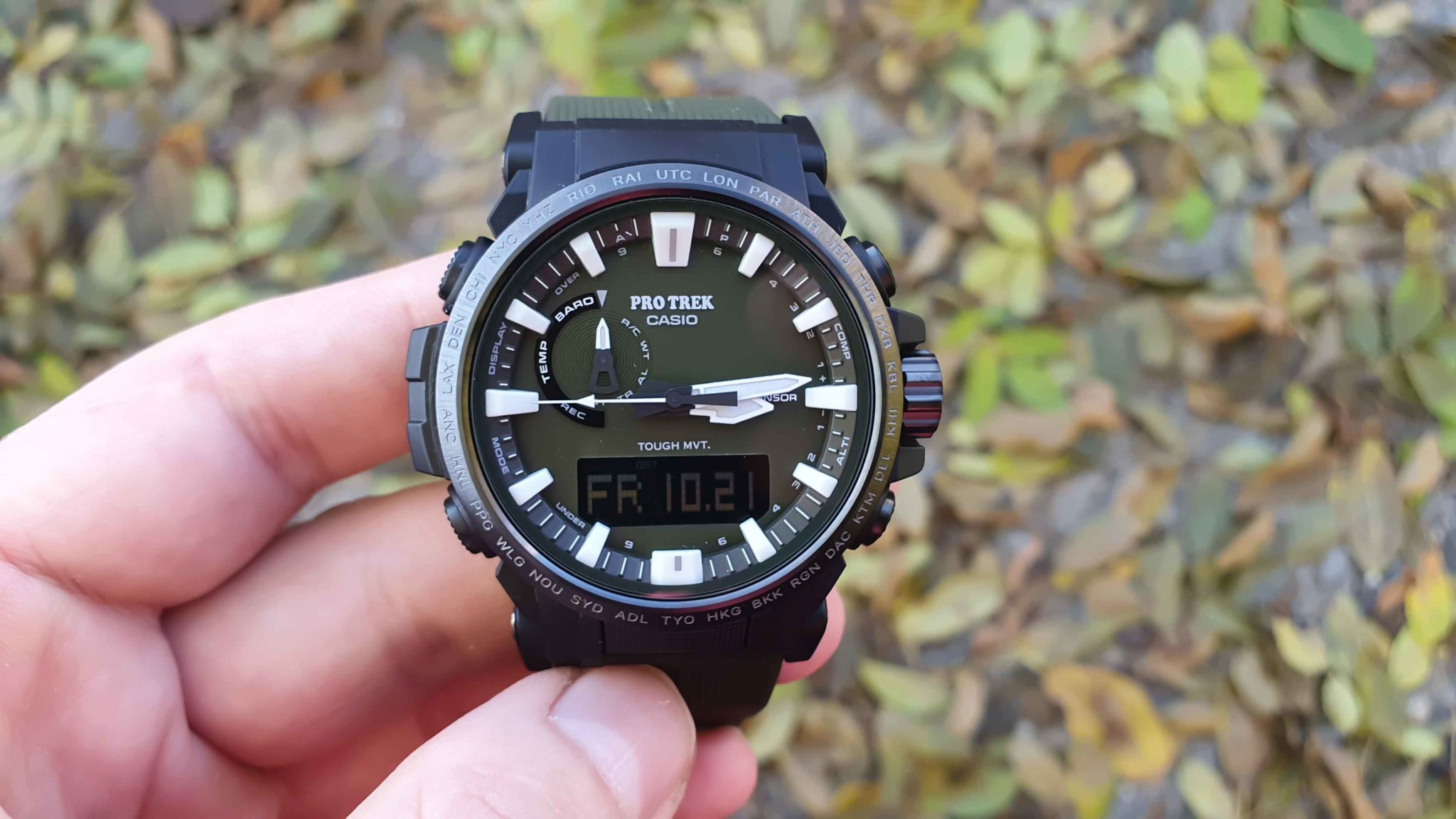 Isn't there any difference from the traditional material? I had to rotate the latest PRW-61Y-3 for a long time to come to the next conclusions…
The watch does not smell like the usual plastic. Yes, this is a very personal aspect, which depends on many factors, but the watch got its own, unique aroma. Damn, I can't believe I'm writing about the smell of the watch in a review.) I can't insist on the perfume aroma, it's just a different smell and that's it. Not cloying, not pungent, different. Though perhaps it will go away over time…
Weight and size. The watch appeared very light to me from the start, so I decided to compare it to the PRW-60-2 [69 grams] VS PRW-61Y-3 [53 grams], and I was right. Note the dimensions of the new product are larger than its companion 51.0 × 47.4 × 14.7mm VS 50.5 × 47.2 × 13.3mm. The watch is bigger but lighter. So much for the difference, which, to be honest, is not really felt. The watch is actually of a normal regular size and does not give the impression of a huge puck.
The back case got an extra round curve. This is not a metal plateau [which is quite common in watches with a steel case], but rather a sophisticated piece of engineering [as it turned out to be].
Let's not forget, we are dealing with a new material that has its own special density, strength, and durability characteristics. During one interview, the guys from CASIO pointed out that it was the back cover that had the most problems in terms of maintaining water resistance [sorry, I lost the original source]. As a reminder, the new PRW-61Y-3 got 100m water resistance, as did all PROTREKs, which means the problem was solved. I would also like to mention a very pleasant tactile feeling while wearing the PRW-61Y-3 on the wrist. The feeling of softness and warmth never leaves).
The strap. This is another watch element that's a little different. The interesting thing is that it doesn't stretch as much as the rubber one, but it's still quite elastic.
The movement in the watch is traditional, which means that we only find biomaterials in the case, the strap, and the back cover. I even have doubts about the hands and hour markers – there is a feeling that they are traditional because you still need to know how to work with such miniaturized elements [and they should be reliable].
The PROTREK brand has always been for nature and created for nature, so ecological materials or its production once again emphasize its values and meanings. Greta Thunberg approves)), and in general, it is good to protect our planet.
From a visual perspective, the PRW-61Y-3 is a very nice-looking watch. It's been a long time since I've seen such distinct hands and hour markers that are also luminous after a minimal boost from any light source. It's really cool to see such a natural luminescent afterglow.
I also like a dark green color the PRW-61Y-3 uses. The color looks atypical and can be used with almost any outfit and meant for any lifestyle.
PRW-61 remains faithful to the traditional PROTREK functionality: solar power, MultiBand6, ABC sensor [altimeter/barometer, compass, thermometer], world time, stopwatch, timer, etc. These are pretty typical functions, so I don't see any reason to review them. Let's say – the functional set is very reliable and nice, but not designed for specialized hobbies [e.g. no GPS].
Conclusions
I would personally like to see more significant changes in the PROTREK lineup, not just a new material. That said, I don't want to underestimate bioplastic – it's a crucial innovation that could become a standard for CASIO [we're already seeing it in the new series]. As for the PRW-61Y-3 – stunning and reliable watch. If you also have a love for nature, this watch is made for you.