---
EDIFICE watches with 10-year batteries are known for their long-lasting power source, which eliminates the need to frequently replace the battery. These watches are equipped with a specially designed battery that can supply energy to the watch for approximately 10 years. Such models are usually cheaper than Tough Solar series, however they last almost as long as solar powered.
---
Listing of current Edifice with 10-Years Battery
---
Use our advanced table to filter all watches in the listing by price, or search a top feature by typing for example "Stopwatch" in the search form.
*you can use a horizontal scroll on mobile to see all table columns
EDIFICE
Year
Top Features
Avg Amazon
Price
EFV-C110
2022
Stopwatch, Countdown Timer, World Time, Telememo
$220
ERA-120
2019
Stopwatch, Countdown Timer, World Time, Telememo
$205
EFV-C100
2018
Stopwatch, Countdown Timer, World Time, Telememo
$150
ERA-110
2018
Stopwatch, Countdown Timer, World Time, Telememo
$218
EF-125
2008
Date Display
$100
EF-121
2004
Date Display
$80
---
Year of first Release — 2022 / $90
*average Amazon Price, we may earn commission from purchases
Lineup: ANA-DIGI COMBINATION All EDIFICE Ana-Digi Watches →
You pay for: Telememo 30, Countdown timer, Stopwatch, 100-meter water resistance.
Full information: Colors, Detailed Specs, Photos, News on EFV-C110 Wiki Page →
---
Year of first Release — 2019 / 205$
*average Amazon Price, we may earn commission from purchases
Lineup: WORLD TIME All EDIFICE World Time Watches →
You pay for: 100-meter water resistance, Telememo 30, Stopwatch, World Time, 10-year battery
Full information: Colors, Detailed Specs, Photos, News on ERA-120 Wiki Page →
---
Year of first Release — 2018 / 150$ (Official Casio Store on Amazon)
*average Amazon Price, we may earn commission from purchases
Lineup: WORLD TIME All EDIFICE World Time Watches →
You pay for: 100-meter water resistance, Telememo 30, Countdown timer, 3 daily alarms, Stopwatch, World Time, 10-year battery
Full information: Colors, Detailed Specs, Photos, News on EFV-C100 Wiki Page →
---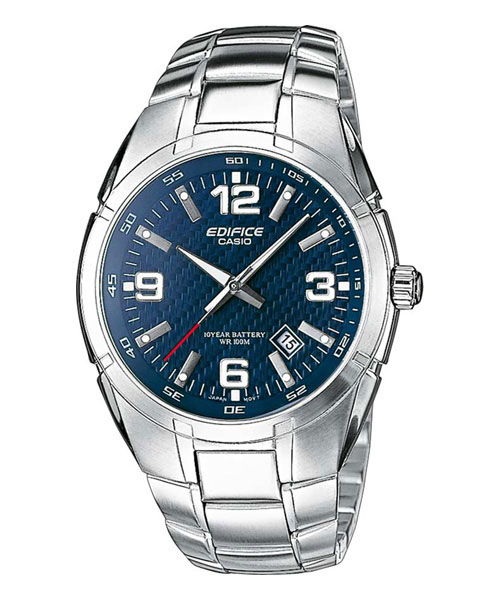 Year of first Release — 2008 / 100$ (Official Casio Store on Amazon)
*average Amazon Price, we may earn commission from purchases
Lineup: STANDARD ANALOG All EDIFICE Standard Analog Watches →
You pay for: 100-meter water resistance, Date display, Carbon pattern face, 10-year battery life
Full information: Colors, Detailed Specs, Photos, News on EF-125 Wiki Page →
---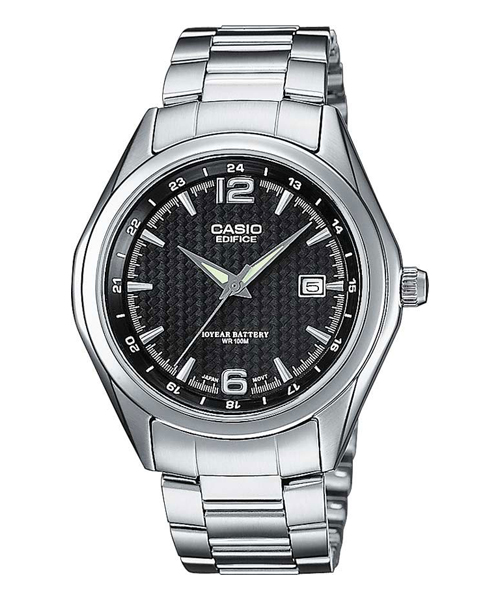 Year of first Release — 2004 / 80$
*average Amazon Price, we may earn commission from purchases
Lineup: STANDARD ANALOG All EDIFICE Standard Analog Watches →
You pay for: 100-meter water resistance, Date display, 10-year battery
Full information: Colors, Detailed Specs, Photos, News on EF-121 Wiki Page →
---
Year of first Release — 2018 / 218$ (Official Casio Store on Amazon)
*average Amazon Price, we may earn commission from purchases
Lineup: WORLD TIME All EDIFICE World Time Watches →
You pay for: 100-meter water resistance, Telememo 30, World time, Countdown timer, Stopwatch, 3 daily alarms, 10-years battery
Full information: Colors, Detailed Specs, Photos, News on ERA-110 Wiki Page →
---