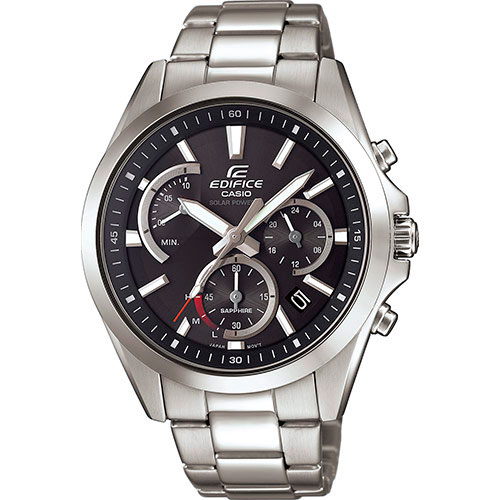 Dynamics and speed – this is how the EFS-S530 series can be characterized by its appearance. The design of the dial is made according to the canons of the automotive essence of the Edifice brand – this is indicated by additional. windows resembling a car dashboard, and a pointed second hand with a highlighted tip. The watch has a stopwatch, and one of the windows, which is responsible for showing the minutes of the stopwatch, has a retrograde shape – when the arrow jumps to its initial position, rather than rotating in a circle. Sapphire crystal not only looks solid, but practically does not scratch, because the material itself is very hard. EFS-S530 is powered by a solar battery, which has no expiration date.
Important Information
Price — 190$ *average Amazon Price, we may earn commission from purchases
Year of first Release —  2019
Module Number — 5587
Model Range — SOLAR
Other Divisions the EFS-S530 belongs to: *you may find all watches of the division by clicking on the link
Battery Type — Solar (Edifice Batteries)
EFS-S530 Model Range *may be updated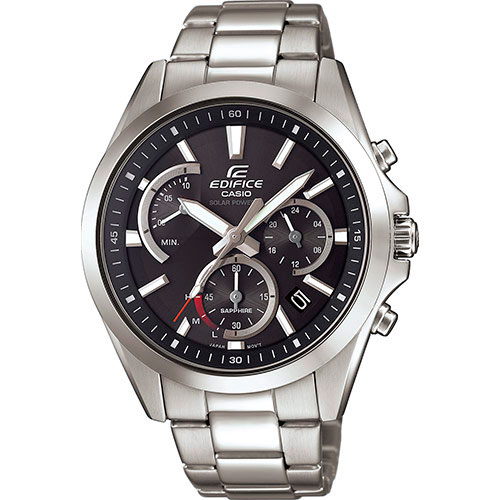 Official EFS-S530 Specs / Features *for base version EFS-S530D-2A
Solar Power
A solar cell provides power for operation.
Neo-display
A luminous coating provides long-term illumination in the dark after only a short exposure to light.
Date display
The current date is shown on the display
Stopwatch function – 10 min.
Sapphire crystal
Artificially manufactured glass with the hightest hardness and scratch resistance
Solid stainless steel case
Screw locked back
The screw connection on the base of the housing optimally protects the inner workings of the watch and simultaneously provides easy access, when changing the battery for example.
Stainless steel band
Tough, durable and elegant: The stainless steel wrist strap gives your watch that classic feel.
Safety Catch
Always reliable: This watch has a particularly secure safety catch, which helps prevent the strap from opening by mistake.
Battery level indicator
An indicator shows the current battery level.
Water resistance classification (10 bar)
Perfect for swimming and snorkelling: the watch is water resistant to 10 bar according to ISO 22810.
Dimensions (H x W x D)
49,5mm x 44,2mm x 11,6mm
Weight
approx. 160,0 g
Recent News about EFS-S530
---
You ask, we answer…
What does 100-meter water resistance in EFS-S530 mean?
The watch is good for swimming but not for deep diving.
What does Tough Solar in EFS-S530 mean?
CASIO's original solar-charging system converts not only sunlight but also light from fluorescent lamps and other sources into power.
What model range does EFS-S530 belong to?
Edifice Solar.