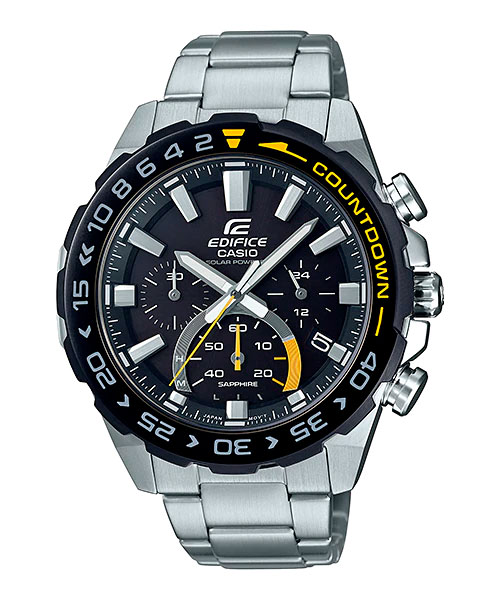 Introducing new EDIFICE solar powered chronographs with sapphire crystals. These new models add highly scratch-resistant sapphire crystals to the EDIFICE solar-powered EFS-S550 Series chronograph, can be charged even by exposure to fluorescent light.
The Scuderia Toro Rosso racing team constantly pushes the limits of speed in order to remain competitive in the world of F1 racing, while EDIFICE develops and incorporates the latest in chronograph technology to make it possible to measure speed. By partnering with Scuderia Toro Rosso, EDIFICE firmly establishes itself as a leading motorsports chronograph.
Important Information
Price — 160$ *average Amazon Price, we may earn commission from purchases
Year of first Release —  2020
Module Number — 5622
Model Range — SOLAR
Other Divisions the EFS-S550 belongs to: *you may find all watches of the division by clicking on the link
Battery Type — Solar (Edifice Batteries)
EFS-S550 Model Range *may be updated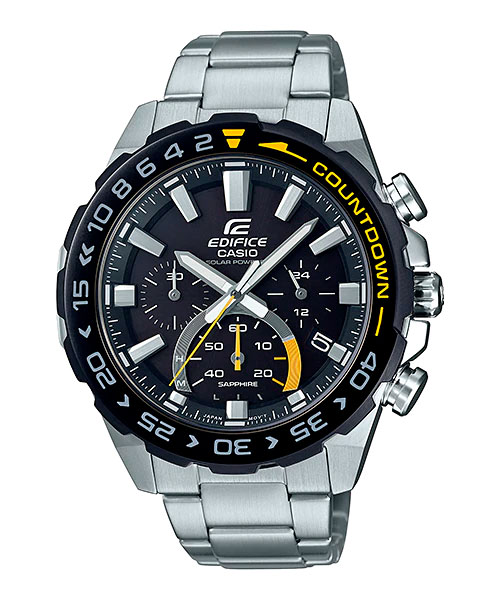 Official Marketing Focus from Casio
The EFS-S550 was developed under the guidance of the Scuderia Toro Rosso pit crew. Solar powered operation, highly scratch resistant sapphire crystals, and 100-meter water resistance all combine to make these the ultimate in pit crew chronograph reliability. A countdown bezel also supports crew timekeeping management. It enables countdown of the time to the next scheduled event or the time remaining until a task being performed needs to be completed.
The models in this lineup are available with a choice of yellow, blue, or orange highlight colors, each of which was selected to maximize viewability and sporty looks. There is also a choice of metal, resin, and nylon bands to suit individual preferences for look and fit.
Official EFS-S550 Specs / Features *for base version EFS-S550DB-1AV
Case / bezel material: Stainless steel
One-touch 3-fold Clasp
Stainless Steel Band
Sapphire Glass with non-reflective coating
Anti-reverse Bezel
Black ion plated bezel
100-meter water resistance
Solar powered
1-second stopwatch
Measuring capacity: 29'59
Measuring modes: Elapsed time, split time, 1st-2nd place times
Date display
Regular timekeeping
Analog: 3 hands (hour, minute, second),
3 dials (24-hour, stopwatch minutes, stopwatch seconds)
Accuracy: ±20 seconds per month
Operating time from full charge until hands stop: Approx. 5 months
Size of case : 50×47×12mm
Total weight : 153g
Recent News about EFS-S550
---
You ask, we answer…
What does 100-meter water resistance in EFS-S550 mean?
The watch is good for swimming but not for deep diving.
What does Tough Solar in EFS-S550 mean?
CASIO's original solar-charging system converts not only sunlight but also light from fluorescent lamps and other sources into power.
What does Anti-reverse Bezel in EFS-S550 do?
It enables countdown of the time to the next scheduled event or the time remaining until a task being performed needs to be completed.