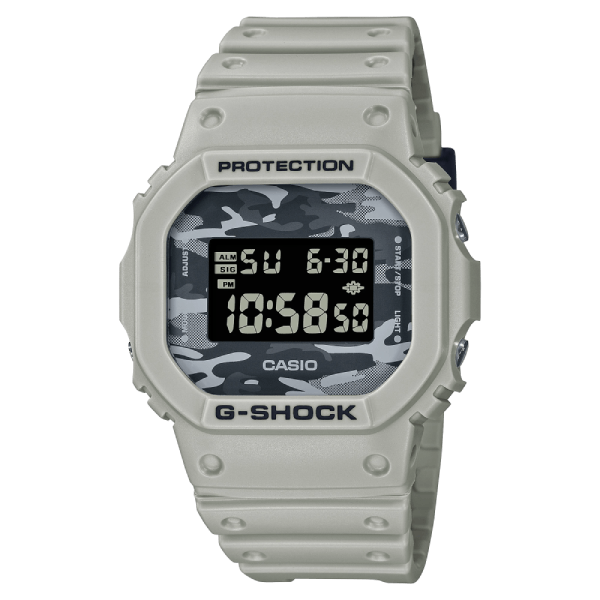 Sorry, we haven't found the exact link on DW-5600CA-8 model, so you are to search among DW-5600 models.
---
---
A watch that goes with you all the way from the wild outdoors to the inner city, in just-right colours that fit in anywhere. Featuring an original G-SHOCK camouflage motif on the dial.
---
---
These models represent some of the very best of the tough and durable G-SHOCK design in basic G-SHOCK black. In addition to the band, even the watch's buttons are ion plated to a black finish. 200-meter water resistance and a convenient EL backlight display packed into a design that is tough, rugged, and fashionable.
---
G-Shock DW-5600 Display Guide *for key functions only. For you to know how it works))
Timekeeping
To set the time and date
1. Press (A) while in the Timekeeping Mode. The seconds digits flash on the display because they are selected.
2. Press (C) to change the selection.
Alarm
You can set an alarm with hour, minutes, month, and day. When the alarm is on, the alarm sounds for 20 seconds at the preset time. When the Hourly Time Signal is on, the watch beeps every hour on the hour.

Countdown Timer
The countdown timer can be set within a range of 1 second to 24 hours. When the countdown reaches zero, an alarm sounds for 10 seconds or until you press any button.
Stopwatch
The Stopwatch Mode lets you measure elapsed time, split times, and two finishes. The range of the stopwatch is 23 hours, 59 minutes, 59 seconds.
---
DW-5600CA-8 Specifications
Case / bezel material: Resin
Resin Band
Shock Resistant
Mineral Glass
200-meter water resistance
Electro-luminescent backlight
Afterglow
Flash alert
Flashes with buzzer that sounds for alarms, hourly time signals
1/100-second stopwatch
Measuring capacity: 00'00″00~59'59″99 (for the first 60 minutes)
1:00'00~23:59'59 (after 60 minutes)
Measuring unit: 1/100 second (for the first 60 minutes)
1 second (after 60 minutes)
Measuring modes: Elapsed time, split time, 1st-2nd place times
Countdown timer
Measuring unit: 1 second
Countdown range: 24 hours
Countdown start time setting range: 1 second to 24 hours (1-second increments, 1-minute increments and 1-hour increments)
Other: Auto-repeat
Multi-function alarm
Hourly time signal
Full auto-calendar (to year 2099)
12/24-hour format
Regular timekeeping: Hour, minute, second, pm, month, date, day
Accuracy: ±15 seconds per month
Approx. battery life: 2 years on CR2016
Size of case / Total weight
Size of case : 48.9×42.8×13.4mm
Total weight : 53g
---
---
*you will find a full DW-5600 model range, new colors, distinctive features, official video, and other valuable information about the watch.