It is interesting to observe the marketing in watchmaking. Everything here is quite simple – a beautiful story, a new material or technology, and you can call the watch a new one. And this "new release" can be insignificant at all. Let's review today the GM-B2100D-1A model, which can't be called very new, but has a new steel case and BLUETOOTH technology.
The GM-B2100 series is really new [2022], but when you look at the lineup, you get a feeling of deja vu.
We are facing the same octagonal form factor [only in a steel casing], the same display and window layout [as in the GA-2100 resin budget versions], and the same BLUETOOTH feature [as in the GA-B2100].
GM-B2100 just managed to combine all these three features into a single image. That's why I can't call the GM-B2100 a highly expected release. The emergence of such a creation was quite a logical consequence. The Japanese learned how to play with metal, and tested BLUETOOTH in earlier versions, which means it's time to flood the market with popular G-SHOCK designs, but with new technologies inside. It's time to change something because you are not going to sell the DW-5600s for the rest of your life [considering the fast technology development]. However… Who knows…
So what am I driving at? We should expect numerous upgrades of popular G-SHOCK cases, where BLUETOOTH synchronization will serve as an innovative feature. Whether this is good or bad is not for me to judge.) This is the reality of 2022 and probably 2023.
However, I do find the GM-B2100D-1A an interesting watch to review. This is a watch for an entirely different audience: lovers of metallic gloss, luster, and luxury.
P.S. Don't mind the length of the bracelet, I just haven't shortened it.
For people who value watches primarily for their striking look, not for any "internal" features [the manufacturer added BLUETOOTH for a touch of "modernity" anyway]. And yes, these are not the old resin g-shocks we all got used to so long ago.
Considering the GM-B2100 from this perspective, the watch is obviously an admirable one. The only thing that confuses me from the first glance at the display is the terrible readability.
Of course, I understand the love for glitter and all that, but why "killing" the key watch feature? We're not talking now about some kind of wrist microphone or a smartwatch where you can customize everything [or the feature doesn't require visual information]. No. The designers here simply decided to take the focus off the display for the benefit of the steel beauty, but they forgot about the main practical essence of GM-B2100.
I may be too old for design watches, but you should definitely consider this point before buying it.
On the other hand, the GM-B2100 has a bright backlight, which at least somehow smoothes the moment with readability. And you won't have any problems in a well-lit space, either.
The more I dive into studying the display, the more I understand the idea behind it. And the idea, as you have already figured out, is to be unnoticed). Hour markers in matte black, a negative digital display, gray inscriptions, black matte display background, and gray main hands, albeit with a luminescent coating. The designers coped with this task very professionally. If I wanted to buy a stealth watch in the literal sense of the word, the GM-B2100D-1A would be my favorite.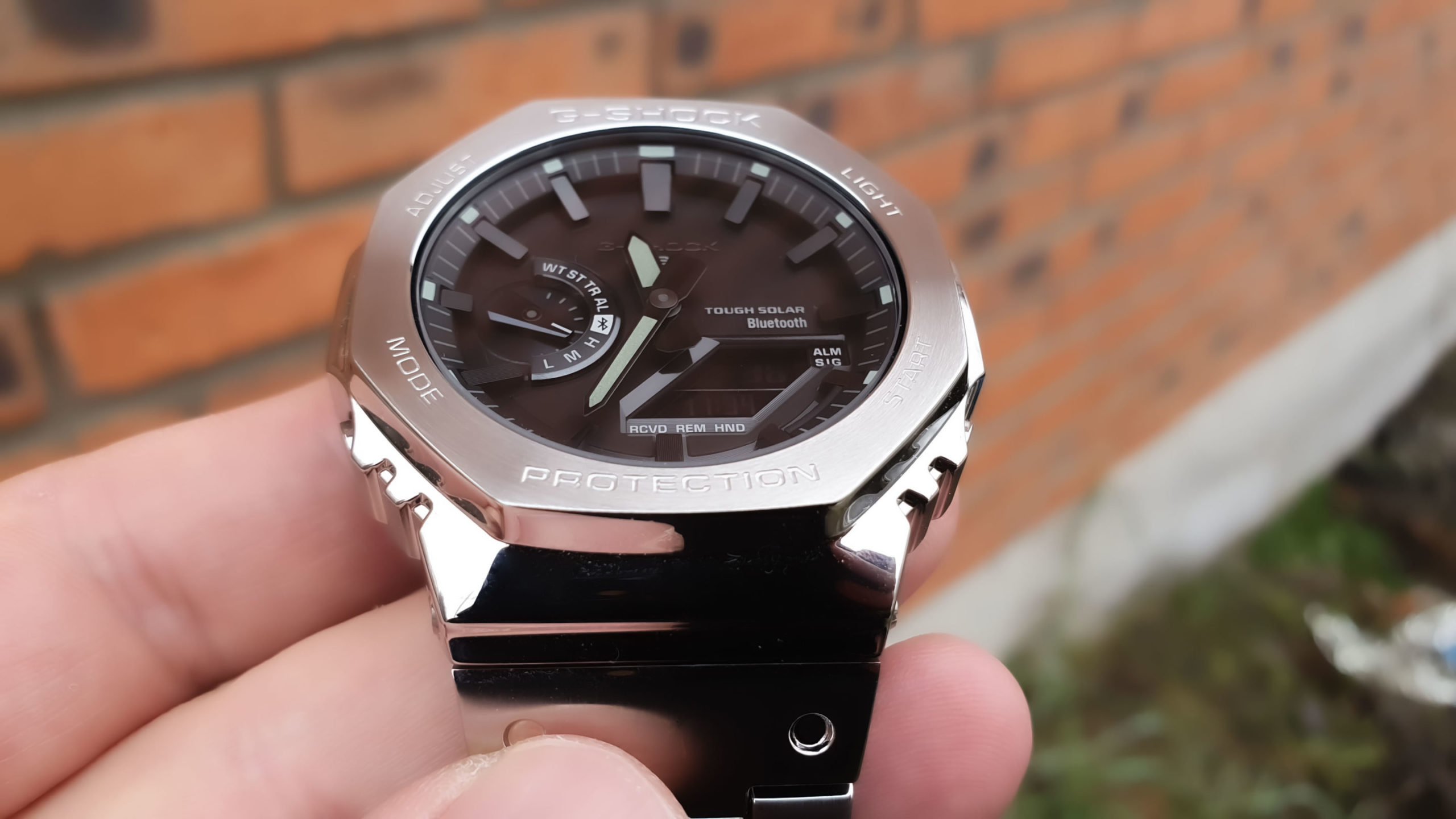 Despite such a specific look for a G-SHOCK, I can't help but mention other very striking features of today's hero – solar power and BLUETOOTH synchronization. Yes, the solar-powered battery is a great solution, which many people have been waiting for in octagons, even more so with BLUETOOTH functionality. [P.S. Do not think that such a battery will last "forever", it also has its capacity. But you will definitely forget about battery replacement for 5-10 years].
I would like to draw your attention to another appealing watch element – the domed black screw-down case back. Not many people will understand this feature because it is more about mechanical reliability and traditional watch manufacturing. I literally plunged into the past with it.)
What about functions? An interesting point. The watch supports the CASIO WATCHES app, which means in addition to perfect accuracy [the watch checks the accuracy automatically and corrects the movement if necessary], there is also a number of nice features in the app itself.
I like to monitor the battery level. To know for sure what's going on. It is convenient to set up alarms. And in general, the app has always been about convenience. So enjoy it!
One of my favorite features is the hand control via the phone screen. I do this just for the fun to enjoy the magic that happens, as you probably won't use this feature [automatic synchronization will do its job]. In the second screenshot, you can see what other settings you can adjust in the app itself [actually, it's just a duplication of the traditional moving modes by pressing the Adjust button].
You can also find the phone via the watch, select the time in a different time zone and make other minimal adjustments even for such a seemingly simple watch, but to fit your needs.
GM-B2100D-1A you will feel on your wrist [165 grams] – after all, there is enough steel. But it is a nice "weight" that is not thick [12.8 mm] either.
Conclusions
The GM-B2100D-1A is a very beautiful watch. This beauty is perfectly combined with modern functionality, materials, and even solar power [which was not available before in octagonal form]. I have questions about the readability, but it is up to you to decide whether it will be a stylish or a practical watch. In any case, CASIO has both.
*Valdemar, specially for casioblog.com & casiofanmag.com. Support Ukraine & Stay Healthy!