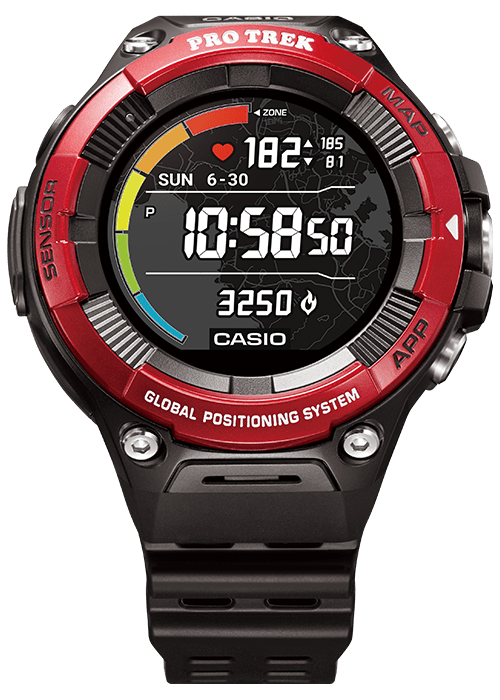 Important Information
Price — 300$ *average Amazon Price, we may earn commission from purchases
Year of first Release —  2019
Model Range — SMART
Other Divisions the WSD-F21 belongs to: *you may find all watches of the division by clicking on the link
Battery Type — Lithium-ion battery (ProTrek Batteries)
WSD-F21 Model Range *may be updated
---
The most distinctive specs of WSD-F21 *Editorial
— 50-meter water resistance (This watch can be worn when showering and bathing – it is tested for water resistance up to 5 bar according to ISO 22810)
— Wear OS by Google™ (To connect the CASIO watch to a smartphone, the Wear OS by Google operating system must be installed on the device)
— 4 GB internal memor (Large memory offers sufficient space for additional apps)
— GPS function (Measures your current position using artificial satellites circling the globe)
— Wi-Fi (IEEE 802.11 b/g/n (If Wi-Fi is enabled on your watch, it will automatically establish a connection to a known, available Wi-Fi network (if the watch is not connected to your smartphone via Bluetooth®)
— Bluetooth® Smart (The watch is equipped with energy-saving Bluetooth® technology, which offers power-saving data transfer at the push of a button)
— Mobile link (Wireless linking using Bluetooth(R)) (for time sync with your phone data)
— MIL-STD-810G compliant (The MIL-STD-810 is a U.S. military technical standard that specifies environmental test conditions for military equipment)
— Double LCD – 320 x 300 (The display consists of two overlapping, independent LCDs. The monochrome display provides an excellent level of readability, even in difficult lighting conditions)
— Touchscreen (The watch is equipped with a touchscreen, which allows a wide range of functions to be adjusted quickly and intuitively using familiar touchscreen controls.)
— Fishing Timer (Know when they are biting. The watch displays a fish symbol when it is the perfect time for fishing)
— Digital compass (measures and displays direction as one of 16 points)
— Thermometer (can measure and display the outside temperature in a range from -10 C to 60 C)
— Barometer (measures the air pressures and displays tendencies in the weather)
— Altimeter (The electronic mechanism "estimates" the altitude based on the air pressure)
— Moon Data (The moon phase indicator shows the current moon phase based to the earth)
— Tide indicator (Once the high tide time has been entered for a selected location, the watch can display the low and high tide phases at this location on any given date)
— Gyrometer (The gyro sensor shows you every little change in direction during navigation, ensuring you always reach your destination)
— Acceleration sensor (The motion sensor responds to acceleration and shows this as a speed on the display. The sensor also supports the auto rotation function of the watch, ensuring that the image is always displayed the right way up on the display)
— Microphone (Make your daily life easier using practical voice commands spoken directly into the microphone on your watch)
— Optical heart rate monitoring (An optical sensor on the back of the watch case measures the heart rate on the wrist using light-emitting diodes (LEDs). The measured values are displayed on the watch)
---
Official WSD-F21 Video
Official WSD-F21 Specs / Features *for base version WSD-F21HR-RD
Wear OS by Google™
To connect the CASIO watch to a smartphone, the Wear OS by Google operating system must be installed on the device. Wear OS by Google offers a variety of pre-installed apps for outdoor activities. Additional compatible apps can be installed on the watch from the Google Play Store if desired.
Wi-Fi (IEEE 802.11 b/g/n)
If Wi-Fi is enabled on your watch, it will automatically establish a connection to a known, available Wi-Fi network (if the watch is not connected to your smartphone via Bluetooth®).
Bluetooth® Smart
The watch is equipped with energy-saving Bluetooth® technology, which offers power-saving data transfer at the push of a button. The watch can connect to a smartphone wirelessly via Bluetooth®, enabling access to a wide range of useful functions.
Smartphone time
Local time will automatically be adjusted whenever the watch is connected with a smartphone.
MIL-STD-810G compliant
The MIL-STD-810 is a U.S. military technical standard that specifies environmental test conditions for military equipment. The standard defines tests for the compatibility of equipment and devices with extreme temperatures and air pressures, solar radiation, humidity, chemicals, acceleration forces and vibrations.
Touchscreen
The watch is equipped with a touchscreen, which allows a wide range of functions to be adjusted quickly and intuitively using familiar touchscreen controls.
Double LCD (320 x 300)
The display consists of two overlapping, independent LCDs. The monochrome display provides an excellent level of readability, even in difficult lighting conditions. The colour display can show graphical or colourful measured data in an optimal way and provides a clear overview of the content.
Optical heart rate monitoring
An optical sensor on the back of the watch case measures the heart rate on the wrist using light-emitting diodes (LEDs). The measured values are displayed on the watch.
Barometer (260 / 1.100 hPa)
A special sensor measures the air pressure (measuring range: 260 / 1100 hPa) and presents this on the display in the form of a symbol. This enables early detection of weather trends.
Digital-compass
A built-in direction sensor detecs the magnetic north.
10,000 m Altimeter
A pressure sensor detects changes in the air pressure and converts the result into an altitude up to 10,000 m.
Moon Phase Indicator
The moon phase indicator shows the current moon phase based to the earth
Tide indicator
Once the high tide time has been entered for a selected location, the watch can display the low and high tide phases at this location on any given date. This can be quite useful, for example, if you want to know the patterns of the tides at your destination in advance.
Gyrometer
Ideal for outdoor activities: The gyro sensor shows you every little change in direction during navigation, ensuring you always reach your destination. The sensor detects the smallest movements of the watch and acts against this by supporting optical image stabilisation or the alignment of the display.
Acceleration sensor
The motion sensor responds to acceleration and shows this as a speed on the display. The sensor also supports the auto rotation function of the watch, ensuring that the image is always displayed the right way up on the display.
Sunrise/sunset display
After entering the geographical location, sunrise and sunset times can be displayed for any given date.
GPS function
Measures your current position using artificial satellites circling the globe.
Fishing Timer
Know when they are biting. The watch displays a fish symbol when it is the perfect time for fishing.
Altimeter data memory
Depending on the model, up to 40 sets of elevation data can be stored in the watch's data memory and re-accessed at any time. Each of these data sets consists of a measured altitude as well as the date and time. In addition to the individual altitudes, the maximum and minimum altitudes during a measurement are also stored.
World time function
Displays the current time in major cities and specific areas around the world.
Vibration alert
The vibration alarm discreetly reminds you of important appointments, without emitting a loud signal.
Airplane Mode (Offline Mode)
At the touch of a button, the watch switches to offline mode. This means that you can disable the wireless or GPS receiver when in the air for the duration of the flight.
Microphone
Make your daily life easier using practical voice commands spoken directly into the microphone on your watch. For example, you can start a Google search by saying "OK Google" — without the need to touch the display, or even take your smartphone out of your pocket. Many actions can be performed via the microphone using voice commands.
Mineral glass
The tough mineral glass resists scratching.
Resin case
Resin band
Synthetic resin is the ideal material for wrist straps thanks to its extremely durable and flexible properties.
Battery level indicator
An indicator shows the current battery level.
Water resistance classification (5 bar)
This watch can be worn when showering and bathing – it is tested for water resistance up to 5 bar according to ISO 22810.
Dimensions (H x W x D)
61,7mm x 57,7mm x 16,8mm
Weight
approx. 81 g
---
WSD-F21 Comparison Table with similar ProTrek Watches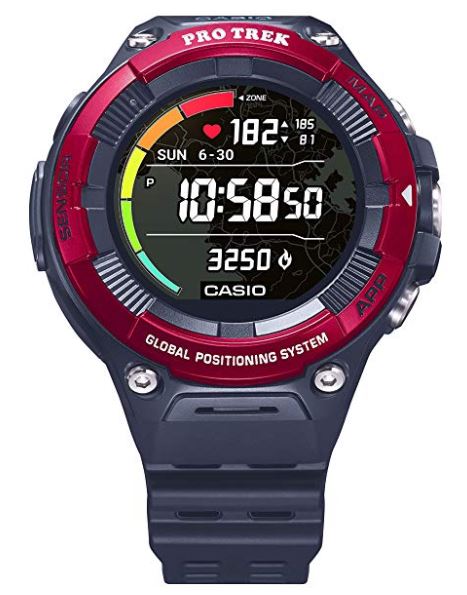 Bluetooth (via phone app)

Bluetooth (via phone app)

Bluetooth (via phone app)

Bluetooth® Smart, Wear OS by Google™

Bluetooth® Smart, Wear OS by Google™

Bluetooth® Smart, Wear OS by Google™

1.32-inch, dual layer display
Color TFT LCD (320 × 300 pixels) and monochrome LCD

1.2-inch dual layer display
Color OLED (390×390 pixels) and monochrome LCD

1.32-inch dual layer display
Color TFT LCD and monochrome LCD
Color: 320 × 300 pixels

Compatible (including GLONASS and MICHIBIKI (QZSS))

Compatible (including GPS, GLONASS and Michibiki)

Compatible (including GLONASS and Michibiki)

Normal use (Color display auto OFF*3):Up to 1.5 days
Multi-Timepiece mode (timekeeping and sensors only):Up to 1 month. Running/trail running (using heart rate measurement): Up to 20 hours*3 *5


Normal use (color display): 1.5 day, roughly
Multi Timepiece Mode (timekeeping and sensors only)*3: 1 month, roughly
(Varies according to use)

Normal use (color display): 1 day, roughly
Normal use (color display Auto Off*3): 2 days, roughly
Timepiece Mode (timekeeping only): more than 1 month, roughly
(Varies according to use)

Size (mm) *we consider 48.9×42.8×13.4 to be a traditional watch size (as in DW-5600). So you are to compare how far or close the watch is to this size

Full features (if you want to know more)
---
Recent News about WSD-F21
---
You ask, we answer…
What is Mobile link in WSD-F21?
It's wireless linking using Bluetooth(R) (for time sync with your phone data).
How does Digital compass in WSD-F21 work?
It measures and displays direction as one of 16 points.
What is Altimeter in WSD-F21?
It's the electronic mechanism that "estimates" the altitude based on the air pressure.
What does Barometer in WSD-F21 do?
It measures the air pressures and displays tendencies in the weather.