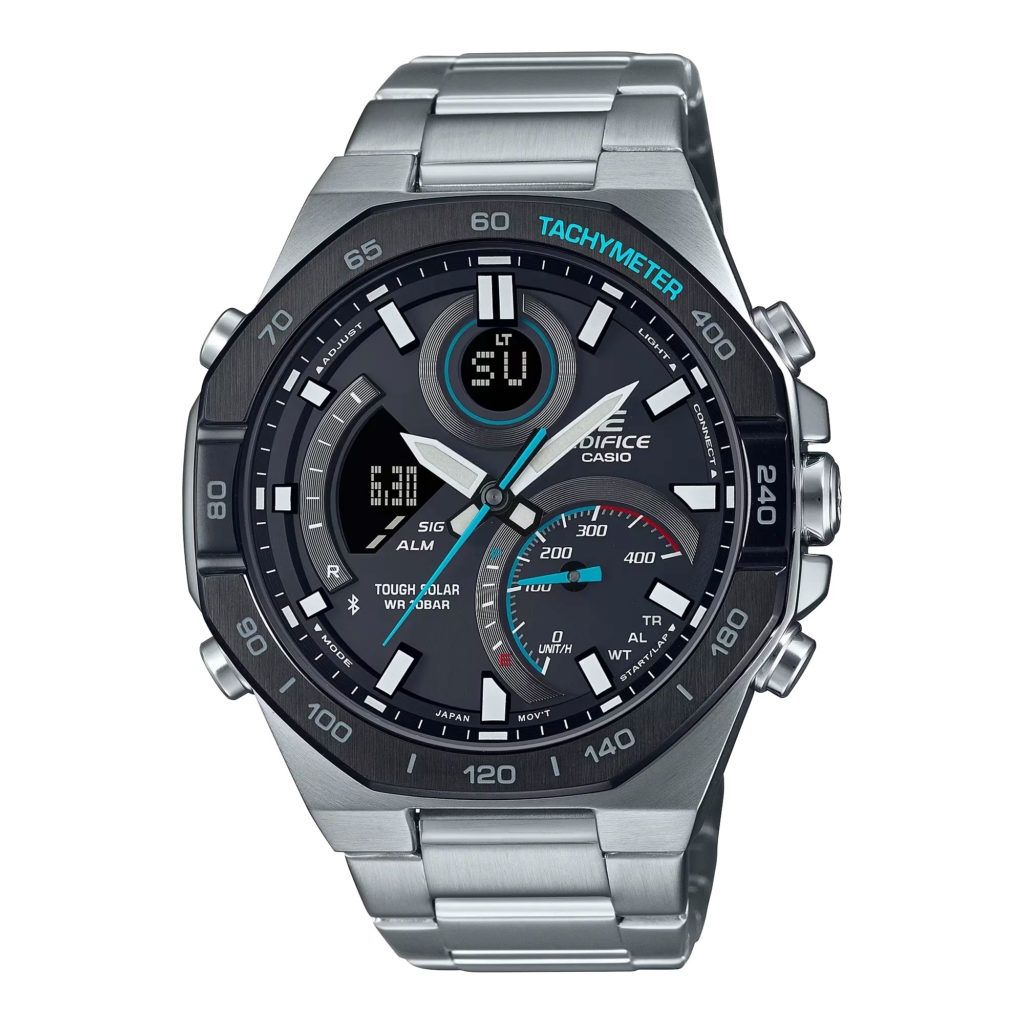 ---
Official ECB-950 Series Description
Get smartphone connectivity and so much more in an analog-digital combination EDIFICE timepiece, made to project speed and intelligence.
The bold, sophisticated design features an octagonal bezel that evokes the lines of a race car mechanic's tools.
More than just an eye catcher, this watch delivers full-on functionality so you can get all the information you need on the easy-read hands and LCD.
Sync with your smartphone via Bluetooth® for precision timekeeping, wherever you go. Simply tap on the app to effortlessly manage functions like selecting a city from the World Time list. The large inset dial at the 4 o'clock position boasts a speed indicator that displays average speeds when timing laps for set distances. The fully automatic LED light illuminates the dial and LCD with just a tilt of the wrist. Tough Solar charges the watch from sunlight or even fluorescent lamp light.
---
---
ECB-950 Model Range *may be updated
---
Quick Content Guide
---
Enjoy Japanese approaches to Beautiful and Functional Watches!
Multicolor dial with steering wheel motif.
The dial features a layout with four accent colors, inspired by the color-coded push-button controls on race car steering wheels. In the world of high-speed racing, with its demand for split-second decisions and precisely executed action, the most vital timekeeping function on a watch is considered to be the seconds. These new watches deliver enhanced utility for this and other key functions, including lap-time measurement and mode switching, while at the same time presenting a design that will excite motorsports enthusiasts.
Bold, sporty design boasting a colorful second hand.
The chronograph face features a brightly colored, high-visibility second hand. The black IP bezel is engraved with tachymeter markings and paired with a stainless-steel case, with different finishes applied individually to each component. Extremely comfortable soft urethane is used for the band. The motorsports-inspired design creates a powerful sense of presence and a bold, dynamic look.
Speed indicator convenient for watching races.
The average speed is calculated based on the distance specified in the app and displayed on the watch when measuring lap times.
Smartphone Link for full functionality at your fingertips.
Smartphone pairing via Bluetooth® delivers automatic time correction and makes it easy to configure various functions from the app, including world time. In addition to the watch's 200-lap memory for the stopwatch timer, it allows data transfer to the app, as well.
Tough Solar powered for converting light to energy.
After full charge, the watch can be operated without solar charging for about 6 months with normal use of functions and about 19 months with the power-saving function enabled.
Super Illuminator (high-brightness double LED light) for readability in the dark.
A high-luminosity double LED illuminates the dial and the LCD. The ECB-950MP and ECB-900MP are equipped with the full auto-light function, which includes a brightness sensor so that the dial and LCD are lit with a tilt of the wrist only in dark locations. These are extremely useful features when you don't have a hand free.
---
General Information
---
Edifice ECB-950 Display Guide *for key functions only. For you to know how it works))
General Guide
LCD
Minute hand
Hour hand
Second hand
Mode hand. Indicates the current mode. In the Timekeeping Mode, this hand shows the current charge level.
Shifting the Hands
While holding down (B), press (D).
– This will shift the analog hands to allow easy viewing of display information.
To return the hands to their normal timekeeping positions, hold down (B) as you press (D) again, or press (D) to change to another mode
Phone Finder
You can use phone finder to trigger a tone on the phone to make it easy to find. The tone is forced to sound even if the phone is in vibrate mode.
World Time
Enter the World Time Mode.
Use (E) to display the city you want. Holding down (E) scrolls through settings at high speed.
Stopwatch
The stopwatch measures elapsed time in 1/1000-second units for the first hour, and in 1/10-second units after that for up to 24 hours. In addition to normal elapsed time measurements, the stopwatch also lets you measure lap times.
---
The most distinctive specs of ECB-950 — Octagon Bezel, Solar Power and Bluetooth
*Editorial
— Octagonal bezel (evokes the lines of a race car mechanic's tools)
— Edifice Connected App (you may manage all watch settings through your phone)
— Mobile link (Wireless linking using Bluetooth(R)) (for time sync with your phone data)
— Tough Solar (CASIO's original solar-charging system converts not only sunlight but also light from fluorescent lamps and other sources into power)
— Speed Indicator (Measurement of a lap time calculates and displays an average speed value based on a circuit distance you specify using the smartphone app)
— Super Illuminator (uses high-brightness LED illumination that automatically illuminates both the analog face and the digital displays)
— 100-meter water resistance (good for swimming but not for deep diving)
---
Other Edifice ECB Watches *similar by price and functions but different by cases
These are not all Edifice ECB Series. Here is a list of All Edifice ECB Watches →
---
Official Edifice ECB-950 Video
Will be soon…
---
Edifice ECB-950 on the wrist!
Will be soon…
---
Official ECB-950 Specs / Features *for base version ECB-950DB-2A
Case size (L× W× H): 51.2 × 48 × 13.9 mm
Weight: 171 g
Case / bezel material: Stainless steel
Stainless Steel Band
One-touch 3-fold Clasp
100-meter water resistance
Tough Solar (Solar powered)
Mobile link (Wireless linking using Bluetooth®)
App connectivity feature
Auto time adjustment
Easy watch setting
Approximately 300 world time cities
Stopwatch data transfer
Time & place
Phone finder
CASIO WATCHES App
Mineral Glass
Tachymeter
Compatible band size: 150 to 205 mm
Neobrite
World time:
39 time zones* (39 cities + coordinated universal time), city name display, daylight saving on/off, auto summer time (DST) switching
*May be updated when connected to a smartphone.
1/1000-second stopwatch
Measuring capacity:
00'00"000~59'59"999 (for the first 60 minutes)
1:00'00"0~23:59'59"9 (after 60 minutes)
Measuring unit:
1/1000 second (for the first 60 minutes)
1/10 second (after 60 minutes)
Measuring modes: Elapsed time, lap time
Recorded data: Up to 200 records (measurement lap times)
Other: Speed (0 to 400 units/hour)
Countdown timer
Measuring unit: 1/10 second
Countdown range: 24 hours
Countdown start time setting range: 1 second to 24 hours (1-second increments, 1-minute increments and 1-hour increments)
5 multi-function alarms (with daily, 1 time, schedule)
Hourly time signal
Double LED light
LED light for the face (Full auto LED light, Super illuminator, selectable illumination duration (1.5 seconds or 3 seconds), afterglow)
LED backlight for the digital display (Full auto LED light, Super illuminator, selectable illumination duration (1.5 seconds or 3 seconds), afterglow)
Full auto-calendar (to year 2099)
Battery level indicator
Approx. battery operating time:
6 months on rechargeable battery (operation period with normal use without exposure to light after charge)
19 months on rechargeable battery (operation period when stored in total darkness with the power save function on after full charge)
Accuracy: ±15 seconds per month (with no mobile link function)
Hand shift feature (Hands move out of the way to provide an unobstructed view of digital display contents.)
12/24-hour format
Regular timekeeping: Analog: 3 hands (hour, minute (hand moves every 10 seconds), second), 1 dial (speed indicator) Digital: Hour, minute, second, pm, month, date, day
---
ECB-950 Comparison Table with similar Edifice Watches
Will be soon…
---
Recent News about ECB-950
---
You ask, we answer…
What does Edifice Connected App in ECB-950 do?
You may manage all watch settings through your phone.
What is Mobile link in ECB-950?
Wireless linking using Bluetooth(R)) (for time sync with your phone data.
What does 100-meter water resistance in ECB-950 mean?
The watch is good for swimming but not for deep diving.
---
Not sure about ECB-950? There are more Edifices!