---
About GW-A1000 in Short. This ground-breaking CASIO system for analogue movements achieves multi-functionality and easy operability simultaneously through a combination of multiple motors and an electronic crown. TOUGH MOVEMENT is a CASIO-original thin analog movement that is packed with a host of amazing features and functions.
G-SHOCK GRAVITYMASTER Evolution Timeline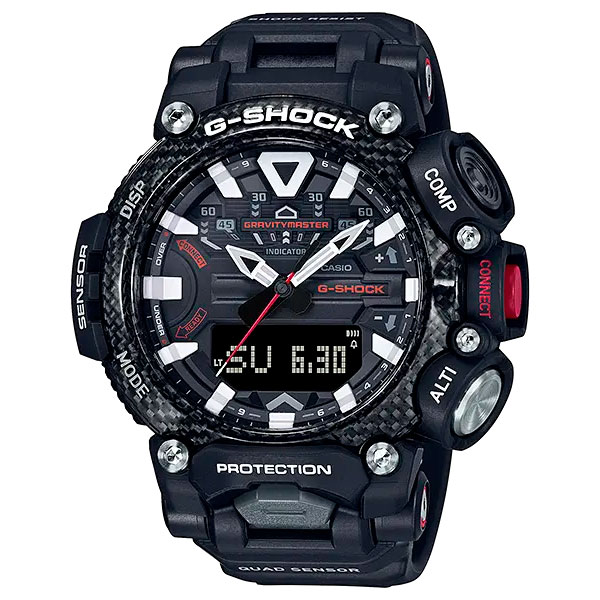 GR-B200
300$ on Amazon →
★★★★★
Quad Sensor & Flight Mission Functions
Its structure combines a carbon fiber-reinforced resin case with a Carbon Core Guard that protects the module, offering shock resistance and fortifying the watch against vibrations.
More about the Watch →
GWR-B1000
800$ on Amazon →
★★★★★
The next stage of toughness based on carbon materials
Featuring strong, lightweight carbon materials and a newly developed carbon monocoque case, this lightest GRAVITYMASTER delivers the shock resistance of a pilot watch at a mere 72 grams.
More about the Watch →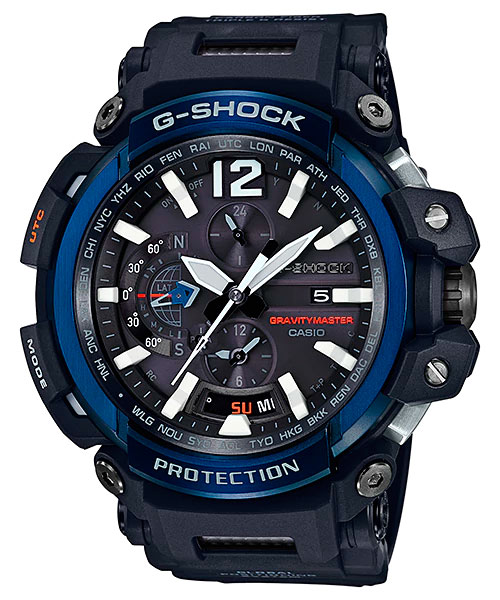 GPW-2000
World's 1st*1 watch with 3 time correction systems
Pursuing a precision time display capability that is indispensable for aviation missions, this model combines GPS hybrid radio-controlled, solar-powered timekeeping*2 with a Bluetooth® communication function in a 3-way time correction system.
---
General Information
Price
$315 *average Amazon Price, we may earn commission from purchases
Year of First Release
2012
Battery Type
Solar CTL920 (Casio Batteries

)

Manual
5240 (official)
---
GW-A1000 Model Range *may be updated
*Want to be the first to know about new G-Shock Updates? Here we store all recent Monthly G-Shock Updates →
---
Casio GW-A1000 on the wrist!
---
Official GW-A1000 Specs / Features *for base version GW-A1000
Case: Titanium / Resin
Battery Type: Recharge
Battery Life: SOLAR
1/20-second stopwatch
Measuring capacity: 1:59'59.95″
Measuring mode: Elapsed time
Other: Fly back
Accuracy: ±15 seconds per month (with no signal calibration)
Approx. battery operating time
6 months on Rechargeable Battery (Operating period with normal use without exposure to light after full charge)
29 months on Rechargeable Battery (Operating period when stored in total darkness with the Power Save function ON after full charge)
Full auto-calendar (to year 2099)
Auto hand home position correction
Countdown timer
Measuring unit: 1/10 second
Countdown range: 60 minutes
Countdown start time setting range: 1 to 60 minutes (1-minute increments)
Daily alarms
Date, day display
Low battery alert
Power Saving (hands stop to save power when the watch is left in the dark)
Regular timekeeping
Shock resistant (G-SHOCK)
Solar powered
Time Calibration Signals
Station name:DCF77 (Mainflingen, Germany)
Frequency:77.5 kHz
Station name MSF (Anthorn, England)
Frequency: 60.0 kHz
Station name WWVB (fort Collins, United State)
Frequency: 60.0 kHz
Station name: JJY (Fukushima, Fukuoka/Saga, Japan)
Frequency: 40.0 kHz (Fukushima) / 60.0 kHz (Fukuoka/Saga)
Station name: BPC (Shangqiu City, Henan Province, China)
Frequency: 68.5 kHz
Time calibration signal reception
Auto receive up to six* times a day (Remaining auto receives canceled as soon as one is successful)
Manual received
Last time received display
*5 times a day for the Chinese calibration signal
World Time
29 time zones (29 cities + coordinated universal time), daylight saving on/off, auto summer time (DST) switching
Home city/World time city swapping
Size of case: 54.1 x 52.4 x 16.4 mm
Weight: 85g
---
You ask, we answer…
What does 200-meter water resistance in GW-A1000 mean?
The watch is good for swimming but not for deep diving.
What type of battery does GW-A1000 have?
Solar CTL920.
Does GW-A1000 have alarm?
Yes, it has daily Alarm.
---