GST-B300 unexpectedly appeared in the listing of new products on casio.com – the next generation of steel G-Shock. This is a positive signal for the sales start, and some retailers are already adding the series to the list of hot new products. We are confident in the success of the new GST – the direction is well approved in the "office" and business environment, where premium steel design and Japanese reliability are equally welcomed.
The product doesn't even look like GST-B200 [as its predecessor], but more like the GST-W100/110 series. If you trace the entire life cycle of the G-Steel division, it will be clear how the designers and engineers methodically have been improving their work and learned from their own mistakes, while relying on advanced technology and quality materials.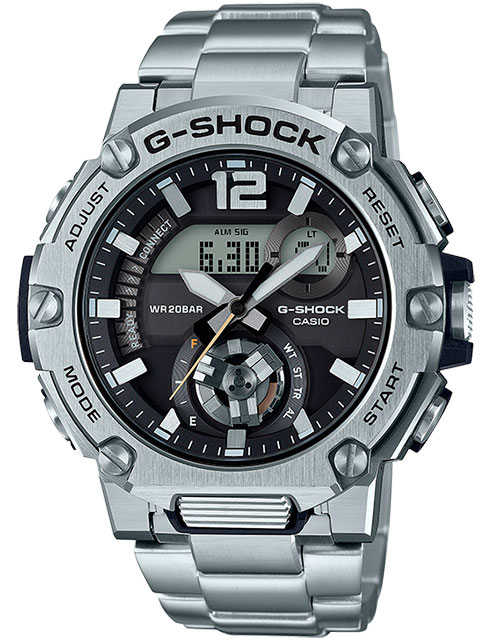 The Japanese are very proud of the carbon body structure they inherited from the GST-B300. The first problem that carbon fiber solves is the size and weight of the watch, which is quite relevant, especially if the watch is on a bracelet. Shock resistance has also reached a new level, although G-Shock has never had a problem with it. The main thing is that the electronic module is reliably protected – that's why we love shocks.
It is interesting to look live at the "propeller" at the 6 o'clock position, where a colored stripe ideally shows the battery charge. We have already seen similar experiments with the "screws" of the GST-B100 – such a solution has not gone to everyone.
In terms of functionality, everything is the same as in the GST-B200 – Solar Power, Bluetooth Sync and G-Shock Connect app. Electronic "base" includes a stopwatch, timer, world time, alarm clock, calendar and backlight.
For $330 the official price we were pleasantly surprised – we assumed the price tag would be $100 higher.
---
DW-5610 Profile / Casio G-Shock
Average Amazon Price: $140 (yes, we may earn a commission on qualifying purchases from our links to Amazon). Check the Price on Amazon →
Year of first release: 2020
Best for: Small Wrists, Teenagers, Military, Army and Police Use, Top in G-Shock Lookbooks
The most distinctive specs:
– 200-meter water resistance (good for swimming but not for deep diving)
– Bezel molded using two layers of different colors
– Utilitarian colors that go well with street fashions
– Electro-luminescent backlight
– Flash alert (Flashes with buzzer that sounds for alarms, hourly time signals)
Other colors and full specs: DW-5610 Wiki Page
G-Shock DW-5610 Rating System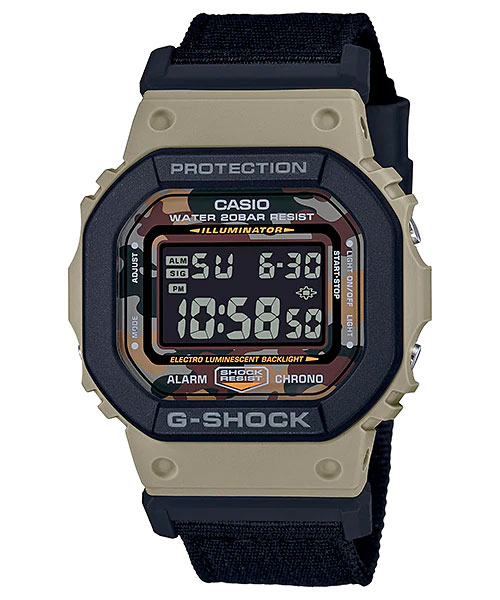 | | |
| --- | --- |
| Size | ★★★★ |
| Weight | ★★★★★ |
| Functions | ★★ |
| Materials | ★★★★★ |
| Battery Years | ★★★ |
| Price | ★★★★★ |