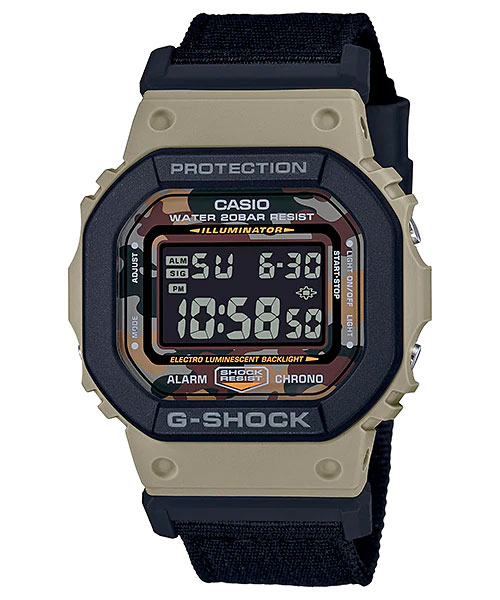 The Japanese released the DW-5610 series, which is aimed at fans of the square, classic G-Shock case in military style. The color scheme of the line is called "Utility Color", which emphasizes the concept of watches for the style of clothing and your image. If we talk about some innovations, the DW-5610 received a rather interesting bezel. When you often saw the monotony of the case, but in DW-5610 we learned how to use the two-layer method of painting: separately for the bezel and separately for the rest of the case. Only usual electronic features: stopwatch [for as long as 24 hours], timer, alarm clock, calendar. Nothing supernatural, but at the same time very valuable and often used. The batteries last for 2 years. The watch also has electroluminescent backlight. The watch is quite compact [48.9 × 43.8 × 13.5 mm], which suits a lot of people.
Important Information
Price — 140$ *average Amazon Price, we may earn commission from purchases
Year of first Release — 2019
Module Number — 3229
Battery Type — CR2016 (G-Shock Batteries)
DW-5610 Model Range *may be updated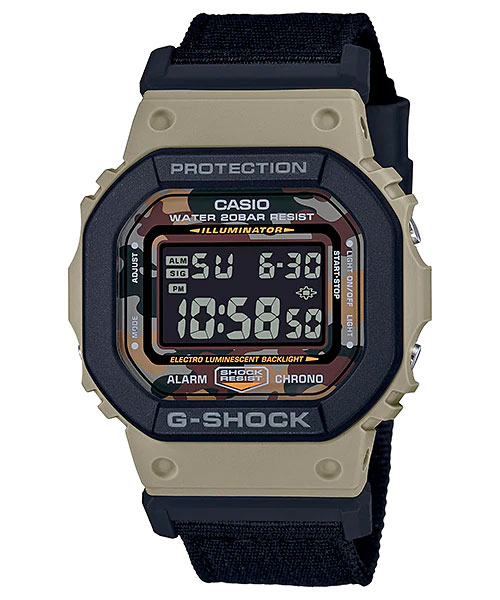 Official Marketing Focus from Casio
From the G-SHOCK square face DW-5600 Series comes a collection of new models with an innovative structure and attractive design variations.
This new model changes from the past one-piece bezel to a bezel molded using two layers of different colors.
The design concept of this model was to create a lineup of practical and utilitarian colors that go well with street fashions.
The DW-5610SUS comes with a urethane replacement band that can be used as desired in place of its cloth band.
Official DW-5610 Specs / Features *for base version DW-5610
Case / bezel material: Resin
Accompanied attached band
Cloth Band
Shock Resistant
Mineral Glass
200-meter water resistance
Electro-luminescent backlight
Afterglow
Flash alert
Flashes with buzzer that sounds for alarms, hourly time signals
1/100-second stopwatch
Measuring capacity: 00'00″00~59'59″99 (for the first 60 minutes)
1:00'00~23:59'59 (after 60 minutes)
Measuring unit: 1/100 second (for the first 60 minutes)
1 second (after 60 minutes)
Measuring modes: Elapsed time, split time, 1st-2nd place times
Countdown timer
Measuring unit: 1 second
Countdown range: 24 hours
Countdown start time setting range: 1 second to 24 hours (1-second increments, 1-minute increments and 1-hour increments)
Other: Auto-repeat
Multi-function alarm
Hourly time signal
Full auto-calendar (to year 2039)
12/24-hour format
Regular timekeeping: Hour, minute, second, pm, month, date, day
Accuracy: ±15 seconds per month
Approx. battery life: 2 years on CR2016
Size of case : 48.9×43.8×13.5mm
Total weight : 51g
Recent News about DW-5610