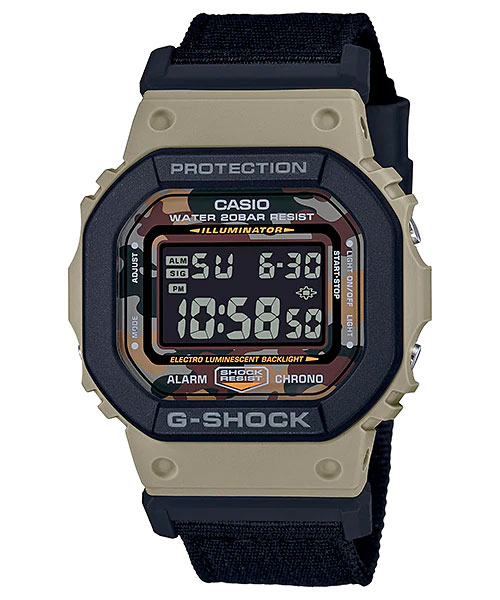 The Japanese released the DW-5610 series, which is aimed at fans of the square, classic G-Shock case in military style. The color scheme of the line is called "Utility Color", which emphasizes the concept of watches for the style of clothing and your image. If we talk about some innovations, the DW-5610 received a rather interesting bezel. When you often saw the monotony of the case, but in DW-5610 we learned how to use the two-layer method of painting: separately for the bezel and separately for the rest of the case. Only usual electronic features: stopwatch [for as long as 24 hours], timer, alarm clock, calendar. Nothing supernatural, but at the same time very valuable and often used. The batteries last for 2 years. The watch also has electroluminescent backlight. The watch is quite compact [48.9 × 43.8 × 13.5 mm], which suits a lot of people.
Important Information
Price — 140$ *average Amazon Price, we may earn commission from purchases
Year of first Release — 2019
Module Number — 3229 / Manual
Model Range — ORIGIN (The Line includes watches that are almost the same by design as the first "5600" G-Shock model produced in late 1983. Modern series are of course modified versions as regards of technologies and functions but still have an oldschool and very popular look.)
Other Divisions the DW-5610 belongs to: *you may find all watches of the division by clicking on the link
Battery Type — CR2016 (G-Shock Batteries)
---
Feedback from users *accumulated information from our own comments and emails, forum threads, socials, reviews, etc.
PROs
+ finally fresh look
+ looks different/cool
+ looks as good as a square
CONs
– auto backlight returned to be faulty
– super hard to read
– cost more than a regular 5600
– isn't solar Atomic
– too basic
---
Enjoy our G-Shock DW-5610 Watch Review
DW-5610SUS-5ER differs from its old predecessor. Fundamental changes are manifested in the appearance, unique bezel color, and available removable straps. Yes, the caliber has remained the same, but this does not make the watch old, but on the contrary proves the reliable Japanese perfection, where you are becoming a part of it since 1989. Read Full Review →
---
DW-5610 Model Range *may be updated
---
The most distinctive specs of DW-5610 *Editorial
— 200-meter water resistance (good for swimming but not for deep diving)
— Bezel molded using two layers of different colors
— Utilitarian colors that go well with street fashions
— Electro-luminescent backlight
— Flash alert (Flashes with buzzer that sounds for alarms, hourly time signals)
---
Official Marketing Focus from Casio
From the G-SHOCK square face DW-5600 Series comes a collection of new models with an innovative structure and attractive design variations.
This new model changes from the past one-piece bezel to a bezel molded using two layers of different colors.
The design concept of this model was to create a lineup of practical and utilitarian colors that go well with street fashions.
The DW-5610SUS comes with a urethane replacement band that can be used as desired in place of its cloth band.
Official DW-5610 Specs / Features *for base version DW-5610
Case / bezel material: Resin
Accompanied attached band
Cloth Band
Shock Resistant
Mineral Glass
200-meter water resistance
Electro-luminescent backlight
Afterglow
Flash alert
Flashes with buzzer that sounds for alarms, hourly time signals
1/100-second stopwatch
Measuring capacity: 00'00″00~59'59″99 (for the first 60 minutes)
1:00'00~23:59'59 (after 60 minutes)
Measuring unit: 1/100 second (for the first 60 minutes)
1 second (after 60 minutes)
Measuring modes: Elapsed time, split time, 1st-2nd place times
Countdown timer
Measuring unit: 1 second
Countdown range: 24 hours
Countdown start time setting range: 1 second to 24 hours (1-second increments, 1-minute increments and 1-hour increments)
Other: Auto-repeat
Multi-function alarm
Hourly time signal
Full auto-calendar (to year 2039)
12/24-hour format
Regular timekeeping: Hour, minute, second, pm, month, date, day
Accuracy: ±15 seconds per month
Approx. battery life: 2 years on CR2016
Size of case : 48.9×43.8×13.5mm
Total weight : 51g
---
DW-5610 Comparison Table with similar G-Shock Watches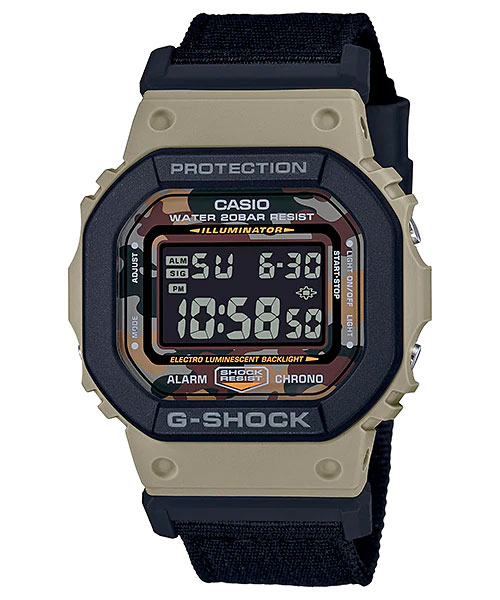 Radio-controlled (via atomic watch signals), Bluetooth (via phone app)

G-Shock Connected App (simplifies certain watch operations by letting you perform them on your phone screen)

Electro-luminescent backlight
Afterglow

Electro-luminescent backlight
Afterglow

LED backlight (Super illuminator)

Resin / Stainless steel (Gold ion plated case)

Size (mm) *we consider 48.9×42.8×13.4 to be a traditional watch size (as in DW-5600). So you are to compare how far or close the watch is to this size

Full features (if you want to know more)
---
---
DW-5610 Replacement Band (Strap) *availability
We think it is very important (before buying a new watch) to know if there will be some choice as for replacement bands for DW-5610 (in future or even now). So we made a research and you shouldn't worry about your future as the bands are available for buying.
starting from 81$ on eBay →
starting from 34$ on PacParts →
---
Recent News about DW-5610