| | |
| --- | --- |
| Size | ★★★ |
| Weight | ★★★★★ |
| Functions | ★★★★ |
| Materials | ★★★★ |
| Battery Years | ★★★★★ |
| Price | ★★★ |
---
PRW-3400 Model Range *may be updated
*Want to be the first to know about new ProTrek Updates? Here we store all recent Monthly ProTrek Updates →
---
Quick Content Guide
---
General Information
Price
later *average Amazon Price, we may earn commission from purchases
Year of First Release
2022
Model Range
RADIO-CONTROLLED
Battery Type
Solar (ProTrek Batteries

)

Manual
later (official)
---
Enjoy Japanese Unique Features in PRW-3400!
Biomass plastics used for most parts: A digital model with a duplex LCD.
We've added a duplex LCD to our digital model with direct function buttons for one-push measurements. The rotating bezel, case, case back, and urethane band are made with plant-derived, renewable biomass plastics. Introducing this PRO TREK and celebrating its trailblazing progress in every direction: easy to use, easy to read, easy on the environment.
Digital compass now even more readable.
The dual-layer LCD allows compass graphics to be shown on the top layer, while the bottom layer offers a large display of the time and various measurements. We've also made the LCD slimmer to minimize bulk, even with the dual-layer construction.
Earth-friendly craftsmanship with biomass plastics.
The case, case back, and soft urethane band are all made with the Earth-friendly green material known as biomass plastics. Using renewable organic resources such as castor oil plants and corn helps reduce the ecological footprint. Eco-consciousness rendered in physical form, a fitting material for a real outdoor tool.
Direct function buttons for increased operability.
Measure direction, air pressure and temperature, and altitude, each one available directly from a single button. The oversized buttons feature a nonslip finish for effortless use even when wearing gloves. In addition, improved sensor placement makes the side of the case even slimmer. The buttons are easier to press now, too.
Rotating bezel and movable lug construction.
The bezel incorporates a rotating mechanism, allowing it to be used for simple orientation memory. The movable lug structure enables the watch case and band to be laid flat — handy when working with paper maps, checking where you are and where you're going.
Triple Sensor
Digital compass, barometer/altimeter, and thermometer senses natural changes
Tough Solar powered for converting light to energy
Super Illuminator (high-brightness full-auto LED backlight) for main-taining watch readability in the dark
Multi-band 6 radio wave solar that keeps accurate time powered by light
---
Official Description from Casio.
From PRO TREK, a full-scale outdoor gear for nature lovers, we are introducing the PRW-3400 / 3400Y equipped with radio wave solar, which uses eco-friendly materials. Environmentally friendly biomass plastic is used while maintaining the wearability that is familiar to the arm. It is used for the case, urethane band, and resin back cover. Biomass plastic is a polymer material that contains substances derived from renewable organic resources as a raw material and is obtained by chemically or biologically synthesizing it, and is expected to reduce the environmental load toward the realization of a sound material-cycle society. It is a material that is present. Castor oil is used for the case and back cover, and corn-based biomass plastic is used for the band. A duplex LCD is used for the LCD of the watch. The duplex LCD, which separates the liquid crystal display of the azimuth display and the clock function display, enlarges the compass display, improves readability, and expresses it in a functionally beautiful design that makes it easier to understand the direction. Furthermore, the rotating bezel which is useful for simple azimuth memory is adopted.
In addition, by mounting the pressure sensor inside the case, the unevenness of the case is reduced and the buttons are easy to operate. The functional design creates an expression that is typical of outdoor gear.
---
ProTrek PRW-3400 Gallery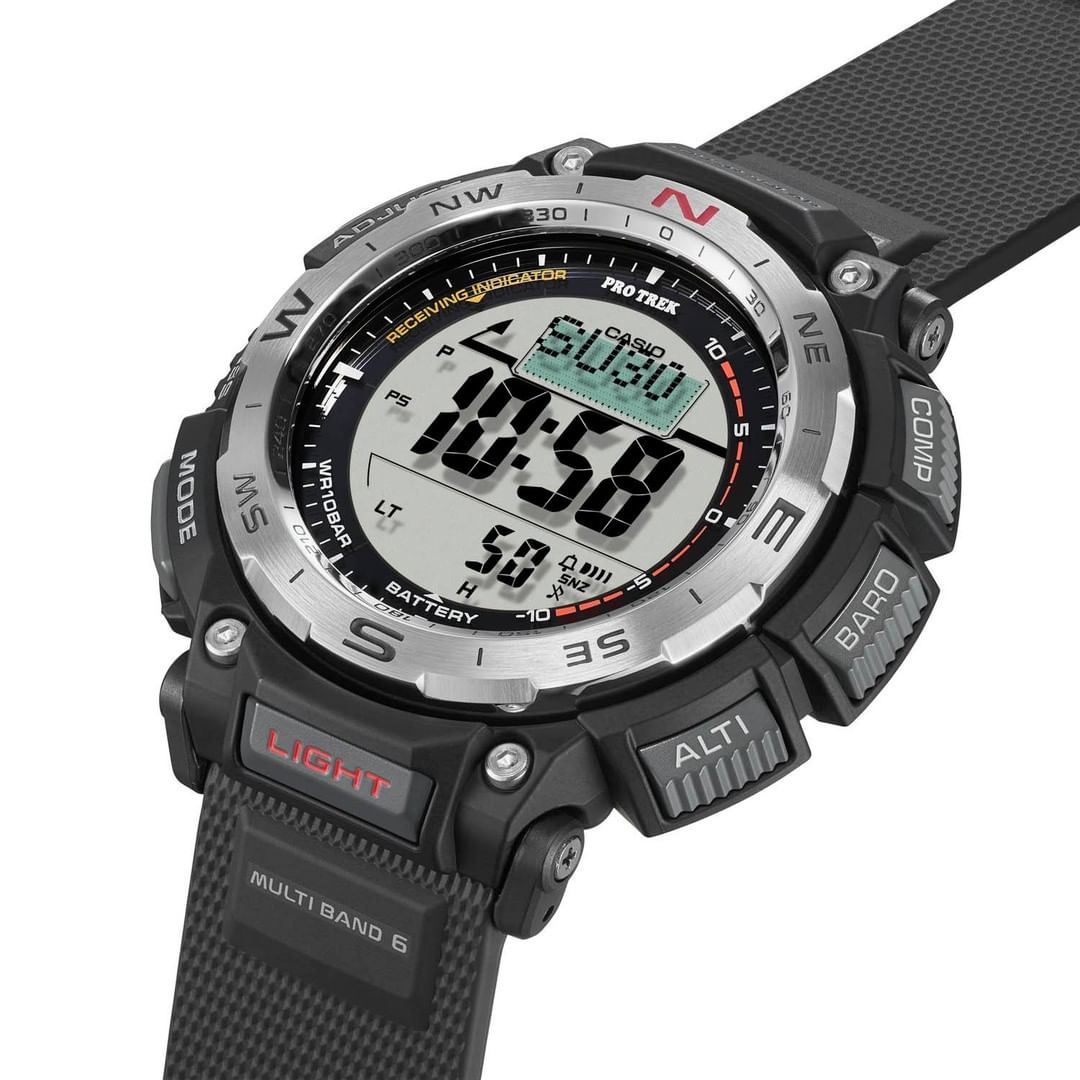 ---
The most distinctive specs of PRW-3400 *Editorial
— 100-meter water resistance (good for swimming but not for deep diving)
— Biomass plastics in the case, band, and case back (the environmentally friendly biomass plastics are produced using materials derived from castor seeds and corn, as well as other raw materials)
— Tough Solar (CASIO's original solar-charging system converts not only sunlight but also light from fluorescent lamps and other sources into power)
— Radio-controlled Watch; Multi band 6 (additional way for time sync. This watch receives time calibration radio signals that keep the displayed time accurate)
— Low temperature resistant (stable operation of the watch is guaranteed even at a temperature of -20°C)
— Digital compass (measures and displays direction as one of 16 points)
— Thermometer (can measure and display the outside temperature in a range from -10 C to 60 C)
— Barometer (measures the air pressures and displays tendencies in the weather)
— Altimeter (The electronic mechanism "estimates" the altitude based on the air pressure)
---
Official PRW-3400 Video
---
Official PRW-3400 Specs / Features *for base version PRW-3400Y-5
Case size (length x width x thickness) 54.7 x 51.7 x 14.6 mm
mass 63 g
Case / bezel material: Resin (biomass) / stainless steel
band: Soft urethane band (biomass resin)
Water resistant to 10 bar
Low temperature resistant specifications (-10 ° C)
Radio clock Japan / North America / Europe / China region compatible MULTIBAND6
Tough solar (solar charging system)
Direction measurement function: Measures 16 directions and angles of orientation (0 to 359 °), continuously measures directions (60 seconds), displays north, south, east, and west graphically, and bears memory (angle of direction, one graphic showing recorded direction) ), Magnetic deviation correction function, Orientation correction function
Barometric pressure measurement function (measurement range: 260 to 1,100 hPa), barometric pressure trend graph display (displays for the past 42 hours), barometric pressure difference graphic, barometric pressure trend information alarm (arrows and alarms when characteristic barometric pressure changes occur) I will inform you at)
Altitude measurement function / Relative altimeter (measurement range: -700 to 10,000 m), altitude memory (measurement date / time / altitude up to 30 manual memory, automatic recording data: maximum / minimum altitude, auto integration (up / down) Memory), 14 climbing record data (maximum / minimum altitude, auto integration (rise / descent) memory), altitude difference measurement (-3,000 to 3,000 m), measurement interval setting function (every 5 seconds / 2 minutes) * First Every 1 second for 3 minutes only
Temperature measurement function (measurement range: -10 to 60 ° C)
Inorganic glass
Directional bezel
Band wearable size: 145 to 215 mm
World time: Time display of 48 cities (31 time zones, with daylight saving time setting function) + UTC (Coordinated Universal Time)
Sunrise / sunset time display
Stopwatch (1/10 second, 1,000 hours total, with split)
timer
Timer (set unit: 1 minute, maximum set: 24 hours, measured in 1 second units)
Alarm / time signal
5 time alarms (only 1 with snooze function), time signal
LED backlight (with full auto light, super illuminator, afterglow function, afterglow time switching (1.5 seconds / 3 seconds))
LED color: white
Fully automatic calendar
Operation sound ON / OFF switching function
Power saving function (In a dark place, the display is turned off after a certain period of time to save power)
Battery indicator display
When using the drive time function without solar power generation from the time of full charge: Approximately 6 months When using the power saving state: Approximately 26 months
* If radio waves are not received, it will operate with normal quartz accuracy (average monthly difference ± 15 seconds).
12/24 hour system display switching
Duplex LC display
Hometime city (city that supports reception function) / Received radio wave Tokyo, Seoul, Taipei / Japanese standard radio wave JJY40 / JJY60 (Honolulu), (Ancaregi), Vancouver, Los Angeles, Edmonton, Denver, Mexico City, Chicago, New York, Harifax , St. John's / American standard radio wave WWVB Lisbon, London, Madrid, Paris, Rome, Berlin, Stockholm, Athens, (Moscow) / British standard radio wave MSF / German standard radio wave DCF77 Hong Kong, Beijing / China standard radio wave BPC * Each city in parentheses may receive the signal if the conditions are good.
Radio reception function: Automatic reception (up to 6 times / day) (China radio waves up to 5 times / day) / manual reception, <Japan> Received radio waves: JJY, frequency: 40 kHz / 60 kHz (Fukushima / Kyushu both stations compatible model) ) <North America region> Received radio wave: WWVB, frequency: 60kHz <Europe region> Received radio wave: MSF / DCF77, frequency: 60kHz / 77.5kHz <China> Received radio wave: BPC, frequency: 68.5kHz * Home time setting can be received If you set it to a city, you will receive stations that match the city. The time difference is set according to the selected city.
* The altimeter is a relative altimeter that converts changes in barometric pressure to high altitude. As the barometric pressure changes due to weather conditions, the altitude of the measured value also changes. * When measuring the outside temperature, remove the watch from your wrist so that it will not be affected by body temperature, sweat (water droplets), direct sunlight, etc.
Other ProTrek PRW Watches *similar by price and functions but different by cases
These are not all ProTrek PRW Series. Here is a list of All ProTrek PRW Watches →
---
PRW-3400 Comparison Table with similar PROTREK Watches
| | | | |
| --- | --- | --- | --- |
| | | | |
| | | | |
| | | | |
| | | Radio-controlled (via atomic watch signals) | |
| | | | |
| STN LCD (more distinct and bigger digits) | | | |
| Cross-Frame Structure (disperses impacts, reinforcing the case's) | | | |
| Moon Data (good for fishing and tides) | | | |
| Sunrise, sunset time display | | | |
| | LED backlight (Super Illuminator) | LED backlight (Super Illuminator) | LED backlight (Super Illuminator) |
| | | | |
| | | | |
| | | | |
| | | | |
| Size (mm) *we consider 48.9×42.8×13.4 to be a traditional watch size (as in DW-5600). So you are to compare how far or close the watch is to this size | | | |
| Full features (if you want to know more) | | | |
---
Recent News about PRW-3400
---
You ask, we answer…
What does Tough Solar in PRW-3400 mean?
CASIO's original solar-charging system converts not only sunlight but also light from fluorescent lamps and other sources into power.
What is Altimeter in PRW-3400?
It's the electronic mechanism that "estimates" the altitude based on the air pressure.
How does Digital compass in PRW-3400 work?
It measures and displays direction as one of 16 points.
What does Barometer in PRW-3400 do?
It measures the air pressures and displays tendencies in the weather.
---
Can't find a ProTrek of your dream? There are more watches!