---
PRW-6600 Model Range *may be updated
*Want to be the first to know about new ProTrek Updates? Here we store all recent Monthly ProTrek Updates →
---
Quick Content Guide
---
General Information
---
Official Description from Casio. The new PRW-6600Y-2 features Triple sensor technology (altimeter, barometer and Compass), Multiband 6 Atomic time keeping and is equipped with Tough Solar charging. This watch is one of the most desirable timepieces in the Pro Trek line. The PRW-6600Y-2 uses Casio's advanced SMART ACCESS system, which provides you with quick, intuitive access to all of the watch's key functions using an electronic crown.
---
ProTrek PRW-6600 on the wrist!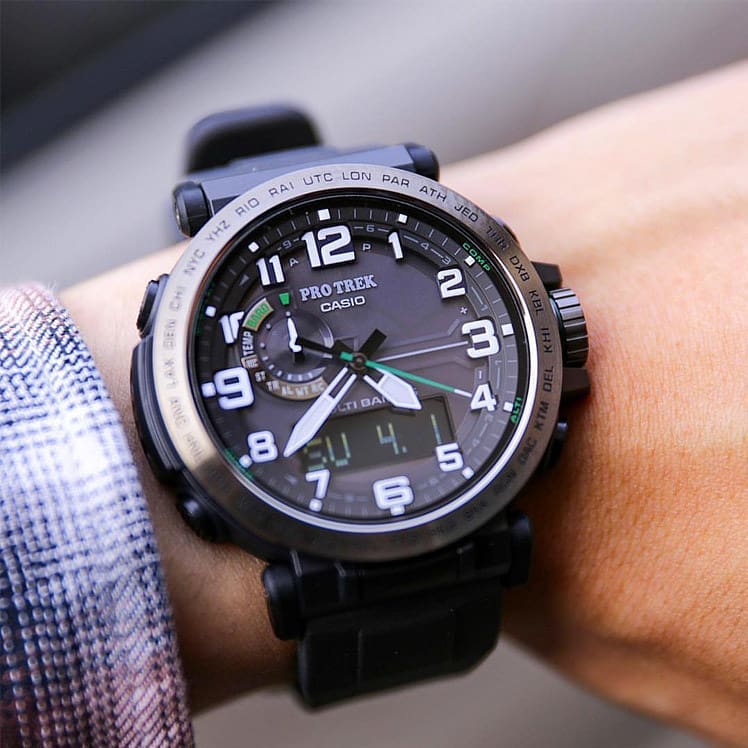 ---
Enjoy our PROTREK PRW-6600 Watch Review
Let's move on to the look of the PRW-6600YB-3ER, where you can also see a lot of visual improvements. At least I was surprised by the presence of Arabic indices at all time stamps [which cannot be said about "PRG. In this way, the manufacturer is trying to improve the readability of analog information and it certainly did [including thanks to the wide 51.6 × 51.5 × 13.6 mm case, which in principle has not changed compared to the PRG-650]. Read Full Review →
---
Feedback from users *accumulated information from our own comments and emails, forum threads, socials, reviews, etc.
PROs
+ good price
+ is comfortable, easy to read
+ has great lume
+ the silicone band is quite comfortable
+ it is solar powered and it resets its time daily using radio time sources
CONs
– the digital read-out window is of the "negative" type, meaning that it has lighter chararcters against a black background
– the illuminator is not at all bright
---
The most distinctive specs of PRW-6600 *Editorial
— 100-meter water resistance (good for swimming but not for deep diving)
— Tough Solar (CASIO's original solar-charging system converts not only sunlight but also light from fluorescent lamps and other sources into power)
— Radio-controlled Watch; Multi band 6 (additional way for time sync. This watch receives time calibration radio signals that keep the displayed time accurate)
— Low temperature resistant (stable operation of the watch is guaranteed even at a temperature of -20°C)
— Digital compass (measures and displays direction as one of 16 points)
— Thermometer (can measure and display the outside temperature in a range from -10 C to 60 C)
— Barometer (measures the air pressures and displays tendencies in the weather)
— Altimeter (The electronic mechanism "estimates" the altitude based on the air pressure)
— Height Gain (The height gain sums all the meters you have climbed in a session, so that you can see at a glance the total ascent on a tour)
— Smart Access (the system for analogue movements achieves multi-functionality and easy operability simultaneously through a combination of multiple motors and an electronic crown)
Other ProTrek PRW Watches *similar by price and functions but different by cases
These are not all ProTrek PRW Series. Here is a list of All ProTrek PRW Watches →
---
Enjoy Japanese approaches to Travel and Functional ProTrek Watches!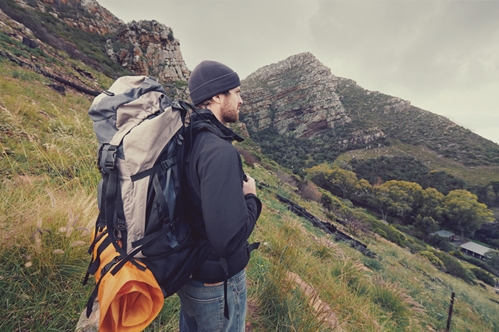 ProTrek Philosophy.
Every adventure needs a reliable partner. PRO TREK is exactly the kind of watch that you need to meet the demands of your interests. PRO TREK is equipped with functions such as solar power operation, a digital compass, an altimeter, a barometer and a thermometer. The combination of innovative technology, a robust precision movement and state-of-the-art design makes the PRO TREK the perfect companion for all adventures under the open sky. Mountain or valley? Forest or meadow? River or lake? No matter what awaits you, you will be well-prepared to make any rough terrain your own thanks to the PRO TREK.
Experience for yourself how PRO TREK opens up new horizons while always pointing you in the right direction!
Tough Solar. The CASIO Tough Solar System is now so advanced that even the weakest light sources are sufficient to operate the watches. The solar cells are so small and inconspicuous that they can be integrated easily into every watch face design.
An accumulator in solar watches saves "superfluous" energy and releases it when the watch is in darkness. The accumulator is charged automatically and does not require manual activation.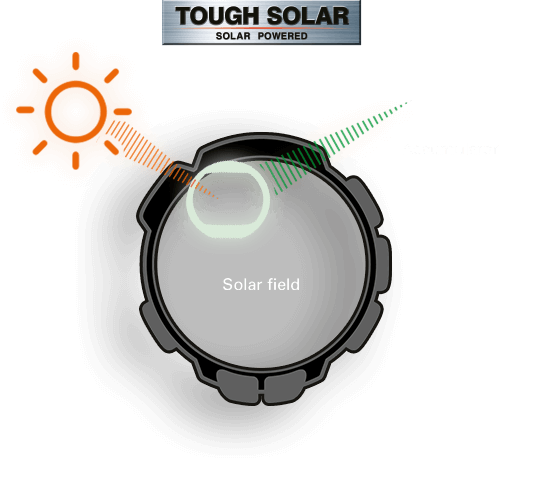 RADIO WATCH TECHNOLOGY.
The advantages of radio-controlled watches are obvious: Once they have been set to the relevant time zone, they always display the exact local time. All CASIO radio watches receive signals almost anywhere in Europe. Some models even receive signals in North America, parts of Canada and Mexico (the radio tower in Fort Collins sends signals for a radius of up to 3200 km) and even in Japan or China. In Europe, the change from summer to winter time is also completely automatic.
SMART ACCESS.
Quick Access to Important Functions
With its electronic crown, the innovative Smart Access system provides intuitive access to key functions. By rotating and pressing the crown, the user can switch between individual features such as the altimeter or alarm, and settings can be adjusted quickly and directly. The Smart Access system is protected by a crown switch locking feature, preventing the watch from switching unintentionally to another mode.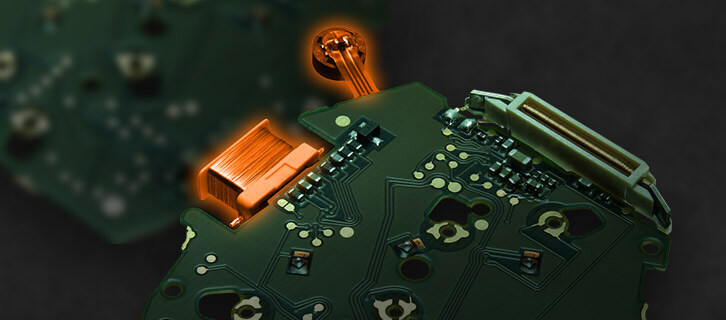 Triple Sensor. PRO TREK watches are equipped with the latest Triple Sensor, version 3 technology, making them even more accurate than before. Three highly sensitive, extremely small sensors measure with absolute precision and instantly display changes in your environment. The precision of the digital compass, altimeter, barometer and thermometer is only possible with the Triple Sensor technology. At the same time, the three layer sensor is 95% smaller and consumes 90% less energy than before.
Altimeter. For all those who set their sights high
The built-in altimeter uses a pressure sensor to measure the current air pressure.
The measured air pressure is then used to provide an "estimate" of the current altitude.
The electronic mechanism in the watch is pre-programmed with "ISA values" ("International Standard Atmosphere") used to convert pressure values into altitude values.
The air pressure and temperature generally become lower as the altitude increases.
These values define the connection between altitude, air pressure and temperature.
Barometer. The barometer measures the air pressures and displays tendencies in the weather.
The higher a person goes (ascent/terrain), the lower the barometric pressure will be.
An increase in air pressure usually signifies an improvement in the weather.
A decrease in air pressure usually means that bad weather is on its way.
The air pressure is displayed with an accuracy of 1 hPa (hectopascals).
The barometer can measure and display a range from 260 hPa to 1100 hPa.
Digital Compass.
The PRO TREK digital compass shows 16 compass points. The direction of magnetic north and the bearing are calculated by the compass's directional sensor The directional sensor consists of two rectangular coils that detect slight tensions created by the earth's magnetic field. Depending on the position and direction, these tensions vary in intensity. There is a non-magnetic resistance between the two coils, which absorbs the subtle changes in tension. With each new position, the values that are measured by the resistance change. A microprocessor converts the measurements so that they can be displayed clearly on your watch.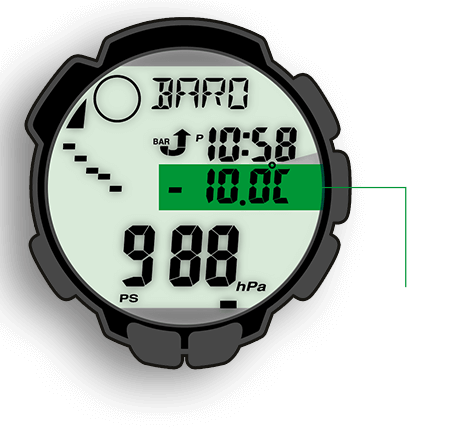 Thermometer. The thermometer is used to measure the outside temperature.
The temperature is displayed with an accuracy of 0.1 °C.
The thermometer can measure and display a range from -10.0°C to 60.0°C.
WATERTIGHTNESS.
The watertightness of the CASIO watches complies with DIN 8310 and ISO 22810. These standards describe the various classes of watertightness and the test procedure used to determine watertightness.
These standards apply to the general wristwatch usage. Watches with metre indications for watertightness cannot be used immediately in this water depth, however, as water resistance metre indications are merely a pictorial representation of the test pressure. A wristwatch withstands the impact of water at the static pressure specified on the watch (e.g. 10 bar) and the theoretical immersion in water to the specified depth.
---
Official PRW-6600 Specs / Features *for base version PRW-6600Y-1
Full-Auto LED light
A twist of the wrist in weak light conditions automatically lights up the display backlight.
Low-temperature resistant (-10 °C)
Even temperatures as low as -10 °C have no effect on this watch.
Solar Power
A solar cell provides power for operation.
Radio signal reception (EU, USA, Japan, China)
Whether in Europe, North America and Japan or in the outer reaches of Canada, Central America and China – once the watch has been set to the local time, it receives the relevant signal and shows the correct time wherever you are. In many countries, it also sets itself automatically to summer and winter time.
Neo-display
A luminous coating provides long-term illumination in the dark after only a short exposure to light.
Barometer (260 / 1.100 hPa)
A special sensor measures the air pressure (measuring range: 260 / 1100 hPa) and presents this on the display in the form of a symbol. This enables early detection of weather trends.
Thermometer (-10°C / +60°C)
A sensor measures the ambient temperature around the watch and displays it in °C (-10°C /+60°C).
Digital-compass
A built-in direction sensor detecs the magnetic north.
10,000 m Altimeter
A pressure sensor detects changes in the air pressure and converts the result into an altitude up to 10,000 m.
Height Gain
The height gain sums all the meters you have climbed in a session, so that you can see at a glance the total ascent on a tour.
Altimeter data memory
Depending on the model, up to 40 sets of elevation data can be stored in the watch's data memory and re-accessed at any time. Each of these data sets consists of a measured altitude as well as the date and time. In addition to the individual altitudes, the maximum and minimum altitudes during a measurement are also stored.
World time function
Displays the current time in major cities and specific areas around the world.
Stopwatch function – 1/100 sec. – 24 hours
Elapsed time, split time and final time are measured with 1/100-sec accuracy. The watch can measure times of up to 24 hours.
Timer – 1/1 min. – 1 hour
For fans of precision: the countdown timers help you to remember specific or recurring events by giving off an audible signal at a preset time. The time can be set to the nearest minute and up to 1 hour in advance.
5 daily alarms
The daily alarm reminds you about recurring events with an acoustic signal at the time you have set. This model has 5 independent alarms for flexible reminders of important appointments.
Automatic hand adjustment
The automatic hand adjustment function checks the home position of the hands every hour and corrects it if necessary — either by adjusting e.g. from shocks or using the influence of magnetism.
Button tones on/off
The button tones for using the mode button can be turned off. This means that the watch no longer beeps when switching from one function to another. Preset alarm or countdown timers remain active when the button tones are deactivated.
Hand Moving Function
With a push of a button, hands are moving and permit a free visibility of functions like stopwatch or date.
Crown button lock
Secures the crown button from accidental change to another mode of operation.
Smart Access Technology
Smart Access makes it easy to operate multi-function watches. Simply pulling out and rotating the crown provides intuitive control over all functions
Automatic calendar with Date, Day and Month
Once set, the automatic calendar always displays the correct date.
12/24-hour timekeeping
Times can be displayed in either a 12-hour or 24-hour format.
Mineral glass
The tough mineral glass resists scratching.
Resin case
Bezel with IP Finish
The bezel of the watch is elaborately coated according to the so-called "ion plating" process and offers the advantage of increased scratch resistance
Resin band
Synthetic resin is the ideal material for wrist straps thanks to its extremely durable and flexible properties.
Buckle
Battery level indicator
An indicator shows the current battery level.
Water resistance classification (10 bar)
Perfect for swimming and snorkelling: the watch is water resistant to 10 bar according to ISO 22810.
Dimensions (H x W x D)
51,6mm x 51,5mm x 13,6mm
Weight
approx. 80 g
---
PRW-6600 Comparison Table with similar PROTREK Watches
| | | | |
| --- | --- | --- | --- |
| | | | |
| | | | |
| | | | |
| | Radio-controlled (via atomic watch signals) | Radio-controlled (via atomic watch signals) | Radio-controlled (via atomic watch signals) |
| | | | |
| STN LCD (more distinct and bigger digits) | | | |
| Cross-Frame Structure (disperses impacts, reinforcing the case's) | | | |
| Moon Data (good for fishing and tides) | | | |
| | | | |
| | Double LED light (Auto LED light, Super illuminator) | Double LED light (Auto LED light, Super illuminator) | Neobright and Full Auto Double LED Light/Backlight with Afterglow |
| | | | |
| | | | |
| | | | |
| Size (mm) *we consider 48.9×42.8×13.4 to be a traditional watch size (as in DW-5600). So you are to compare how far or close the watch is to this size | | | |
| Full features (if you want to know more) | | | |
---
Recent News about PRW-6600 
---
You ask, we answer…
What does Tough Solar in PRW-6600 mean?
CASIO's original solar-charging system converts not only sunlight but also light from fluorescent lamps and other sources into power.
What is Altimeter in PRW-6600?
It's the electronic mechanism that "estimates" the altitude based on the air pressure.
How does Digital compass in PRW-6600 work?
It measures and displays direction as one of 16 points.
What does Barometer in PRW-6600 do?
It measures the air pressures and displays tendencies in the weather.
---
Can't find a ProTrek of your dream? There are more watches!