During the hard and challenging times of 2020-2021, it is especially nice to see bright pictures of ProTrek watches [different series] in the wilds, mountains, rivers, and other "outdoors" landscapes in the official brand's social activities. After all, it's such a breath of fresh air: when you can really be out in nature, and even with your favorite watch with useful features for this activity. If you go back to the days of the 2000s, the ProTrek was almost the only technological perfection on the wrist, and its owners were always getting curious glances from people nearby. Well, let's take a look at one of the latest PRT-B50-4ER in a traditional review on CasioFanMag, and try to find the answer to the question: "will there be curious glances now?".
Don't judge me strictly, but I still consider ProTrek watches to be the most reliable travel devices even in 2020-2021. And these are not empty words as their functionality is still up to date, and the battery does not require recharging as you do with your smartwatches. If we talk about the solar-powered series, it's like "music" [almost eternal]. Nevertheless, the Protrek has had to adapt to the modern life realities of straightforward human beings.
Not everyone liked giant solutions on the wrist, and not everyone enjoyed only digital time indication. The Japanese had to invent an updated triple sensor [which significantly reduced the thickness and improved accuracy], and we began to enter the era of ana-digi "office" ProTrek with beautiful hands and quite an elegant appearance [where nothing hints at being sporty].
And all would be well with ProTrek if it were not for further technological progress. The smart industry began to reinforce the human belief the GPS navigation is something ordinary and that every device must necessarily be "friendly" with the phone for the common good. Yes, GPS capabilities are cool, but they are also consuming a lot of power (energy). A lot. Nevertheless, the Japanese started to create their "smart" understanding, and the watch PRT-B50-4ER became the first in the ProTrek lineup, who can boast of it.
Sorry for such a long start, but I couldn't miss the great past of this brand, and hopefully, it has an equally great future ahead of it…
So, PRT-B50-4ER…
If you've ever touched or owned a ProTrek watch, you should know – the PRT-B50 is starting to write the brand's history from a blank slate. It's an entirely different idea of a travel watch. Wow, that's a strong statement, of course, but I have something to compare it with [being the owner of a PRW-3000's representative]. And now, point by point…
Stunning dial
I won't discuss digital or analog time displays [pros and cons] now, but just examine what's on the table. The hands' design in contrasting and bright color scheme, the stylish hour markers, the red-tipped second's hand, and the functional rotating bezel – all come together so perfectly that I don't want to take my eyes off the watch.
Special thanks for BIG main hands and BIG Arabic hour markers. I haven't seen such excellent readability of the current time in a long time. The bulky feel is, by the way, not just in the hands. The watch itself is not very compact: 57.5×50.8×15.8 mm versus 56×47×12.3 [in PRW-3000, which I refer to as a regular watch size]. I wanted to be critical about the dimensions, but I can't.
This size suits me very well: the watch looks like a very stylish "casual" element matching the sneakers on my 19 cm wrist. It would be a completely different look on a wide wrist, but equally cute. Another benefit of this size is that it's the oversized design that allowed the designers to make the Arabic numerals so big, which means many people will discover the PRT-B50. I mean, I've been looking for my father's watch for a very long time who has poor eyesight, but the PRT-B50 solves his problem [he reads the data easily].
Yes, the PRT-B50 does not aim to be a 100% trekking sports watch where the triple sensor data and other elements have to be displayed simultaneously, etc. [there are other series for that]. The PRT-B50 is more about regular life, where you want to enjoy an excellent analog time display and still be functional "just in case." That's why you can find very strict colors and even models with a metal bracelet in the PRT-B50 line [which hints at a sophisticated clothing style, not just sneakers].
Lightweight. Despite its relatively large size, the PRT-B50-4ER remains light as the other, smaller, ProTrek collection representatives [64 grams]. This point is astonishing because the watch seems quite different at first glance.
Strap and back cover plate
Along with the lightness, the watch remains very comfortable. I cannot but mention the so-called back cover "plate," which makes the wrist embrace a single whole.
The strap also surprised me. It is significantly wider than the traditional "standard" [23 mm], whereas it is only 15 mm on the GW-3000. 15 mm, in this case, would not be suitable due to the larger watch case.
So this point is in harmony, but consider it when buying.
Smart capabilities. The PRT-B50's best feature is also the phone synchronization, which extends the functionality to new frontiers. The PRT-B50-4ER differs from other sports smartwatches just in its conservative perception of what's going on. It's still the same HANDS' watch, but only with smart capabilities. I appreciate it even more for that [because I love the old-school watch format]. It's not a professional running watch or anything like that yet, so don't look for that kind of functionality in it.
The first thing I do is download the standalone ProTrek Connected App and register the watch to the app. I'm so glad I don't have to open the manual. The app is very intuitive.
Unlike G-Shock, I need to specify the triple sensor units. Not a problem…
Next, you need to fill in information about your measurements. It is a very predictable setting because it allows you to calculate calories for your weight, height, etc., more accurately.
The manufacturer focuses on the Route Log tab [it's almost the first in the list], which you need to calibrate quickly [we're talking about altitude]. It is good since the altimeter accuracy depends on the correct calibration [the default setting is usually a trashy one].
You can do this in two ways: to type manually or force synchronization using current phone settings. My default altitude was 218m, but I decided to double-check it with a specialized app [or Google], and it came up as 285m. I didn't wait for the ProTrek Connected App to update and typed 285 manually.
Bingo! The watch is now displaying the IDEAL altitude. Damn, that was very easy. Imagine that you are climbing a mountain: you have exact altitude data, which you can comfortably monitor with your watch, not your phone.
The second point I was particularly surprised by was the ability to CHANGE the MODES. I can make the timer first on the list instead of the alarm [because it is my most frequently used mode], but I will change it to the world time function during a business trip. Also, I can simply turn off the output of unused modes. Now it looks more like a smartwatch than what I saw in the basic GW-B5600.
In addition to the modes, you can also work separately with the digital window. For example, I want to display information about the number of steps as the first item [when pressing the upper left button], and then "Day + Date." The barometric pressure graph is not of interest, so that I will turn it off.
Great, now the watch is adjusted to my needs. Do you now understand why I wrote that this ProTrek writes history from a blank slate? We've never seen anything like that before.
Route Log. Another feature for avid hikers. Its essence comes from the fact that you fix specific GEO points of the route with your watch [by pressing the button], which you can analyze in the application later.
All your daily steps are saved in the app, too. So your activity is under full control.
There's also another cool feature, but it only works when you're closely connected to the phone: distance to a specific geo-mark. The thing about it is that you monitor the remaining route distance on your watch screen. The information updates statically every time you connect to the phone. In other words, when you press a button, you see the distance.
Conclusions on smart features. It is an entirely new interaction between the ProTrek watch and the phone. I liked the option of a custom approach to prioritize modes and display information on a digital display. Instant and accurate altitude calibration saves you from the manual dances like it was with earlier ProTrek versions. Traditional watch functions are set up on the fly, and you just forget about any notion of "doing it with the watch buttons." As far as purely trekking features like "route log" and distance to a specific location – still too much phone. I want to be independent of that device and to be able to save absolutely all information in the watch and only then import it into the app. But yes, it takes a tremendous effort for the manufacturer.
Illumination
I can't help but notice the beautiful Neon illuminator for the arrows and the separate LED for the digital window. There is automatic activation, which is also great.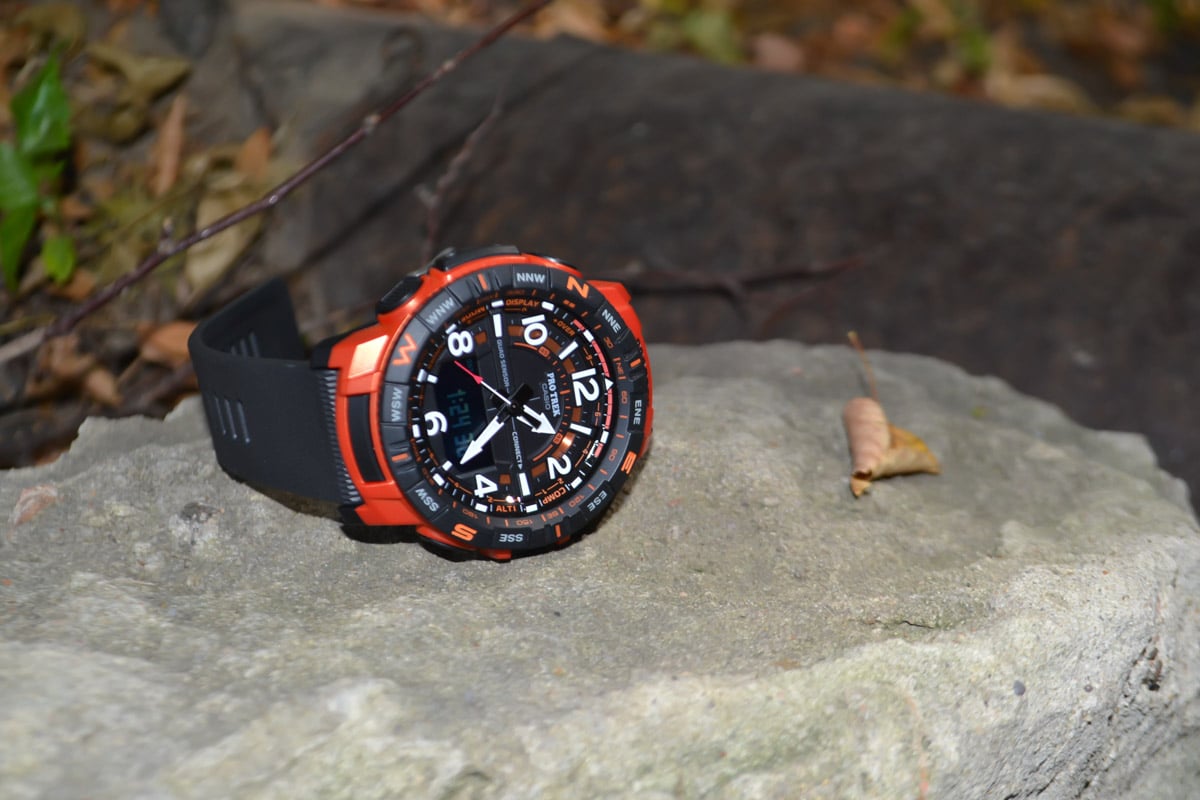 Accuracy. I now consider it as a kind of Casio standard and usually forget to write about it. Still, it is also important: the watch either corrects the current time automatically [4 times a day] or forcibly [when the button is pressed] with the ProTrek Connected App. Since I don't like to keep the app active, I do it myself. You have no idea how nice it is to realize that your second hand is going exactly like the one on your laptop, TV, Internet, and other accurate time sources.
A fly in the ointment. The absence of solar power [Tough Solar]. I wish it existed, but it doesn't. It would have been perfect, but no. Okay, two years is a significant timeframe, too. It's not a once a week action after all.
PRT-B50 Comparison Table with similar ProTrek Watches
| | | | |
| --- | --- | --- | --- |
| | | | |
| | | | |
| | | | |
| | Bluetooth (via phone app) | Bluetooth (via phone app) | Radio-controlled (via atomic watch signals) |
| | | | |
| STN LCD (more distinct and bigger digits) | | | |
| Cross-Frame Structure (disperses impacts, reinforcing the case's) | | | |
| Moon Data (good for fishing and tides) | | | |
| | Double LED light (Auto LED light, Super illuminator) | Double LED light (Auto LED light, Super illuminator) | Neobright and Double LED light |
| | | | |
| | | | |
| | | | |
| Size (mm) *we consider 48.9×42.8×13.4 to be a traditional watch size (as in DW-5600). So you are to compare how far or close the watch is to this size | | | |
| Full features (if you want to know more) | | | |
Key conclusions
A good start, gentlemen. I'm delighted with this "smart" approach: when we can enjoy traditional analog beauty and still match the 21st-century technologies. Yes, there are still many smartphone connections, no " low-energy" GPS, but I am sure a new ProTrek generation will soon attract other people's eyes.
Author Valdemar, special for casioblog.ru and casiofanmag.com. All Rights Reserved…
ProTrek PRT-B50 Photo Gallery
---
PRT-B50 Profile / Casio ProTrek
Average Amazon Price: $150 (yes, we may earn a commission on qualifying purchases from our links to Amazon)
Year of first release: 2019
Nominations: best design, best functions
The most distinctive specs:
– 100-meter water resistance (good for swimming but not for deep diving)
– ProTrek Connected App (you may manage all watch settings through your phone)
– Mobile link (Wireless linking using Bluetooth(R)) (for time sync with your phone data)
– Digital compass (measures and displays direction as one of 16 points)
– Step count (A built-in 3-axis acceleration sensor begins counting steps the moment you start to walk.)
– Thermometer (can measure and display the outside temperature in a range from -10 C to 60 C)
– Barometer (measures the air pressures and displays tendencies in the weather)
– Altimeter (The electronic mechanism "estimates" the altitude based on the air pressure)
– Low temperature resistant (stable operation of the watch is guaranteed even at a temperature of -20°C)
– Sunrise, sunset time display (Sunrise time and sunset time for specific date)
Other colors and full specs: PRT-B50 Wiki Page