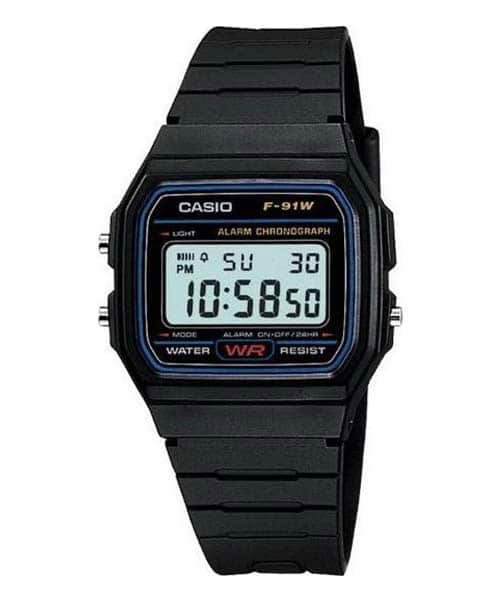 ---
About F-91 in Short. With its daily alarm, hourly time signal and auto calendar, you'll never need to worry about missing an appointment again. Grey Casual Classic watch with a black Resin Band.
---
Famous people wearing Casio F-91!
Have you seen this watch with another person? Let us know!
---
General Information
---
F-91 Model Range *may be updated
*Want to be the first to know about new Retro Updates? Here we store all recent Monthly Retro Updates →
---
Other Casio Digital F Watches *similar by price and functions but different by cases
These are not all Casio Digital F Series. Here is a list of All Casio Digital F Watches →
---
Casio Retro F-91 on the wrist!
---
Official F-91 Specs / Features *for base version F-91W-1
Case / bezel material: Resin
Resin Band
Resin Glass
Water Resistant
LED light
1/100-second stopwatch
Measuring capacity: 59'59.99″
Measuring modes: Net time, split time, 1st-2nd place times
Daily alarm
Hourly time signal
Auto-calendar (set at 28 days for February)
12/24-hour format
Regular time keeping: Hour, minute, second, pm, date, day
Accuracy: ±30 seconds per month
Approx. battery life: 7 years on CR2016
Size of case : 38.2×35.2×8.5mm
Total weight : 21g
---
You ask, we answer…
What does Water Resistant in F-91 mean?
The watch is suitable for everyday use, only splash/rain resistant.
What does Stopwatch in F-91 do?
Measuring capacity: 59'59.99″; Measuring modes: Net time, split time, 1st-2nd place times.
What model range does F-91 belong to?
Digital.
---
Not sure about Casio F-91? There are more Vintage Watches from Casio!