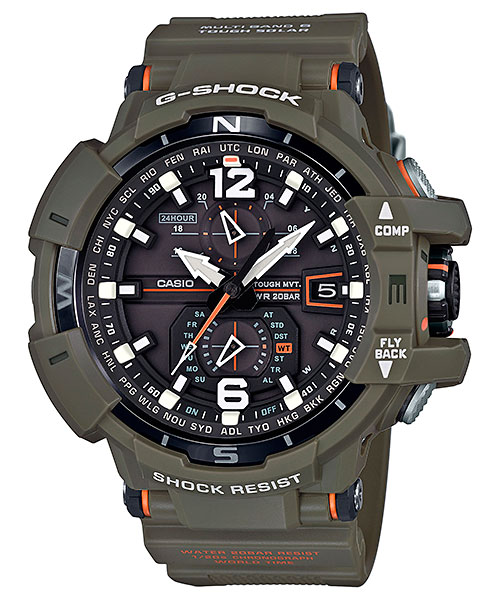 ---
About GW-A1100 in Short. Technological G-Shock-s from the Gravitymaster line for pilots. The housing is equipped with triple air overload protection – protection against centrifugal force, vibration and shock. The watch module is surrounded by a special cushioning material alphaGel, which negates all the effects of any mechanical stress. The functions are controlled by the smart Smart Access crown, and the Tough Movement technology automatically adjusts the position of the hands if they are lost. Thanks to radio synchronization, you will always be aware of the current time, because the watch receives a radio signal from the towers several times a day. The GW-A1100 is powered by a solar cell that charges from daylight and does not require replacement. You can use a digital compass to navigate the terrain.
G-SHOCK GRAVITYMASTER Evolution Timeline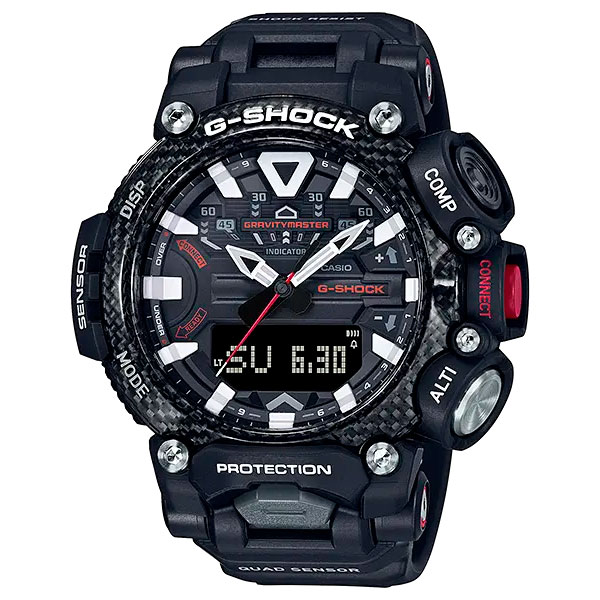 GR-B200
300$ on Amazon →
★★★★★
Quad Sensor & Flight Mission Functions
Its structure combines a carbon fiber-reinforced resin case with a Carbon Core Guard that protects the module, offering shock resistance and fortifying the watch against vibrations.
More about the Watch →
GWR-B1000
800$ on Amazon →
★★★★★
The next stage of toughness based on carbon materials
Featuring strong, lightweight carbon materials and a newly developed carbon monocoque case, this lightest GRAVITYMASTER delivers the shock resistance of a pilot watch at a mere 72 grams.
More about the Watch →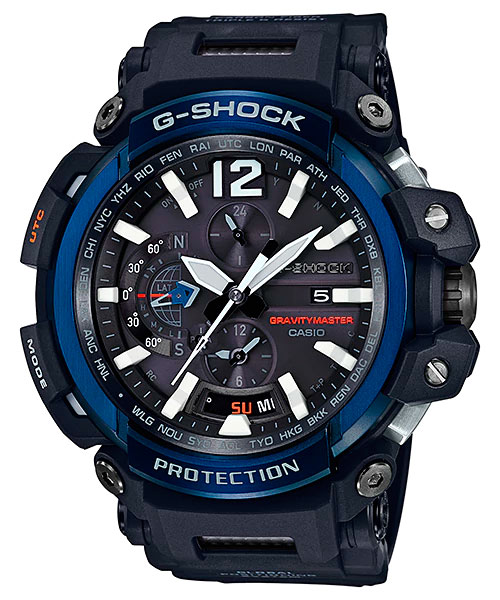 GPW-2000
World's 1st*1 watch with 3 time correction systems
Pursuing a precision time display capability that is indispensable for aviation missions, this model combines GPS hybrid radio-controlled, solar-powered timekeeping*2 with a Bluetooth® communication function in a 3-way time correction system.
---
General Information
Price
$520  *average Amazon Price, we may earn commission from purchases
Year of First Release
2013
Model Range
GRAVITYMASTER
Battery Type

Solar

(Casio Batteries

)

Manual
5311 (official)
---
GW-A1100 Model Range *may be updated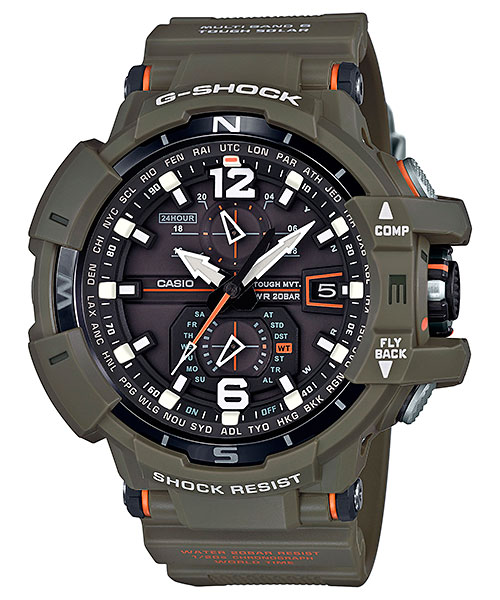 *Want to be the first to know about new G-Shock Updates? Here we store all recent Monthly G-Shock Updates →
---
The most distinctive specs of GW-A1100 *Editorial
— 200-meter water resistance (good for swimming but not for deep diving)
— TRIPLE G RESIST (Shock resistant, Centrifugal force resistant, Vibration resistant)
— Tough Solar (CASIO's original solar-charging system converts not only sunlight but also light from fluorescent lamps and other sources into power)
— Radio-controlled Watch; Multi band 6 (additional way for time sync. This watch receives time calibration radio signals that keep the displayed time accurate)
— Smart Access (the system for analogue movements achieves multi-functionality and easy operability simultaneously through a combination of multiple motors and an electronic crown)
— Tough Movement (A CASIO-original thin analog movement made possible by hybrid mounting protects against damage and enables auto home position correction that helps keep you on time all the time)
— Compass (measures and displays direction as one of 16 points)
---
Other G-Shock GW Watches *similar by price and functions but different by cases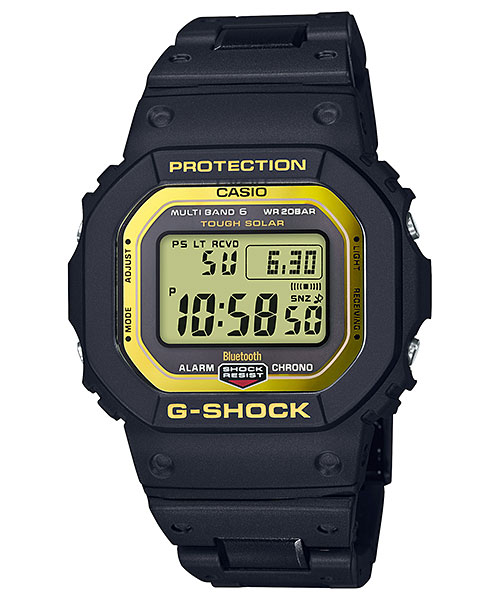 These are not all G-Shock GW Series. Here is a list of All G-Shock GW Watches →
---
Official Casio Description. With the ongoing success and popularity of our G-Aviation lineup, G-Shock has once again elevated watch performance and design with their latest introduction of the GWA1100-1A3. Triple G Resist construction enables it able to withstand the shock of gravitational dropping forces, centrifugal G-forces, and vibration. Smart Access enables intuitive, simple-to-master operation via an electronic crown and its direction and Sensors provide compass readings at a glance. Multi-Band 6 time calibration and Tough Solar Power provide accuracy and stable operation. Bold in design, resilient in structure and highly technical, the GWA1100-1A3 is as tough and visually stunning as it is electronically refined. Black analog watch and white and green accents on the dial.
---
Casio GW-A1100 on the wrist!
---
Official GW-A1100 Specs / Features *for base version GW-A1100-1A3
Case / bezel material: Resin
Resin Band
TRIPLE G RESIST (Shock resistant, Centrifugal force resistant, Vibration resistant)
Sapphire Glass with non-reflective coating
Vibration resistant
Shock Resistant
Neobrite
200-meter water resistance
Solar powered
Time calibration signal reception
Auto receive up to six* times a day (remaining auto receives canceled as soon as one is successful)
*5 times a day for the Chinese calibration signal
Manual receive
The latest signal reception results
Time Calibration Signals
Station name: DCF77 (Mainflingen, Germany)
Frequency: 77.5 kHz
Station name: MSF (Anthorn, England)
Frequency: 60.0 kHz
Station name: WWVB (Fort Collins, United States)
Frequency: 60.0 kHz
Station name: JJY (Fukushima, Fukuoka/Saga, Japan)
Frequency: 40.0 kHz (Fukushima) / 60.0 kHz (Fukuoka/Saga)
Station name: BPC (Shangqiu City, Henan Province, China)
Frequency: 68.5 kHz
The auto hand home position correction
Digital compass
20 seconds continuous measurement
Hand indication of north
Bidirectional calibration and northerly calibration function
World time
29 time zones (29 cities + coordinated universal time), daylight saving on/off, Home city/World time city swapping
1/20-second stopwatch
Measuring capacity: 1:59'59.95"
Measuring modes: Elapsed time, fly back
Countdown timer
Measuring unit: 1 second
Countdown range: 60 minutes
Countdown start time setting range: 1 second to 60 minutes (1-second increments, 1-minute increments)
Daily alarm
Low battery alert
Power Saving (hands stop to save power when the watch is left in the dark)
Full auto-calendar (to year 2099)
Date display
Regular timekeeping
Analog: 3 hands (hour, minute (hand moves every 20 seconds), second), 2 dials (24-hour, day)
Accuracy: ±15 seconds per month (with no signal calibration)
Approx. battery operating time:
6 months on rechargeable battery (operation period with normal use without exposure to light after charge)
22 months on rechargeable battery (operation period when stored in total darkness with the power save function on after full charge)
Size of case: : 48.4×53.8×17.3mm
Total weight: : 93g
---
Recent News about GW-A1100 
---