---
Quick Content Guide
---
General Information
Price
may be available 
*average Amazon Price, we may earn commission from purchases
Year of first Release
2010
Module Number
3159
Model Range
ORIGIN (The Line includes watches that are almost the same by design as the first "5600" G-Shock model produced in late 1983. Modern series are of course modified versions as regards of technologies and functions but still have an oldschool and very popular look.) 
Battery Type
Solar powered (CTL1616) (G-Shock Batteries)
Other Divisions the GWG-2000 belongs to: *you may find all watches of the division by clicking on the link
G-Shock Solar
---
GW-S5600 Usage Patterns *what the watch is usually meant for
---
GW-S5600 Model Range *may be updated
*Want to be the first to know about new G-Shock Updates? Here we store all recent Monthly G-Shock Updates →
---
The most distinctive specs of GW-S5600 *Editorial
— Tough Solar (CASIO's original solar-charging system converts not only sunlight but also light from fluorescent lamps and other sources into power)
— Radio-controlled Watch; Multi band 6 (additional way for time sync. This watch receives time calibration radio signals that keep the displayed time accurate)
— 200-meter water resistance (good for swimming but not for deep diving)
---
Official GW-S5600 Video
---
Other G-Shock GW Watches *similar by price and functions but different by cases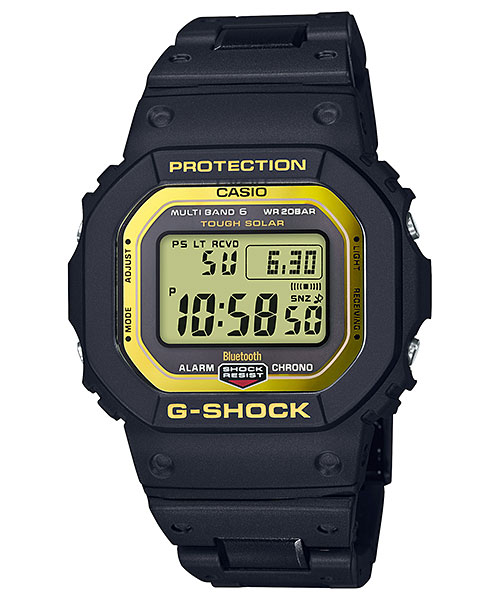 These are not all G-Shock GW Series. Here is a list of All G-Shock GW Watches →
---
Official Marketing Focus from Casio
The G-SHOCK "Square" is the most iconic model in their line. Even digital watch muggles instantly recognize it as a Casio. Since its introduction in 1983, the Japanese manufacturer has introduced more versions of the Square than ice cream flavors at Baskin Robbins (by a factor of 10). The GW-S5600-1 is a significant evolution of the classic Square – that isn't available anywhere outside of Japan.
The following features are equipped: radio controlled, world time, chronograph, countdown timer, alarm, power reserve indicator, perpetual calendar, backlight, date, day, month.
---
Official GW-S5600 Specs / Features *for base version GW-S5600B
Case: Titanium/Resin
Carbon Fiber insert resin band
200 meter water resistance
1/100-second stopwatch
Measuring capacity: 23:59'59.99″
Measuring modes: Elapsed time, split time, 1st-2nd place times
12/24-hour format
Accuracy: ±15 seconds per month
Approx. battery operating time
11 months on Rechargeable Battery (Operating period with normal use without exposure to light after full charge)
27 months on Rechargeable Battery (Operating period when stored in total darkness with the Power Save function ON after full charge)
Full auto-calendar (to year 2099)
Date and day of week display
Battery power indicator
Button operation tone on/off
Countdown timer
Measuring unit: 1 second
Input range: 1 minute to 24 hours(1-minute increments and 1-hour increments)
Daily alarms
5 independent daily alarms (4 one-time alarms and 1 snooze alarm)
Electro-luminescent backlight
Full auto EL light, afterglow
Hourly time signal
Power Saving
(Turns off the display when the watch is left in the dark)
Regular timekeeping
Hour, minute, second, pm, month, date, day
Shock resistant (G-SHOCK)
Solar powered
Time Calibration Signals
Station name:DCF77 (Mainflingen, Germany)
Frequency:77.5 kHz
Station name MSF (Anthorn, England)
Frequency: 60.0 kHz
Station name WWVB (fort Collins, United States)
Frequency: 60.0 kHz
Station name: JJY (Fukushima, Fukuoka/Saga, Japan, Hong Kong)
Frequency: 40.0 kHz (Fukushima) / 60.0 kHz (Fukuoka/Saga)
Time calibration signal reception
Auto receive up to six* times a day (Remaining auto receives canceled as soon as one is successful)
Manual received
Last time received display
*5 times a day for the Chinese calibration signal
World Time
29 time zones (48 cities + coordinated universal time), city code display, daylight saving on/off
Size of case / total weight
46.7 x 43.2 x 12.7 mm / 47 g
---
---
Recent News about GW-S5600 
---
Not sure about GW-S5600? There are more G-Shocks!