MRG (MRG means Mister-G Watch and that is definitely the most premium G-SHOCK LINE ever. You will always find here premium materials, functions, technologies and even handicraft approaches.)
---
G-Shock MRG TOP Features *depends on the watch. Some models may miss some features
| | |
| --- | --- |
| Solar Power | None-Stop – A solar panel converts even weak illumination from fluorescent lighting into electric power. A rechargeable battery with a large power storage capacity supports stable operation of various functions with high electricity consumption. You never have to worry about the battery running down because it's a solar battery. Casio watches with solar technology, receive thermal and electrical energy that recharges the watch batteries through solar panels on the face of the watch. |
| Smart Access | This analog control system combines Multi Mission Drive, which assigns multiple functions to individual hands, with an electronic crown switch. World Time city selection is conducted with simple crown operation, providing quick access to the times in the world's major cities. |
| Multi-motor construction | Smooth switching of the various displays is achieved by a drive mechanism including an optimized number of motors. Electronic Crown Switch. Smart Access makes it easy to operate CASIO's multi-function watches. Simply pulling out and rotating the crown provides intuitive control over world time city selection and various other functions. |
| Metal moulding | The moulds employed for resin watch parts, from gears and other precision parts to novel moulded external parts, are originally fabricated at Yamagata CASIO. Besides undergoing many automated manufacturing processes, they are hand-polished to give them a precision finish. |
| Module manufacture | A single production line at Yamagata CASIO can handle assembly of as many as 13 types of movements, and the ability to perform speedy small-lot production of many products is among its strengths. Suitable for production of a diverse variety of watches, from watches with three hands to chronographs with multiple hands, the lines have the capacity to create an abundant lineup that enables customers to select a watch to suit their style. |
---
Listing of current G-Shock MRG Collection
---
Year of first Release — 2022 / $3500
*average Amazon Price, we may earn commission from purchases
Suitable for Wrist Size: 140-210 mm
Best for: Military, Army and Police Use
You pay for: Multi-component structure, Multi-guard Structure, COBARION® & DAT55G Scratch-resistant, Titanium carbide finish & DLC coating, Face design true to its roots, Solar-powered, Sapphire crystal, Mobile link (Wireless linking using Bluetooth(R), Radio-controlled Watch; Multi band 6, 200-meter water resistance
Full information: Colors, Detailed Specs, Photos, News on MRG-B5000 Wiki Page →
#G-Shock-Solar, #G-Shock-2022, #G-Shock-ORIGIN, #G-Shock-Bluetooth, #G-Shock-Square
---
Year of first Release — 2018 / 2000$
*average Amazon Price, we may earn commission from purchases
You pay for: 200-meter water resistance, Mobile link, MR-G Connected App, Smart Access, Tough Solar, GPS HYBRID WAVE CEPTOR
Full information: Colors, Detailed Specs, Photos, News on MRG-G2000 Wiki Page →
---
Year of first Release — 2017 / 750$
*average Amazon Price, we may earn commission from purchases
You pay for: 200-meter water resistance, Mobile link, MR-G Connected App, Smart Access, Tough Solar
Full information: Colors, Detailed Specs, Photos, News on MRG-B1000 Wiki Page →
---
G-Shock MRG-G1000 Series
Year of first Release — 2014 / 2000$
*average Amazon Price, we may earn commission from purchases
You pay for: 200-meter water resistance, TRIPLE G RESIST, GPS Signal Reception, Tough Solar, Radio-controlled Watch; Multi band 6, Smart Access, Tough Movement, Clad Guard Structure, Dual Dial World Time
#G-Shock-Analog, #G-Shock-Solar
---
MRG-G2000 VS MRG-B1000 VS MRG-G1000
Bluetooth (via phone app), GPS Signal Reception

Bluetooth (via phone app)

Radio-controlled (via atomic watch signals), GPS Signal Reception

Neobrite (hands and hour markers) and LED light (Super Illuminator)

Neobrite (hands and hour markers) and LED light (Super Illuminator)

Neobrite (hands and hour markers) and LED light (Super Illuminator)

Measuring unit: 1 second
Countdown range: 24 hours
Countdown start time setting range: 1 minute to 24 hours (1-minute increments and 1-hour increments)

Measuring unit: 1 second
Countdown range: 24 hours
Countdown start time setting range: 1 minute to 24 hours (1-minute increments and 1-hour increments)

Measuring unit: 1 second
Countdown range: 24 hours
Countdown start time setting range: 1 minute to 24 hours (1-minute increments and 1-hour increments)

1-second stopwatch
Measuring capacity: 23:59'59
Measuring modes: Elapsed time

1-second stopwatch
Measuring capacity: 23:59'59"
Measuring modes: Elapsed time

1/20-second stopwatch
Measuring capacity: 23'59.95"
Measuring mode: Elapsed time

39 time zones (39 cities + coordinated universal time), daylight saving on/off, Home city/World time city swapping, auto summer time (DST) switching

27 time zones, daylight saving on/off, Home city time swapping

40 time zones (27 cities + coordinated universal time), daylight saving on/off, auto summer time (DST) switching

Alpha Gel /
Vibration Resistance

Titanium (DLC Coating bezel)

Sapphire Glass with non-reflective coating

Sapphire Glass with non-reflective coating

Sapphire Glass with non-reflective coating

Size (mm) *we consider 48.9×42.8×13.4 to be a traditional watch size (as in DW-5600). So you are to compare how far or close the watch is to this size

Full features (if you want to know more)
---
G-Shock MRG-7600 Series
Year of first Release — 2013
You pay for: 200-meter water resistance, Tough Solar, Radio-controlled Watch; Multi band 6, Tough Movement, Titanium carbide treatment
---
G-Shock MRG-7700 Series
Year of first Release — 2013
You pay for: 200-meter water resistance, Tough Solar, Radio-controlled Watch; Multi band 6, Tough Movement, Titanium carbide treatment
#G-Shock-Ana-Digi, #G-Shock-Solar
---
G-Shock MRG-8000 Series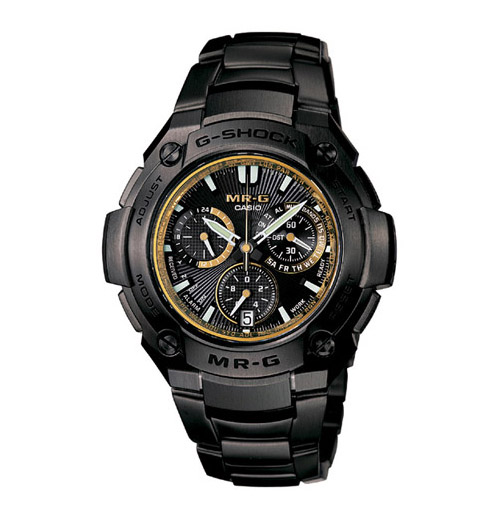 Year of first Release — 2008
You pay for: 200-meter water resistance, Tough Solar, Titanium carbide treatment, Radio-controlled Watch; Multi band 6
---
MRG-7600 VS MRG-7700 VS MRG-8000
| | | | |
| --- | --- | --- | --- |
| | | | |
| | | | |
| | | | |
| | Radio-controlled (via atomic watch signals) | Radio-controlled (via atomic watch signals) | Radio-controlled (via atomic watch signals) |
| | | | |
| | Neobrite (hands and hour markers) and LED light (Super Illuminator) | Neobrite (hands and hour markers) and LED light (Super Illuminator) | Neobrite (hands and hour markers) and LED light (Super Illuminator) |
| | | | |
| | The timer can be set for intervals between one and 60 minutes | | |
| | Stopwatch with a resolution of 1/100th of a second and a single split time | | 1/1 Sec. Stopwatch (24Hr) |
| | | | |
| | 48 cities (29 different time zones) | 48 cities (29 different time zones) | |
| | | | |
| | | | |
| | Titanium (DLC Coating bezel) | Titanium (DLC Coating bezel) | Titanium (DLC Coating bezel) |
| | Sapphire Glass with non-reflective coating | Sapphire Glass with non-reflective coating | Sapphire Glass with non-reflective coating |
| | | | |
| Size (mm) *we consider 48.9×42.8×13.4 to be a traditional watch size (as in DW-5600). So you are to compare how far or close the watch is to this size | | | |
| Full features (if you want to know more) | | | |
---
You ask, we answer!
What is the latest G-Shock MRG Watch?

It is MRG-G2000 produced in 2018 with the following features: 200-meter water resistance, Mobile link, MR-G Connected App, Smart Access, Tough Solar, GPS HYBRID WAVE CEPTOR.
What are the TOP G-Shock MRG Features?

— Solar Power
— Smart Access
— Multi-motor construction
— Metal moulding
— Module manufacture
— Parts manufacture
— Quality assurance
— MR-G Connected App
— Shock-resistant structure
— Vibration-resistant structure


For whom is G-Shock MRG meant for?
It is meant for everyone who likes its design, technologies and features. But generally speaking, MRG will definitely suit the next categories: Office and Formal Wear, Top G-Shock Look.

---
Not Sure about G-Shock MRG Watches? There are more G-Shocks!