On February 25, Casio Computer Co., Ltd. announced a collaboration model (2 models) with the F1 team "Scuderia AlphaTauri" as a new product of the high-performance metal watch "EDIFICE". The EQB-1000AT-1AJR will be released on March 19th for 82,500 yen including tax, and the ECB-10AT-1AJR will be released on April 16th for 38,500 yen including tax.
The predecessor of Scuderia Toro Rosso was "Scuderia Toro Rosso", which was renamed to Scuderia Toro Rosso in the 2020 season of F1. Casio has been an official partner since 2016. The addition of Japanese driver Yuki Tsunoda has also become a hot topic this season.
This new model is the second collaboration between Scuderia Alpha Tauri and EDIFICE. The same 6K carbon (material woven with 6,000 carbon fibers) used in Scuderia Toro Rosso's F1 machine is used for the EQB-1000AT-1AJR dial and bezel, and the ECB-10AT-1AJR dial. Adopted. The coloring is based on the team color navy, and the team logo is engraved on the dial, back cover, and play ring.
The base model of the EQB-1000AT-1AJR is the thin chronograph "EQB-1000″. By linking with a smartphone via Bluetooth, various operations can be performed intuitively from a dedicated app. For example, with the world time function that uses the main dial and in-dial, you can easily select the cities of the world to be displayed with each dial from the application screen. The band is made of durable CORDURA fabric, the windshield is made of sapphire glass, and the waterproof performance is 10 bar.The base model of the ECB-10AT-1AJR is the octagonal bezel " ECB-10 ". This also has a smartphone cooperation function by Bluetooth. It also works with the iOS calendar app and Android Google Calendar, and features a schedule timer function that notifies the start and end of a schedule with the LCD or sound of the clock. The band is a resin band that is easy to wear, the windshield is sapphire glass, and the waterproof performance is 10 atm.
---
EQB-1000 Profile / Casio Edifice
Average Amazon Price: $330 (yes, we may earn a commission on qualifying purchases from our links to Amazon). Check the Price on Amazon →
Year of first release: 2019
Nominations: best design, best materials, best functions, best size
The most distinctive specs:
– 100-meter water resistance (good for swimming but not for deep diving)
– Edifice Connected App (you may manage all watch settings through your phone)
– Mobile link (Wireless linking using Bluetooth(R)) (for time sync with your phone data)
– Tough Solar (CASIO's original solar-charging system converts not only sunlight but also light from fluorescent lamps and other sources into power)
– Sapphire crystal (no scratches, no flares)
– Last Lap Differential Indicator (When using the watch to measure lap times, the difference between the current lap and the last lap is indicated by a dial within a range of –5 to +1 seconds)
– Dual Dial World Time (A dial on the face of the watch always shows the current time in another zone whenever you need it. A sub-dial also indicates a.m. or p.m. at a glance)
Other colors and full specs: EQB-1000 Wiki Page
Edifice EQB-1000 Rating System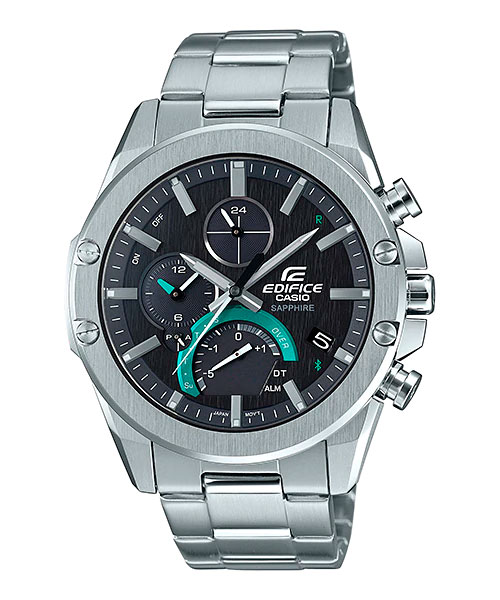 | | |
| --- | --- |
| Size | ★★★★ |
| Weight | ★★★★ |
| Functions | ★★★★★ |
| Materials | ★★ |
| Battery Years | ★★★★★ |
| Price | ★★★ |