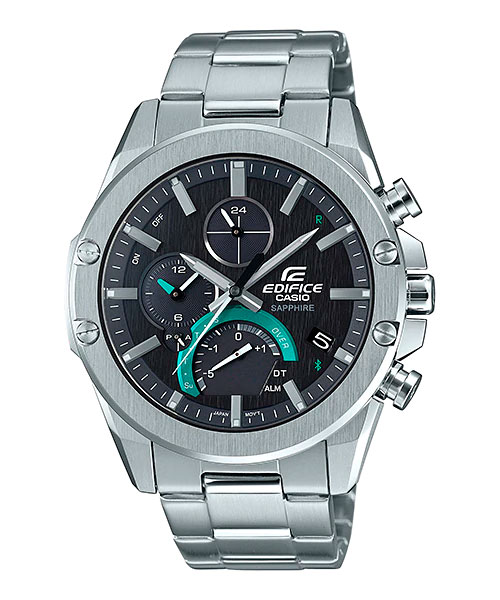 This new high-spec, super-slim model with phone linking capabilities is the latest addition to the EDIFICE lineup of function-packed metal chronographs that are always pushing the limits of timekeeping.
Bluetooth® Smartphone Link, a Tough Solar power system that enables charging even by exposure to fluorescent light, and multi-hand chronograph timekeeping, all come packed into a case that is a mere 8.9 mm thin. New mounting technology combines with component and structure innovations to create a case that is about 30% thinner than the EDIFICE EQB-800 Phone Linking module.
Important Information
Price —  330$ *average Amazon Price, we may earn commission from purchases
Year of first Release —  2020
Module Number — 5604
Model Range — SMARTPHONE LINK
Other Divisions the EQB-1000 belongs to: *you may find all watches of the division by clicking on the link
Battery Type — CR2016 (Edifice Batteries)
EQB-1000 Model Range *may be updated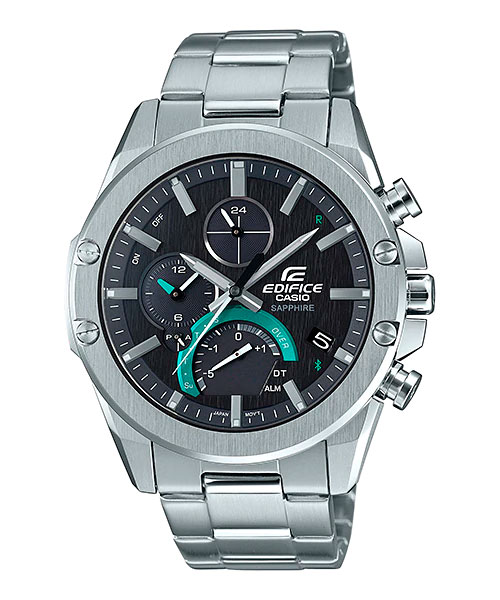 Official Marketing Focus from Casio
An Accurate Time System automatically establishes a Bluetooth® connection with a smartphone 4 times a day to update current time settings. A special smartphone app also lets you select from among approximately 300 World Time cities, and a dial at 9 o'clock shows the current time in your currently selected World Time city. A sub-dial even indicates a.m. and p.m. Times. Dual Dial World Time keeps you on time all the time no matter where you happen to be, and is just the thing for anyone whose travel takes them across different time zones. This and other power-hungry features are kept operating by a Tough Solar power system.
The stopwatch has memory for up to 200 1/1000-second lap time records, which can be sent to a phone as required. The watch's last lap differential indicator even indicates the difference between the time of the last lap recorded and the current lap.
A thin configuration without any sacrifice of function makes this new model the new flagship of the EDIFICE lineup.
Official EQB-1000 Specs / Features *for base version EQB-1000D-1A
Case / bezel material: Stainless steel
One-touch 3-fold Clasp
Stainless Steel Band
Neobrite
Sapphire Glass with non-reflective coating
100-meter water resistance
Tough Solar (Solar powered)
Mobile link (Wireless linking using Bluetooth®)
Dual time (Home city time swapping)
1-second stopwatch
Measuring capacity: 23:59'59
Others: Flyback, direct timing start from the timekeeping mode, last lap indicator
Daily alarm
Power Saving (hands stop to save power when the watch is left in the dark)
Full auto-calendar (to year 2099)
Date display
Day indicator
Regular timekeeping
Analog: 3 hands (hour, minute (hand moves every 10 seconds), second), 4 dials (24-hour, day, dual time hour and minute, dual time 24-hour)
Accuracy: ±15 seconds per month (with no mobile link function)
Approx. battery operating time:
5 months on rechargeable battery (operation period with normal use without exposure to light after charge)
19 months on rechargeable battery (operation period when stored in total darkness with the power save function on after full charge)
Size of case : 49.9×45.6×8.9mm
Total weight : 130g
Recent News about EQB-1000
---
You ask, we answer…
What does Edifice Connected App in EQB-1000 do?
You may manage all watch settings through your phone.
What is Mobile link in EQB-1000?
Wireless linking using Bluetooth(R)) (for time sync with your phone data.
What does Tough Solar in EQB-1000 mean?
CASIO's original solar-charging system converts not only sunlight but also light from fluorescent lamps and other sources into power.
What does Dual Dial World Time in EQB-1000 do?
A dial on the face of the watch always shows the current time in another zone whenever you need it. A sub-dial also indicates a.m. or p.m. at a glance.