---
GMA-S2100 Model Range *may be updated
---
Quick Content Guide
---
About the Watch in short. G-SHOCK is a synonym for toughness, state-of-the-art technology and perfect design. CASIO G-SHOCK watches guarantee maximum precision under the most extreme conditions.
G-SHOCK OAK EVOLUTION TIMELINE
GMA-S2100
110$ on Amazon →
★★★★
This downsized version of the popular GA-2100 model has a simple, thin design that eliminates waste while maintaining a tough structure.
More →
GA-2100
130$ on Amazon →
★★★★★
The new Analog-Digital combination model that inherits the form of original G-SHOCK
The octagon form that was also employed for the original DW-5000C is installed in the series with carbon core guard structure which is the 3rd evolution of the materials of G-SHOCK.
More →
---
---
General Information
Price
$100
*average Amazon Price, we may earn commission from purchases
Year of first Release
2021
Suitable for Wrist Size
145 – 200 mm
Module Number
5611 / Manual
Model Range
G-SHOCK WOMEN (The Line includes watches that are smaller than original men's variant, but have the same functions, technologies and other specs. Usually meant for women but also good for children and small wrists.)
Battery Type
SR726W x 2 (G-Shock Batteries)
Buy Battery on Amazon →
Other Divisions the GMA-S2100 belongs to: *you may find all watches of the division by clicking on the link
G-Shock Ana-Digi
G-Shock Carbon Core Guard
G-Shock 2021
---
Official G-Shock GMA-S2100 Video
---
G-Shock GMA-S2100 Display Guide *for key functions only. For you to know how it works))
Timekeeping
Use the Timekeeping Mode to set and view the current time and date.
– To view the Home City name (English), press A.
Checking the Current Time in a Different Time Zone
You can use the World Time Mode to view the current time in one of 31 time zones (48 cities) around the globe. The city that is currently selected in the World Time Mode is called the "World Time City".
Stopwatch Mode
The stopwatch measures elapsed time, split times, and two finishes.
– The stopwatch measures elapsed time in units of 1/100 seconds for the first hour, and in 1-second units after that for up to 24 hours total. After that, elapsed time reverts to zero and then stops.
Countdown Timer
The countdown timer start time can be set in 1-second increments up to a maximum of 24 hours. An alarm sounds when the countdown reaches zero.
---
G-Shock GMA-S2100 on the wrist!
---
GMA-S2100 Usage Patterns *what the watch is usually meant for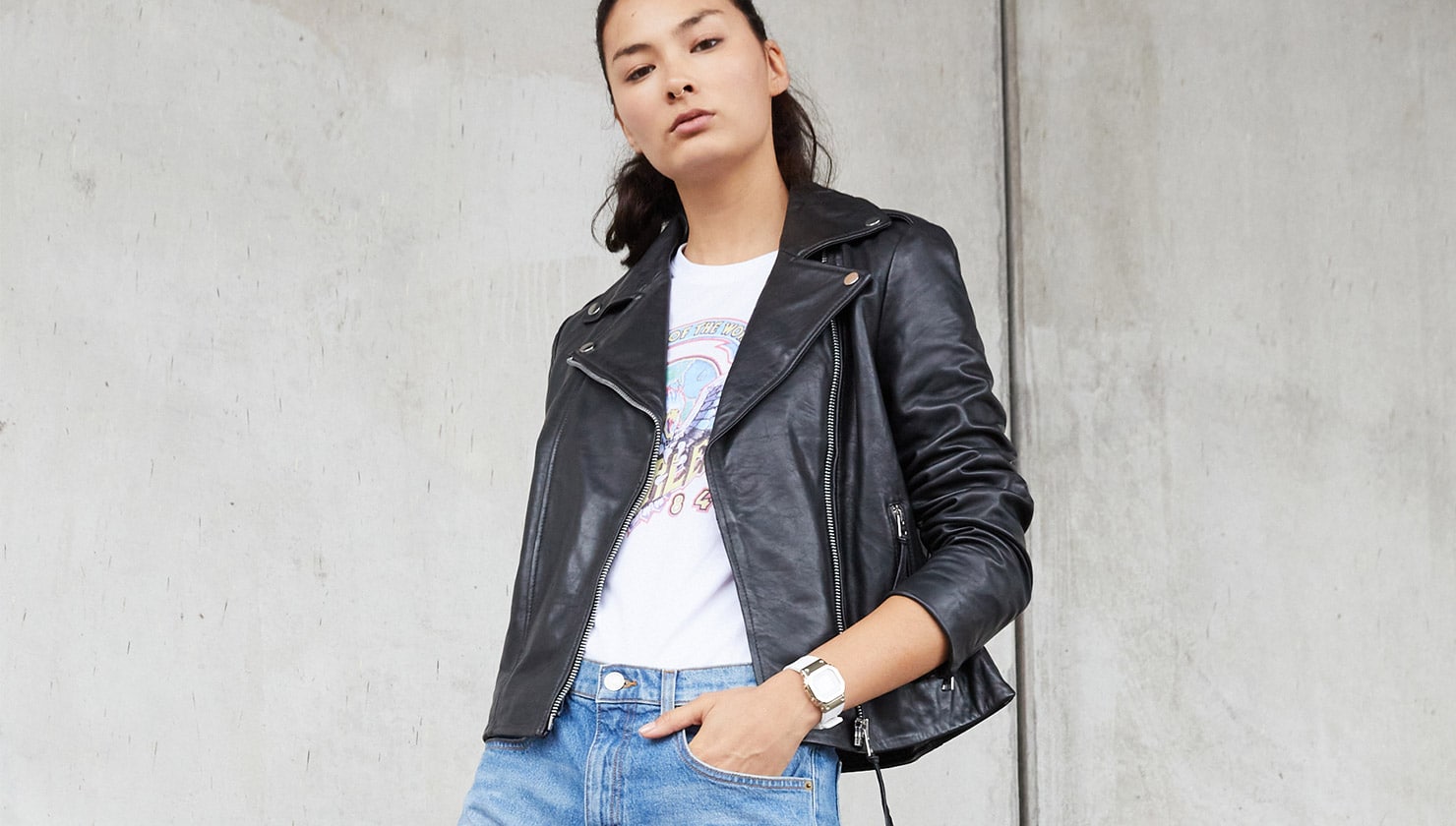 ---
Feedback from Users *accumulated information from our own comments and emails, forum threads, socials, reviews, etc.
PROs
+ love how the watch looks
+ cool and pretty for girls
+ the matte black looks incredible
+ the pink one is super stellar and sleek
+ the dials pop and it's perfect for any summer outing

Feedback from Experts *based on comparison info with similar watches by price, model range, etc.
PROs
+ timer
+ double LED light
+ World Time
+ 3 years battery
+ carbon reinforced resin case
+ 5 time alarms
CONs
– expensive but worth the money
– no Hourly Time Signal
– no Auto-Back Light
---
What we like in GMA-S2100 *comments by experts with 10 years experience in writing about Casio watches
— Compact size (46.2 x 42.9 x 11.2 mm, which is less than original GA-2100. Will suit perfectly on small wrists)
— The first Octagon for Women (very popular style)
— Good for children (boys and girls as the size fits and there is no any "Baby-G" name, that boys do not like)
— Basic but useful functions (world time, 1/100-second stopwatch (24 hours), countdown timer, 5 alarms, hand shift function, etc)
— Amazing colors line (color schemes aimed at women)
---
Other G-Shock GMA Watches *similar by price and functions but different by cases
These are not all G-Shock GMA Series. Here is a list of All G-Shock GMA Watches →
---
---
Official GMA-S2100 Specs / Features *for base version GMA-S2100-7A
Case / bezel material: Carbon reinforced resin / stainless steel
Resin Band
Shock Resistant
Mineral glass
200-meter water resistance
Double illuminator and Neo display
World time function
Stop function – 1/100 sec. – 24 hours
Timer – 1/1 sec. – 24 hours
Automatic calendar with date, month and day of the week
5 daily alarms
Hand moving function
12/24 hour format
Pin buckle
+/- 15 sec accuracy (per month)
Approx. battery operating time: 3 years
Size of case : 46.2 mm x 42.9 mm x 11.2 mm
Total weight : 41g
---
G-SHOCK GMA-S2100 PROs & CONs
*we composed all points based on our ten years experience in writing about CASIO watches. We know what matters when you are searching for your ideal G-SHOCK!
– Compact Design (46.2 × 42.9 × 11.2 mm while average watch size is 48.9 × 42.8 × 13.4 mm)
– Octagonal Form (trendy & stylish design). Luxury brands are also boasting an OAK design
– Carbon Core Guard (the watch is more lightweight but stronger in comparison with a traditional structure)
– Double LED Light (one for the face and one for the digital display)
– Good hands readability
– 3 years battery life
– No Tough Solar (no Solar Power)
– No Second Hand
– Poor digital display readability (if the model uses negative display type)
– Budget-friendly materials
---
---
GMA-S2100 Comparison Table with similar G-Shock Watches
Double LED light: LED light for dial, LED backlight for LCD

Electro-luminescent backlight
Afterglow

LED light
Auto light switch, selectable illumination duration, afterglow

5 daily alarms (with 1 snooze alarm)

Set unit: 1 second, maximum set: 24 hours, measured in 1 second units

Measuring unit: 1 second
Countdown range: 24 hours
Countdown start time setting range: 1 second to 24 hours (1-second increments, 1-minute increments and 1-hour increments)
Other: Auto-repeat

Measuring unit: 1 second
Countdown range: 24 hours
Countdown start time setting range: 1 minute to 24 hours (1-minute increments and 1-hour increments)

(1/100 second (less than 1 hour) / 1 second (1 hour or more), 24-hour counter, with split)

1/100-second stopwatch
Measuring capacity: 00'00″00~59'59″99 (for the first 60 minutes)
1:00'00~23:59'59 (after 60 minutes)
Measuring unit: 1/100 second (for the first 60 minutes)
1 second (after 60 minutes)
Measuring modes: Elapsed time, split time, 1st-2nd place times

1/1000-second stopwatch
Measuring capacity: 99:59'59.999"
Measuring modes: Elapsed time, lap time, split time
Others: Speed (0 to 1998 units/hour), Distance input (0.0 to 99.9)
Mach indicator (speed exceeding 1225 units/hour)

Carbon reinforced resin / stainless steel

Size (mm) *we consider 48.9×42.8×13.4 to be a traditional watch size (as in DW-5600). So you are to compare how far or close the watch is to this size

Full features (if you want to know more)
---
---
Enjoy Japanese Unique Features in GMA-S2100!
*some images are about G-Shock 5000/5600 cases, but the technology, approaches, concepts and philosophy remains the same for the whole G-Shock Model Range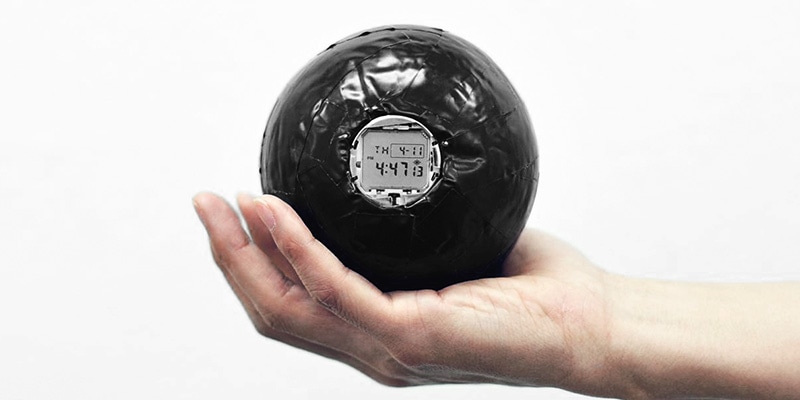 Hollow case structure. Based on a realization that "shocks are not transmitted inside a bouncing rubber ball," the structure was designed to let the module float inside the case, relieving shocks transmitted from outside. Today, the module's shock resistance is realized through further technical innovations. But the revolutionary tough structure that gave G-SHOCK its origin began here.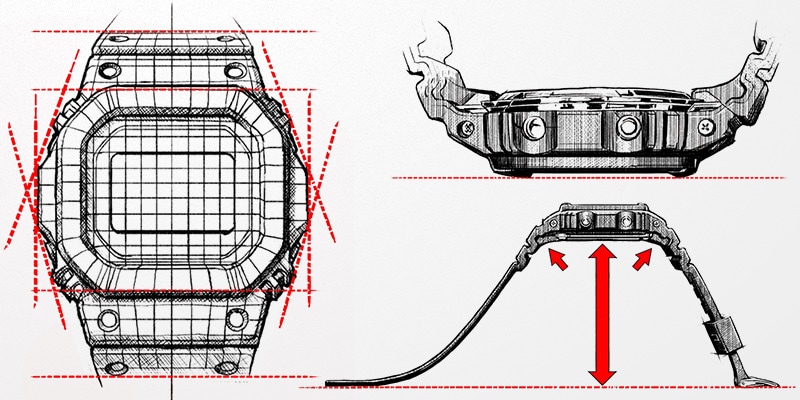 All-directional covering. If the watch is dropped, the protruding bezel fully enclosing it absorbs the shock, protecting the buttons directly connected to the module and alleviating shocks from all directions. The bezel also guards the surface of the crystal. The band is curved stiffly at the point of connection with the case, moreover, enabling it to serve as a shock absorber and prevent direct shocks to the back of the case.
Protective cushioning of key parts. The crystal oscillator and other critical parts inside the module are guarded individually by cushioning material. Any strong shock to the watch causes immediate distortion of the cushioning inside the module, preventing contact failure and malfunction.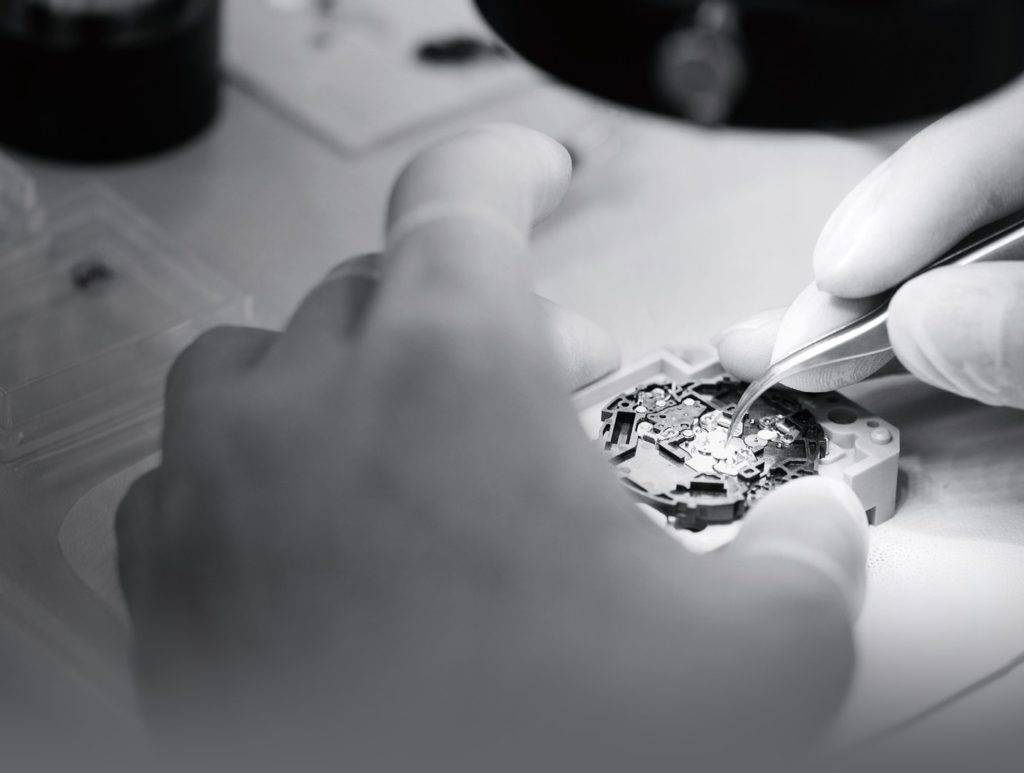 Japan Quality. Constructed with genuine quality, CASIO products provide truly practicable applications in which functionality and beauty combine. The leading-edge LSI technologies and skilled craftsmanship that give life to CASIO watches exemplify the quality Japan boasts in the world marketplace.
For CASIO, "faith in manufacturing" refers to an inexorable advancement of digital technologies and an uncompromising commitment to fine craftsmanship. This faith engenders unparalleled performance that not only elevates CASIO watches as close as possible to perfection, but that actually changes their wearers' lifestyles.
---
---
Recent News about GMA-S2100
---
Not sure about GMA-S2100? There are more G-Shocks!