What else can surprise the G-Shock lover with a square form factor? The answer is simple: a new strap, look, material, color, functionality, etc. Today's hero is not particularly distinguished by new technologies [there is nothing new actually], but it is different in its look and "starter kit". Honestly, I don't know with what other product this can work with for over 20 years, but the G-Shock classics can live forever [I hope so]. Let's look at the newest and one of the cheapest square shocks called DW-5610SUS-5ER.
I can't be objective in today's review. It's easier to be a HATER because you can always say: " Oh! Well, how many times can you reborn an old case? You'd better do something new".
DW-5610 took over the caliber of the old DW-5600 [which surprised the world in 1989 with a new wristwatch look], but this is certainly not an indicator of its backwardness.
Unlike the DW-5600, the new DW-5610 opens up a new world of affordability [among quality shock-resistant watches]. Look, the series has a refreshed design thanks to modern prints on the display and a two-layer painting method: a separate case and a separate bezel. Now the watch is not of the same color as it was almost always, but in new contrast variations.
You should agree not all of these elements were previously found in the DW-5600. So, there is a concrete answer for the HATERS as well.
As a square G-Shock lover [and the owner of square GW-B5600], the innovation appeals to me first of all for its relative availability and freshness. If you choose among the abundance of DW-5600s, DW-5610 will be more sympathetic in militaristic format.
Yes, it is an important point, as DW-5610 is just about military style, so in the DW-5610SUS-5ER you can find a camouflage print on the dial, and all other representatives got ONLY negative time display [numbers are light and background is black].
This is such a reference to secrecy, which is very important in military affairs. I'm not going to force the idea the watch is designed for armed forces members only, since camouflage is now very popular in the urban life of modern youth and subcultures. And this is exactly what you will have to pay extra comparing to the basic DW-5600, which is almost twice cheaper.
The DW-5610SUS-5ER differs from its other "relatives" in its original configuration. Even the package itself seems to hint at the cartridge case, but the main feature is an additional fabric strap and "screwdriver" for easy removal.
Even for the sake of such a successful addition, the DW-5610SUS is worth considering [compared to the DW-5600 or other DW-5600s]. Depending on the strap, you get a completely new watch. Yes, the watch changes by 90%.
From the back of the case, there are already familiar "levers" on the studs [and each additional strap has also its own stud], which contribute to the fast replacement, so the presence of an additional "screwdriver" is not so necessary. However, to make a replacement with such a "screwdriver" is a pleasure. It is good to have a screwdriver, but not critical.
In terms of functions, the DW-5610SUS-5ER will not surprise you: alarm, timer, stopwatch, calendar, etc.
Everything is very ordinary, but the alarm turned out to be more functional:
You can set an alarm with hour, minutes, month, and day. When the alarm is on, the alarm sounds for 20 seconds at the preset time. When the HourlyTime Signal is on, the watch beeps every hour on the hour.
The backlight in the "inversion" works exceptionally on digits [in a lovely blue color]. This is an advantage of a negative display. The Illumination is focused on displaying only the desired numbers and looks very nice. There is no automatic activation of the backlight in the watch.
This, perhaps, is where my review ends.
DW-5610 Comparison Table with similar G-Shock Watches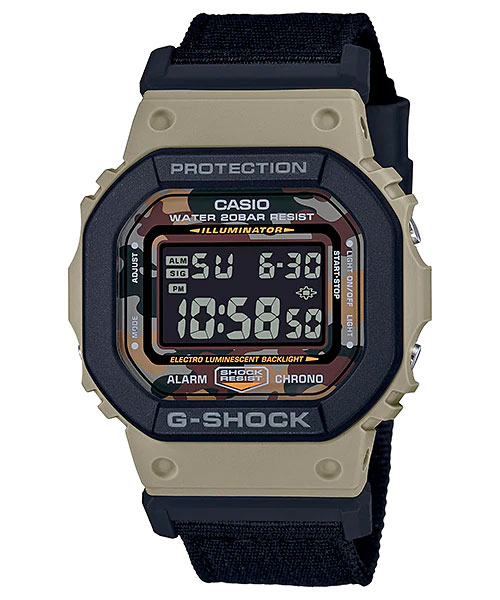 Radio-controlled (via atomic watch signals), Bluetooth (via phone app)

G-Shock Connected App (simplifies certain watch operations by letting you perform them on your phone screen)

Electro-luminescent backlight
Afterglow

Electro-luminescent backlight
Afterglow

LED backlight (Super illuminator)

Resin / Stainless steel (Gold ion plated case)

Size (mm) *we consider 48.9×42.8×13.4 to be a traditional watch size (as in DW-5600). So you are to compare how far or close the watch is to this size

Full features (if you want to know more)
Conclusions
DW-5610SUS-5ER differs from its old predecessor. Fundamental changes are manifested in the appearance, unique bezel color, and available removable straps. Yes, the caliber has remained the same, but this does not make the watch old, but on the contrary proves the reliable Japanese perfection, where you are becoming a part of it since 1989.
Author Valdemar, special for casioblog.ru and casiofanmag.com. All Rights Reserved…
G-Shock DW-5610 Photo Gallery
---
DW-5610 Profile / Casio G-Shock
Average Amazon Price: 140$ (yes, we may earn a commission on qualifying purchases from our links to Amazon)
Year of first release: 2020
Best for: Small Wrists, Teenagers, Military, Army and Police Use, Top in G-Shock Lookbooks
The most distinctive specs:
– 200-meter water resistance (good for swimming but not for deep diving)
– Bezel molded using two layers of different colors
– Utilitarian colors that go well with street fashions
– Electro-luminescent backlight
– Flash alert (Flashes with buzzer that sounds for alarms, hourly time signals)
Other colors and full specs: DW-5610 Wiki Page