G-LIDE (Extreme Sports Line with Tide Graph, Moon Data, high tide and low tide times, and sunrise and sunset times. Designed and specifically made for the surfing market. Surfers like G-LIDE for unique surfing functions and for good water resistance.)
---
G-Shock G-Lide TOP Features *depends on the watch. Some models may miss some features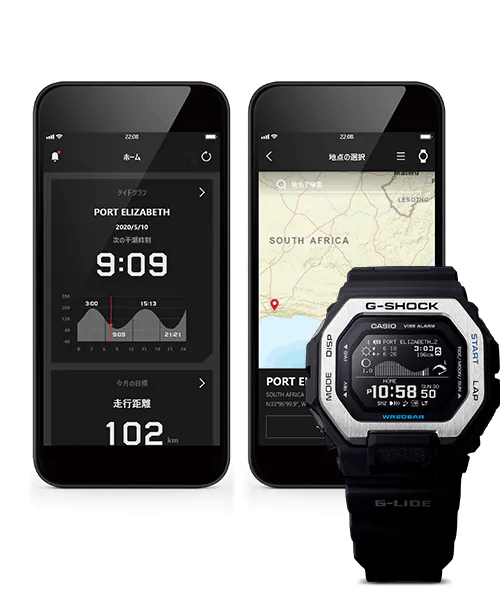 Measurement Functions
Functions include Tide Graph and Moon Data, along with training features that measure distance travelled, elapsed time, pace, and more. A phone app lets you check tide information for any of a selection of major surfing spots around the globe.
High-Resolution MIP LCD
The MIP LCD is more than enough for data-heavy display with both numbers and graphics. Tide and moon data, the current time, various measurements and more are all displayed in high resolution.
Forged Stainless Steel Bezel
The double-layer bezel is made with a combination of stainless steel and resin. The surfaces of stainless-steel parts feature a hairline and honed finish.
Setting tide point via smartphone
Available to set easily on the watch by selecting from approximately 3300 major surf point around the world that are built into the dedicated application.
G-SHOCK MOVE FREE Smartphone App
-Tide Point Setting
-Automatic time adjustment*
-World Time for over 300 cities*
-Phone Finder
---
Listing of current G-Shock G-Lide Collection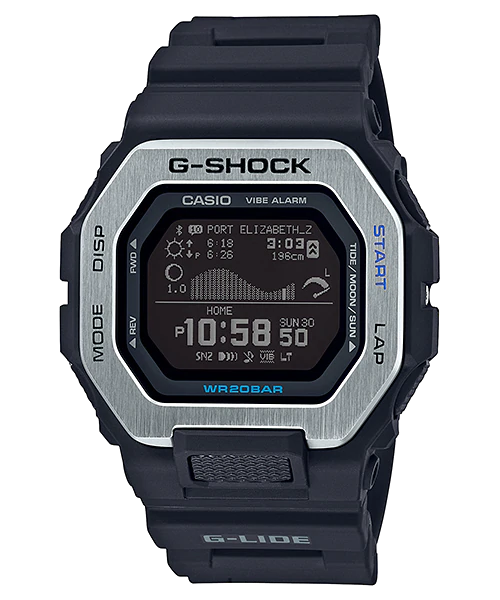 ---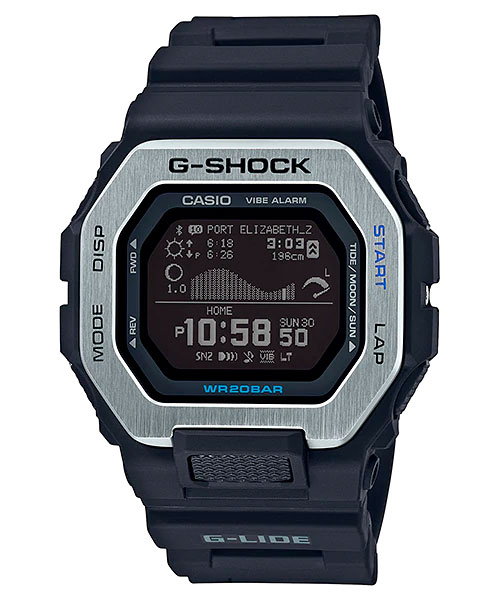 Year of first Release — 2020 / 190$
*average Amazon Price, we may earn commission from purchases
You pay for: 200-meter water resistance, MIP (Memory In Pixel) LCD, G-SHOCK Move App, Mobile link, Training Function, Step count, Moon data, Tide graph, Sunrise, sunset time display
Full information: Colors, Detailed Specs, Photos, News on GBX-100 Wiki Page →
---
G-Shock G-LIDE GWX-5700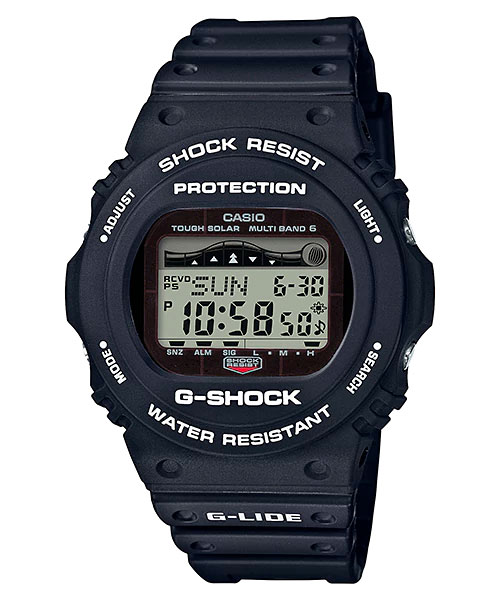 Year of first Release — 2018
You pay for: 200-meter water resistance, Tough Solar, Radio-controlled Watch; Multi band 6, Tide graph, Moon data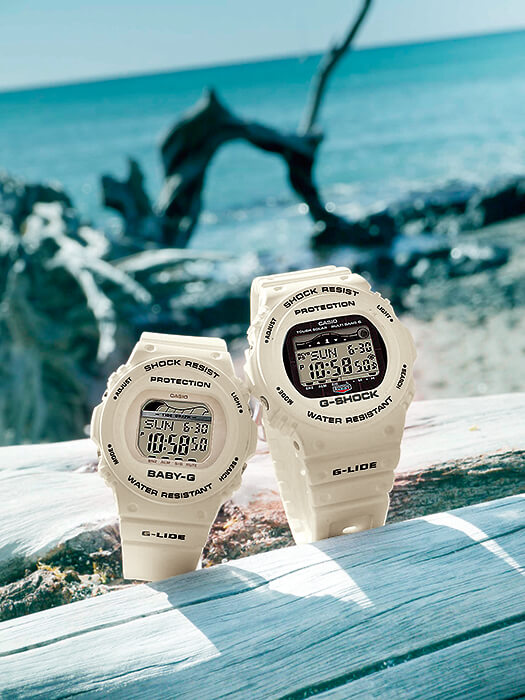 ---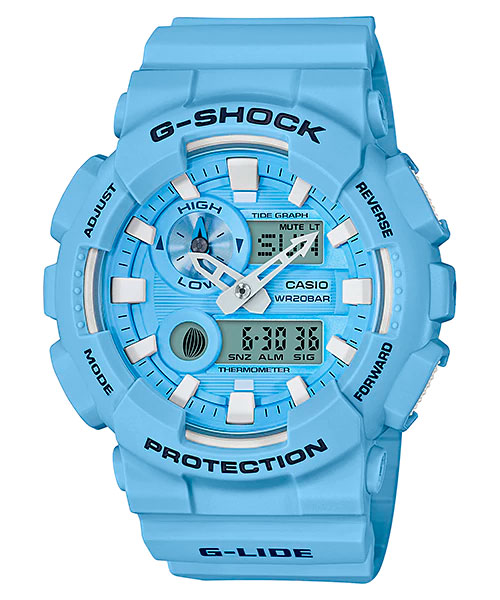 Year of first Release — 2016 / 105$
*average Amazon Price, we may earn commission from purchases
You pay for: 200-meter water resistance, ISO 764 class magnetic resistant, Thermometer, Moon data, Tide graph
Full information: Colors, Detailed Specs, Photos, News on GAX-100 Wiki Page →
---
GBX-100 VS GWX-5700 VS GAX-100
Bluetooth (via phone app)

Radio-controlled (via atomic watch signals)

LED backlight (Super illuminator)

EL backlight (with fully automatic EL light, afterglow function, afterglow time switching (1.5 seconds / 3 seconds))

4 daily alarms with snooze

5 daily alarms (with 1 snooze alarm)

Timer for interval measurement (up to five time settings)
Measuring unit: 1 second
Input range: 00'00" to 60'00" (1-second increments)
Others: Auto-repeat (number of repeats settable from 1 to 20)

2 timers - 5 sec. - 100 minutes.

Measuring unit: 1 second
Countdown range: 24 hours
Countdown start time setting range: 1 minute to 24 hours (1-minute increments and 1-hour increments)

1-second stopwatch
Measuring capacity: 99:59'59''
Measuring modes: Elapsed time, split time

1/100 second stopwatch (60 minute total with split)

1/100-second stopwatch
Measuring capacity: 999:59'59.99''
Measuring modes: Elapsed time, split time, 1st-2nd place times

38 time zones* (38 cities + coordinated universal time), daylight saving on/off, auto summer time (DST) switching
*May be updated when connected to a smartphone.

Displays the current time in major cities and specific areas around the world

31 time zones (48 cities + coordinated universal time), daylight saving on/off, Home city/World time city swapping

Size (mm) *we consider 48.9×42.8×13.4 to be a traditional watch size (as in DW-5600). So you are to compare how far or close the watch is to this size

Full features (if you want to know more)
---
Year of first Release — 2010
You pay for: 200-meter water resistance, Low temperature resistant, Tide graph, Moon data, Flash alert
---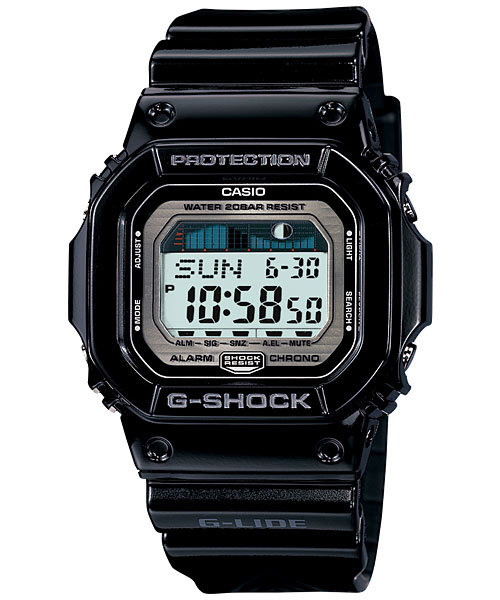 Year of first Release — 2008 / $110
*average Amazon Price, we may earn commission from purchases
You pay for: 200-meter water resistance, Moon data, Tide graph, Flash alert, 7-years battery
Full information: Colors, Detailed Specs, Photos, News on GLX-5600 Wiki Page →
---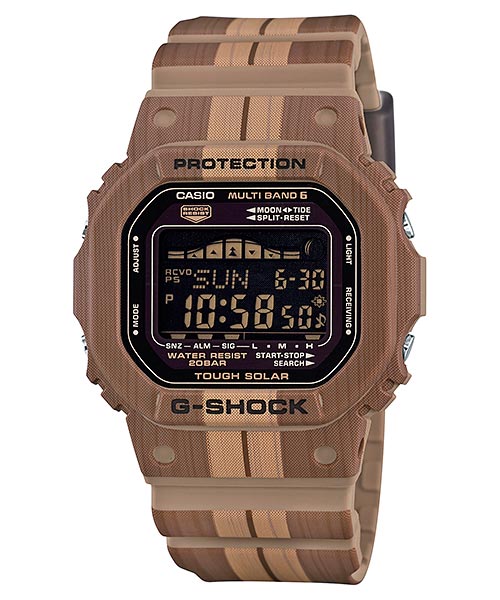 Year of first Release — 2010 / $169
*average Amazon Price, we may earn commission from purchases
You pay for: 200-meter water resistance, Tough Solar, Moon data, Tide graph, Radio-controlled Watch; Multi band 6
Full information: Colors, Detailed Specs, Photos, News on GWX-5600 Wiki Page →
---
GLX-6900 VS GWX-5600 VS GLX-5600
Radio-controlled (via atomic watch signals)

Electro-luminescent backlight

EL backlight (with fully automatic EL light, afterglow function, afterglow time switching (1.5 seconds / 3 seconds))

Electro-luminescent backlight

5 multi-function alarms (with 1 snooze alarm)

4 Daily Alarms and 1 Snooze Alarm

3 independent multi-function alarms (2 one-time alarms and 1 snooze alarm)

Measuring unit: 1 second
Countdown range: 24 hours
Countdown start time setting range: 1 minute to 24 hours (1-minute increments and 1-hour increments)
Others: Auto-repeat, progress beeper

Countdown Timer (TR1)
Measuring unit: 1 second
Countdown input range: 5 seconds to 99 minutes 55 seconds (5-second increments and 1-minute increments)
Other: Auto-repeat Function (Timer-to-timer, 5 repeats)

Measuring unit: 1 second
Countdown range: 24 hours
Countdown start time setting range: 1 minute to 24 hours (1-minute increments and 1-hour increments)
Others: Auto-repeat, progress beeper

1/100-second stopwatch (ST2)
Measuring capacity: 999:59'59.99"
Measuring modes: Elapsed time, split time, 1st-2nd place times

1/100 second stopwatch
Measuring capacity: 00:59'59.99
Measuring modes: Elapsed time, split time, 1st-2nd place times

1/100-second stopwatch
Measuring capacity: 23:59'59.99''
Measuring modes: Elapsed time, split time, 1st-2nd place times
Other: 5-second countdown auto start

29 time zones (48 cities), daylight saving on/off

31 times zones (48 cities + UTC), city code display, daylight saving on/off

29 time zones (48 cities), daylight saving on/off

Low Temperature Resistance

Size (mm) *we consider 48.9×42.8×13.4 to be a traditional watch size (as in DW-5600). So you are to compare how far or close the watch is to this size

Full features (if you want to know more)
---
Year of first Release — 2009 / $75
*average Amazon Price, we may earn commission from purchases
You pay for: 200-meter water resistance, Flash alert, Low temperature resistant, Moon data, Tide graph
Full information: Colors, Detailed Specs, Photos, News on G-7900 Wiki Page →
---
You ask, we answer!
What is the latest G-Shock G-Lide Watch?

It is GBX-100 produced in 2020 with the following features: 200-meter water resistance, MIP (Memory In Pixel) LCD, G-SHOCK Move App, Mobile link, Training Function, Step count, Moon data, Tide graph, Sunrise, sunset time display.
What are the TOP G-Shock G-Lide Features?

— Measurement Functions
— High-Resolution MIP LCD
— Forged Stainless Steel Bezel
— Setting tide point via smartphone
— G-SHOCK Move FREE Smartphone App
— Shock Resistant
— Hollow case structure
— All-directional covering
— Protective cushioning of key parts
— Japan Quality


For whom is G-Shock G-Lide meant for?
It is meant for everyone who likes its design, technologies and features. But generally speaking, G-Lide will definitely suit the next categories: For Big Wrists, For Military, Top G-Shock Look.

---
Not Sure about G-Shock G-Lide Watches? There are more G-Shocks!