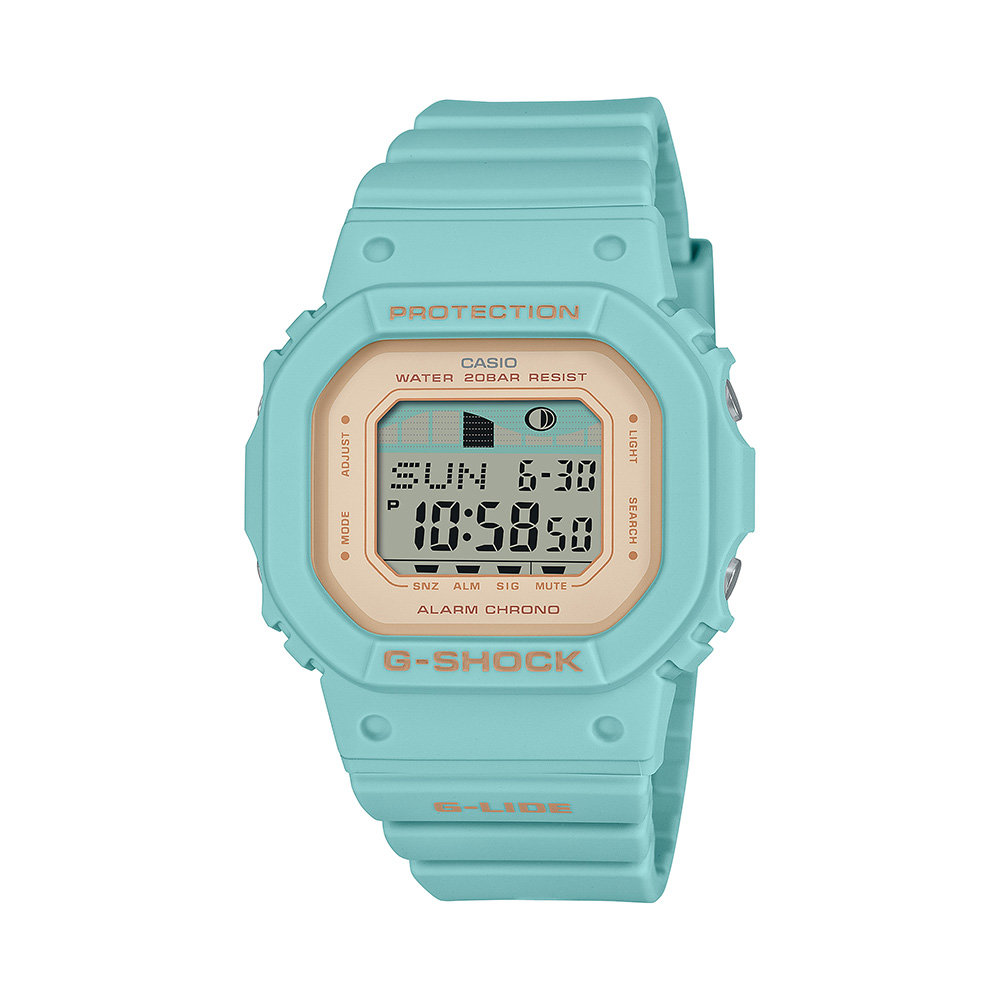 ---
GLX-S5600 Model Range *may be updated
---
Quick Content Guide
---
Enjoy Japanese Unique Features in GLX-S5600!
Nostalgic color inspired by surf beach.
Pale blue (GLX-S5600-3) and pale orange (GLX-S5600-4). Under the theme of nostalgic beach, we adopted a fade color that goes well with surf fashion. The faded tones and matte textures create a cool, retro feel. Two models, basic black (GLX-S5600-1) and off-white (GLX-S5600-7), are also available.
Compact & Slim.
Compared to the regular size GLX-5600, the case size (horizontal) has been reduced to about 94%. The thickness has been reduced and the fit has been improved. It is easy to wear even for women and people with thin arms, expanding the range of coordination.
Biomass Plastic.
Biomass plastic is used for the bezel and band. By using renewable organic resources as raw materials, we contribute to reducing environmental impact. We have created a symbiosis with nature by uniting the thoughts of everyone who loves the sea.
Various functions useful for surf riding.
In addition to the shock-resistant structure that can be used hard and water resistance of 20 bar, it is equipped with tide graph and moon data. Useful for marine sports such as surfing.
Super illuminator for easy viewing even in dark places
---
General Information
---
G-Shock GLX-S5600 Display Guide *for key functions only. For you to know how it works))
General Display
Tide Graph
Moon Graph
Day of the week
Hour, minute, second
Month, day
A button
Holding down this button for at least one second in any mode displays the setting screen.
B button
Press to turn on illumination.
C button
Each press cycles between watch modes.
D button
Pressing this button while any setting screen is displayed will change the setting.
Tide Level and Moon Age
The Tide Graph and Moon Graph for the current time are shown in the Timekeeping Mode.
Stopwatch
The stopwatch measures elapsed time in units of 1/100 second up to 23 hours, 59 minutes, 59.99 seconds (24 hours). When this maximum limit is exceeded, elapsed time measurement returns to 0 and timing continues from there.
---
G-SHOCK GLX-S5600 on the wrist!
---
GLX-S5600 Usage Patterns *what the watch is usually meant for
---
What we like in GLX-S5600 *comments by experts with 10 years experience in writing about Casio watches
— The iconic square design (inspired by the first and origin G-SHOCK DW-5000C)
— Smaller and thinner version of the G-SHOCK GLX-5600 (good suitable for women)
— Moon data (moon age of the specific date)
— Tide graph (tide level for specific date and time)
— 200-meter water resistance (good for swimming but not for deep diving)
— Biomass plastics in the case and band (the environmentally friendly biomass plastics are produced using materials derived from castor seeds and corn, as well as other raw materials)
— Basic but useful functions (1/100-second stopwatch (24 hours), countdown timer, alarm, calendar, etc)
---
Official Casio Description.
A smaller and thinner model of the sports line G-LIDE with a tide graph function. Biomass plastic is used for the bezel and band to reduce the burden on the environment. In terms of functionality, it also has tide graph and moon data, which are essential functions for surfers, and supports riding in the oceans around the world. A fashionable and sporty model with a nostalgic color that is popular in the surf scene.
G-SHOCK SQUARE EVOLUTION TIMELINE
---
Official GLX-S5600 Specs / Features *for base version GLX-S5600-3
Case size (L× W× H): 45.7 x 40.5 x 11.9 mm
Weight: 41 grams
Case and bezel material: Biomass Plastic
Resin band (biomass plastic)
Battery life: about 3 years
20 ATM water resistant
Mineral glass
Band wearable size: 145-200mm
World time: Time display for 48 cities (29 time zones) around the world, with summer time setting function
Moon data (moon age/moon shape display)
Tide graph
Stopwatch (1/100 second, 24 hour meter, 5 second countdown auto start, with split)
Timer (set unit: 1 minute, maximum set: 24 hours, measurement in 1 second units, auto repeat, with time-up notice function)
3 multi-alarms (only 1 with snooze function), time signal
LED backlight (with super illuminator, afterglow function, afterglow time switching (1.5 seconds/3 seconds))
Report sound flash function (alarm/time signal, timer notice/time up, stopwatch auto start, report sound interlocking light emission)
full auto calendar
Average monthly accuracy : ±15 seconds
---
G-SHOCK GLX-S5600 PROs & CONs
*we composed all points based on our ten years experience in writing about CASIO watches. We know what matters when you are searching for your ideal G-SHOCK!
– Compact G-LIDE sports watch (45.7 × 40.5 × 11.9 mm VS traditional 48.9 × 42.8 × 13.4 mm in DW-5600)
– Tide graph display (amazing look and practical for surfers)
– Made of eco-friendly biomass plastics (the bezel and band)
– Still 200-meter water resistant (despite eco-friendly biomass plastics)
– Affordable price Super Illuminator (high-brightness LED backlight)
– No Solar Power (3 years)
– Budget-friendly materials but durable
– No advanced functions (like pedometer, compass etc)
– No advances technologies (like Multi Band6, Bluetooth)
– Only traditional CASIO functions (but has a tide graph)
---
Recent News about GLX-S5600 
---
Not sure about GMD-S5600? There are more G-Shocks!