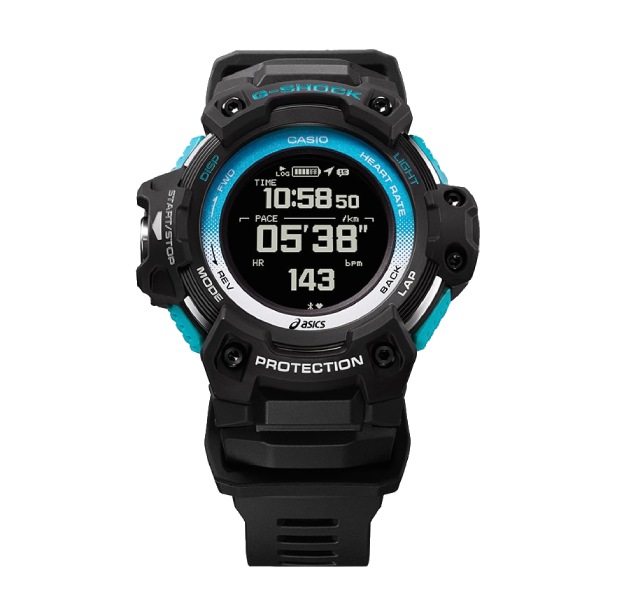 Important Information
Year of first Release — 2021
Module Number — 3491
Model Range — G-Shock for Runners (A new line of G-Shock Watches for Runners. May be used either for professional runners or amateurs. Good for particular features like speed, pace, distance, heart rate measurements. Thanks to MIP LCD, the watch can display all-important running information on your wrist. The line supports specific Phone Apps)
Other Divisions the GSR-H1000 belongs to: *you may find all watches of the division by clicking on the link
Battery Type — rechargeable (G-Shock Batteries)
---
GSR-H1000 Model Range *may be updated
---
The most distinctive specs of GSR-H1000 *Editorial
— G-SHOCK Running Watch (that is the first professional running watch by G-Shock but with the same rugged characteristics and water resistance. It is also a product of both Asics and Casio engineers that collaborated to create a good Japanese Running Watch)
— CMT-S20R-AS Motion Sensor (additional sensor to your watch. Equipped with a 9-axis sensor for measuring 20 types of running form indicators and GPS for measuring distance and pace)
— Running Data (speed via GPS, pace, heart rate, distance etc. All important info for a runner)
— MIP LCD display (informative display with lots of data)
— Runmetrix Smartphone App (coaching service and lots of training possibilities via App)
— Optical Heart Rate Monitor (on the watch caseback)
---
Official G-Shock GSR-H1000 Video
---
Official Marketing Focus from Casio
Jointly developed with ASICS, which has knowledge, know-how and big data related to sports engineering.
A unique algorithm provides various information useful for running, such as form indicators and improvement advice.
A motion sensor equipped with a GPS / 9-axis sensor measures the movement of the body during running with high accuracy. Check measurement data in real time by linking with GSR-H1000AS.
The movement during running measured by the motion sensor is evaluated by 6 axes for the characteristics of running and how to use the body, and displayed as a score. It helps you to understand the improvement points.
In addition, you can perform pace analysis, predict the optimum pace and full marathon completion time from the measurement time such as 5/10km, and connect to your own goals and training enhancement.
In addition, the running form is displayed in animation, advice on improvement points, and you can learn how to run efficiently and with less burden.
Choose the practice plan that suits you and manage the schedule and workout menu presented to help you reach your goals efficiently.
Then, based on the analysis of the running form, we explain training and stretching for improvement with videos. It supports the building of a body that produces a stable foam and also helps prevent injuries.
---
G-Shock GSR-H1000 on the wrist!
---
GSR-H1000 Comparison Table with similar G-Shock Watches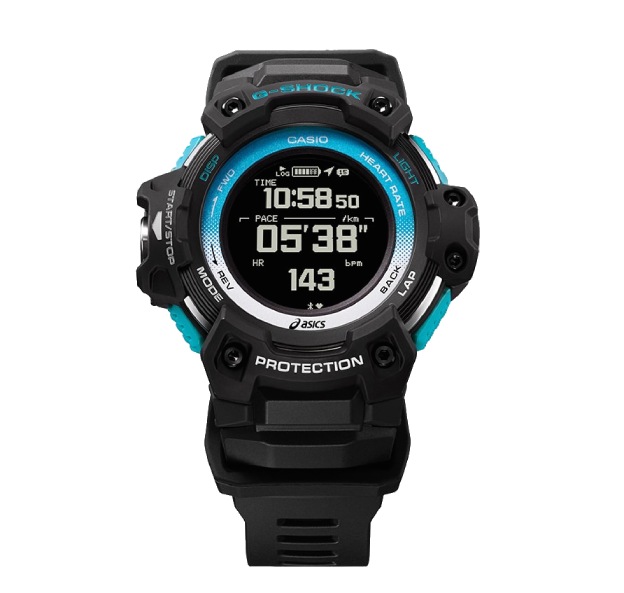 Bluetooth (via phone app), GPS Signal Reception

Bluetooth (via phone app), GPS Signal Reception

MIP LCD (Memory in pixel LCD. Training Data can be customized for ease of use)


MIP LCD (Memory in pixel LCD. Training Data can be customized for ease of use)


Optical sensor (for Heart Rate)

Optical Heart Rate Monitor (on the watch caseback)

Wrist heart rate measurement (maximum measurement value: 220 bpm)

GPS (for distance and speed monitor)

CMT-S20R-AS Motion Sensor (additional sensor to your watch. Equipped with a 9-axis sensor for measuring 20 types of running form indicators and GPS for measuring distance and pace)

GPS Functionality (Acquires data of current location from GPS satellite, measures distance travelled, speed, pace, and other data. In addition to GPS, the watch acquires data from GLONASS and Michibiki (QZSS) satellite systems)

Yes (After about 2.5 hours of charging, training features can be used continuously for up to 14 hours)

LED backlight (Super illuminator)

4 daily alarms with snooze

Timer for interval measurement (up to five time settings)
Measuring unit: 1 second
Input range: 00'00'' to 60'00'' (1-second increments)
Others: Auto-repeat (number of repeats settable from 1 to 20)

1-second stopwatch
Measuring capacity: 99:59'59''
Measuring modes: Elapsed time, split time

38 time zones* (38 cities + coordinated universal time), daylight saving on/off, auto summer time (DST) switching
*May be updated when connected to a smartphone

Size (mm) *we consider 48.9×42.8×13.4 to be a traditional watch size (as in DW-5600). So you are to compare how far or close the watch is to this size

Full features (if you want to know more)
---
---
Recent News about GSR-H1000
---