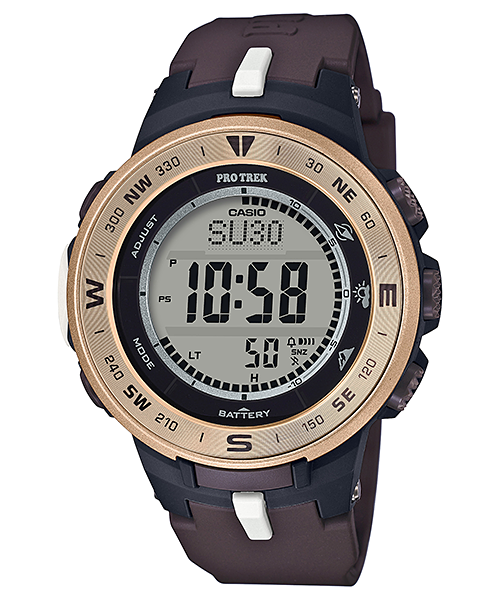 The ProTrek travel budget series with a triple sensor and digital display. The bezel in this model is aluminum – now the case not only looks more solid, but has become stronger. Advanced filling PRG-330 includes a barometer for measuring atmospheric pressure, a thermometer and a digital compass. Each of the listed functions has a separate quick launch button. The display and case are resistant to low temperatures – the manufacturer guarantees stable operation of the watch at -20 ° C. Thanks to solar power, you can forget about the periodic replacement of the battery. The basic functionality is represented by a stopwatch, timer, world clock and alarm clock.
Important Information
Price — 200$ *average Amazon Price, we may earn commission from purchases
Year of first Release —  2019
Module Number — 3443
Model Range — SOLAR
Other Divisions the PRG-330 belongs to: *you may find all watches of the division by clicking on the link
Battery Type — Solar (ProTrek Batteries)
PRG-330 Model Range *may be updated
Official Marketing Focus from Casio
Stay one step ahead of Mother Nature with the Solar Powered PRG300-4A, incorporating Casio's Triple Sensor Version 3 engine. Advanced CASIO original technology has allowed for a 95% smaller direction sensor and 90% reduction in sensor power consumption compared to previous models. Design features include a compact, sleek case and soft urethane band for a better fit to the wrist. One-touch access to digital compass, barometric pressure/altitude, and temperature readings keep important information at your fingertips.
Official PRG-330 Specs / Features *for base version PRG-330-1
Full-Auto LED light
A twist of the wrist in weak light conditions automatically lights up the display backlight.
Low-temperature resistant (-10 °C)
Even temperatures as low as -10 °C have no effect on this watch.
Solar Power
A solar cell provides power for operation.
Digital-compass
A built-in direction sensor detecs the magnetic north.
Barometer (260 / 1.100 hPa)
A special sensor measures the air pressure (measuring range: 260 / 1100 hPa) and presents this on the display in the form of a symbol. This enables early detection of weather trends.
Thermometer (-10°C / +60°C)
A sensor measures the ambient temperature around the watch and displays it in °C (-10°C /+60°C).
10,000 m Altimeter
A pressure sensor detects changes in the air pressure and converts the result into an altitude up to 10,000 m.
Height Gain
The height gain sums all the meters you have climbed in a session, so that you can see at a glance the total ascent on a tour.
Altimeter data memory
Depending on the model, up to 40 sets of elevation data can be stored in the watch's data memory and re-accessed at any time. Each of these data sets consists of a measured altitude as well as the date and time. In addition to the individual altitudes, the maximum and minimum altitudes during a measurement are also stored.
Sunrise/sunset display
After entering the geographical location, sunrise and sunset times can be displayed for any given date.
World time function
Displays the current time in major cities and specific areas around the world.
Stopwatch function – 1/10 sec – 1.000 hours
Elapsed time, split time and final time are measured with 1/10-sec accuracy. The watch can measure times of up to 1000 hours.
Timer – 1/1 min. – 24 hours
For fans of precision: the countdown timers help you to remember specific or recurring events by giving off an audible signal at a preset time. The time can be set to the nearest minute and up to 24 hours in advance. Ideal for people who need to take medicines every day or those who do interval training.
5 daily alarms
The daily alarm reminds you about recurring events with an acoustic signal at the time you have set. This model has 5 independent alarms for flexible reminders of important appointments.
Snooze feature
Each time you stop the alarm, it sounds again after a few minutes.
Button tones on/off
The button tones for using the mode button can be turned off. This means that the watch no longer beeps when switching from one function to another. Preset alarm or countdown timers remain active when the button tones are deactivated.
Automatic calendar with Date, Day and Month
Once set, the automatic calendar always displays the correct date.
12/24-hour timekeeping
Times can be displayed in either a 12-hour or 24-hour format.
Mineral glass
The tough mineral glass resists scratching.
Resin case
Resin band
Synthetic resin is the ideal material for wrist straps thanks to its extremely durable and flexible properties.
Buckle
Battery level indicator
An indicator shows the current battery level.
Water resistance classification (10 bar)
Perfect for swimming and snorkelling: the watch is water resistant to 10 bar according to ISO 22810.
Dimensions (H x W x D)
56mm x 47,1mm x 12,7mm
Weight
approx. 60 g
Recent News about PRG-330
---
You ask, we answer…
What does Tough Solar in PRG-330 mean?
CASIO's original solar-charging system converts not only sunlight but also light from fluorescent lamps and other sources into power.
What is Altimeter in PRG-330?
It's the electronic mechanism that "estimates" the altitude based on the air pressure.
How does Digital compass in PRG-330 work?
It measures and displays direction as one of 16 points.
What does Barometer in PRG-330 do?
It measures the air pressures and displays tendencies in the weather.