---
PRW-51 Model Range *may be updated
*Want to be the first to know about new ProTrek Updates? Here we store all recent Monthly ProTrek Updates →
---
Quick Content Guide
---
General Information
Price
may be available *average Amazon Price, we may earn commission from purchases
Year of First Release
2022
Model Range
RADIO-CONTROLLED
Battery Type
Solar Powered (ProTrek Batteries

)

Manual
5620 (official)
---
ProTrek PRW-51 on the wrist
---
What we like in PRW-51 *comments by experts with 10 years experience in writing about Casio watches
— Biomass plastics in the case, band, and case back (the environmentally friendly biomass plastics are produced using materials derived from castor seeds and corn, as well as other raw materials)
— Solar Powered (Tough Solar provides constant behind-the-scenes power)
— Radio-controlled Watch; Multi band 6 (additional way for time sync. This watch receives time calibration radio signals that keep the displayed time accurate)
— Thermometer (can measure and display the outside temperature in a range from -10 C to 60 C)
— Barometer (measures the air pressures and displays tendencies in the weather)
— Altimeter (The electronic mechanism "estimates" the altitude based on the air pressure)
— Digital compass (measures and displays direction as one of 16 points)
Other ProTrek PRW Watches *similar by price and functions but different by cases
These are not all ProTrek PRW Series. Here is a list of All ProTrek PRW Watches →
---
Official Casio Description. This is the 5th collaboration model between PRO TREK and the Nature Conservation Society of Japan.
This model is designed with the theme of "Satoyama". We consider the natural environment through sustainable manufacturing, such as using plant-derived renewable material "biomass plastic" and recycled PET materials for the case, band, and back cover.
The case, back cover, and urethane band are made of plant-derived renewable material "biomass plastic." Ingredients extracted from castor seeds (band is corn) are used as raw materials. As an eco-friendly material to wear, we support a lifestyle that is close to nature.
---
Official PRW-51 Specs / Features *for base version PRW-51NJ-1
Case/Bezel Material
Resin/Stainless Steel (Black IP)
Dura soft band (with attached band)
Mineral glass
100-meters water resistance
Alarm
5 independent daily alarms, hourly time signal
Altimeter
Measuring range: -700 m to 10,000 m (-2,300 ft. to 32,800 ft.); altitude memory (automatic recording data: maximum altitude, minimum altitude, integrated ascending altitude, integrated descending altitude), altitude difference graphic, altitude difference measurement ( -3,000 to 3,000 m), measurement interval setting function (every 5 seconds / 2 minutes)
Barometer
This model measures atmospheric pressure. You can forecast weather changes using it.
Measuring range: 260 hPa to 1,100 hPa; barometric pressure trend graph (displays for the past 20 hours), barometric pressure difference indicator (± 10 hPa), barometric pressure trend information alarm (arrow when a characteristic barometric pressure change occurs)
Cold Resistance
This watch will work when others freeze.
Low-temperature resistant (–10°C/14°F)
Digital Compass
You will never go astray with this watch.
Measures and displays direction as one of 16 points; measuring range: 0° to 359°; 60 seconds continuous measurement; hand indication of north; bidirectional calibration and magnetic declination correction
Thermometer
This function allows you to know the current temperature.
Measuring range: -10°C to 60°C (14°F to 140°F)
World Time
29 cities around the world (29 time zones, with daylight saving time setting function)
Stopwatch
1/100-second; measuring capacity: 23:59'59.99″; measuring modes: elapsed time, split time
Countdown Timer
Timer indicates the end of the time period you set.
Set unit: 1 minute, maximum set: 60 minutes, measured in 1 second units
Auto hand home position correction
Battery level indicator; power saving
Button operation tone on/off
Hand shift feature (manual or auto [during altitude, barometric pressure, and temperature measurement])
Full auto-calendar; 12/24-hour format
Double LED light (Super Illuminator) LED light for dial with afterglow: 1.5 or 3.0 seconds
LED backlight for LCD part (fully automatic light, afterglow function, afterglow time)
Radio Controlled
This watch receives a calibration radio signal, ensuring that the displaying time is always exact.
Solar Powered
This watch can be charged from almost any light source and run few months or more in the dark when fully-charged.
About 6 months after full charge, using all functions but without solar charging
About 25 months with the power-saving function ON after full charge
Size (H×W×D): 51.0 × 47.4 × 14.5 mm
Weight: 55g
---
Enjoy Japanese approaches to Travel and Functional ProTrek Watches!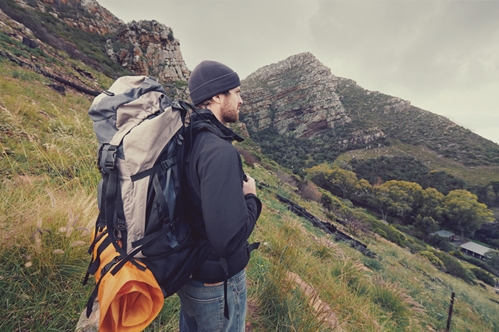 ProTrek Philosophy. Every adventure needs a reliable partner. PRO TREK is exactly the kind of watch that you need to meet the demands of your interests. PRO TREK is equipped with functions such as solar power operation, a digital compass, an altimeter, a barometer and a thermometer. The combination of innovative technology, a robust precision movement and state-of-the-art design makes the PRO TREK the perfect companion for all adventures under the open sky. Mountain or valley? Forest or meadow? River or lake? No matter what awaits you, you will be well-prepared to make any rough terrain your own thanks to the PRO TREK.
Experience for yourself how PRO TREK opens up new horizons while always pointing you in the right direction!
Triple Sensor. PRO TREK watches are equipped with the latest Triple Sensor, version 3 technology, making them even more accurate than before. Three highly sensitive, extremely small sensors measure with absolute precision and instantly display changes in your environment. The precision of the digital compass, altimeter, barometer and thermometer is only possible with the Triple Sensor technology. At the same time, the three layer sensor is 95% smaller and consumes 90% less energy than before.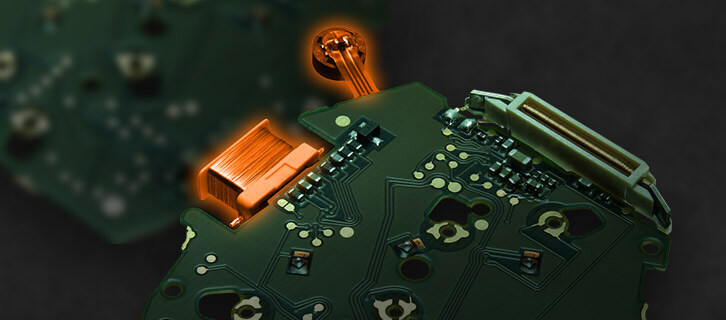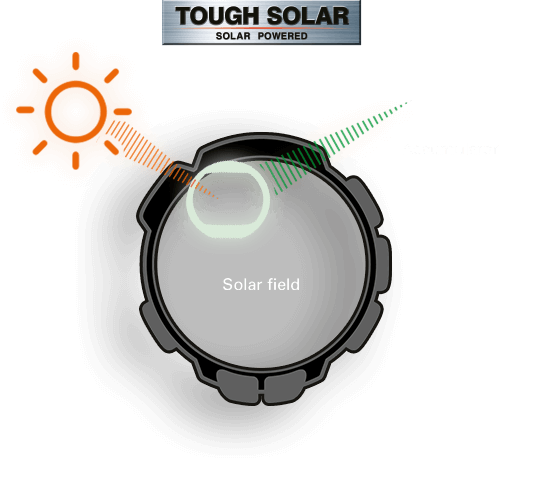 Tough Solar. The CASIO Tough Solar System is now so advanced that even the weakest light sources are sufficient to operate the watches. The solar cells are so small and inconspicuous that they can be integrated easily into every watch face design.
An accumulator in solar watches saves "superfluous" energy and releases it when the watch is in darkness. The accumulator is charged automatically and does not require manual activation.
Altimeter. For all those who set their sights high
The built-in altimeter uses a pressure sensor to measure the current air pressure.
The measured air pressure is then used to provide an "estimate" of the current altitude.
The electronic mechanism in the watch is pre-programmed with "ISA values" ("International Standard Atmosphere") used to convert pressure values into altitude values.
The air pressure and temperature generally become lower as the altitude increases.
These values define the connection between altitude, air pressure and temperature.
Barometer. The barometer measures the air pressures and displays tendencies in the weather.
The higher a person goes (ascent/terrain), the lower the barometric pressure will be.
An increase in air pressure usually signifies an improvement in the weather.
A decrease in air pressure usually means that bad weather is on its way.
The air pressure is displayed with an accuracy of 1 hPa (hectopascals).
The barometer can measure and display a range from 260 hPa to 1100 hPa.
Digital Compass.
The PRO TREK digital compass shows 16 compass points. The direction of magnetic north and the bearing are calculated by the compass's directional sensor The directional sensor consists of two rectangular coils that detect slight tensions created by the earth's magnetic field. Depending on the position and direction, these tensions vary in intensity. There is a non-magnetic resistance between the two coils, which absorbs the subtle changes in tension. With each new position, the values that are measured by the resistance change. A microprocessor converts the measurements so that they can be displayed clearly on your watch.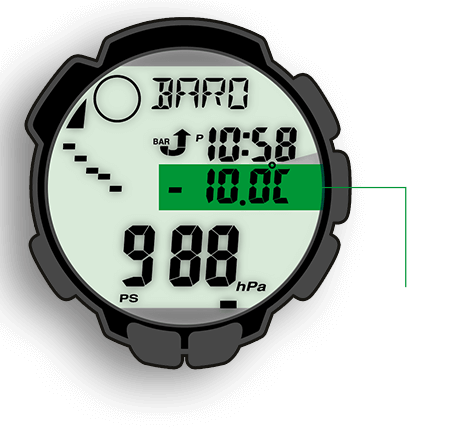 Thermometer. The thermometer is used to measure the outside temperature.
The temperature is displayed with an accuracy of 0.1 °C.
The thermometer can measure and display a range from -10.0°C to 60.0°C.
RADIO WATCH TECHNOLOGY.
The advantages of radio-controlled watches are obvious: Once they have been set to the relevant time zone, they always display the exact local time. All CASIO radio watches receive signals almost anywhere in Europe. Some models even receive signals in North America, parts of Canada and Mexico (the radio tower in Fort Collins sends signals for a radius of up to 3200 km) and even in Japan or China. In Europe, the change from summer to winter time is also completely automatic.
WATERTIGHTNESS.
The watertightness of the CASIO watches complies with DIN 8310 and ISO 22810. These standards describe the various classes of watertightness and the test procedure used to determine watertightness.
These standards apply to the general wristwatch usage. Watches with metre indications for watertightness cannot be used immediately in this water depth, however, as water resistance metre indications are merely a pictorial representation of the test pressure. A wristwatch withstands the impact of water at the static pressure specified on the watch (e.g. 10 bar) and the theoretical immersion in water to the specified depth.
---
PRW-51 Comparison Table with similar PROTREK Watches
Radio-controlled (via atomic watch signals)

Radio-controlled (via atomic watch signals)

Radio-controlled (via atomic watch signals)

STN LCD (more distinct and bigger digits)

"Cross-Frame Structure (disperses impacts, reinforcing the case's)
"

Moon Data (good for fishing and tides)

Double LED light (Auto LED light, Super illuminator)

Double LED light (Auto LED light, Super illuminator)

Neobright and Double LED light

Size (mm) *we consider 48.9×42.8×13.4 to be a traditional watch size (as in DW-5600). So you are to compare how far or close the watch is to this size

Full features (if you want to know more)
---
Recent News about PRW-51
---
You ask, we answer…
What does Tough Solar in PRW-51 mean?
CASIO's original solar-charging system converts not only sunlight but also light from fluorescent lamps and other sources into power.
What is Altimeter in PRW-51?
It's the electronic mechanism that "estimates" the altitude based on the air pressure.
How does Digital compass in PRW-51 work?
It measures and displays direction as one of 16 points.
What does Barometer in PRW-51 do?
It measures the air pressures and displays tendencies in the weather.
---
Can't find a ProTrek of your dream? There are more watches!