The top representative of the latest generation of ProTrek for tourists and travelers. In this model, the Japanese decided to combine business style and tourist functionality – this is evidenced by the compact case and the restrained dial design. Mirroring the bezel and hour markers is another plus in favor of a business philosophy. The display in ana-DJ format speaks about the elite functional component of the model – Tough Movement arrow correction technology and the smart access crown Smart Access do their job. An electronic window with large marks is in no way inferior to a fully digital display – all the necessary information is in one place. The back cover forms a single unit with the watch case – a monolithic design only to the benefit of the strength of the case. The special fastening of the strap allows you to easily remove it and change it to any suitable one [depending on the scope of use of the watch]. Of course, there is a triple sensor [barometer, thermometer, compass], solar power and radio time synchronization. The Neon Illuminator backlight [when the hands and hour markers are lit] also separately illuminates the digital window.
Important Information
Price — 410$ *average Amazon Price, we may earn commission from purchases
Year of first Release —  2018
Module Number — 5578
Model Range — RADIO-CONTROLLED
Other Divisions the PRW-60 belongs to: *you may find all watches of the division by clicking on the link
Battery Type — Solar (ProTrek Batteries)
PRW-60 Model Range *may be updated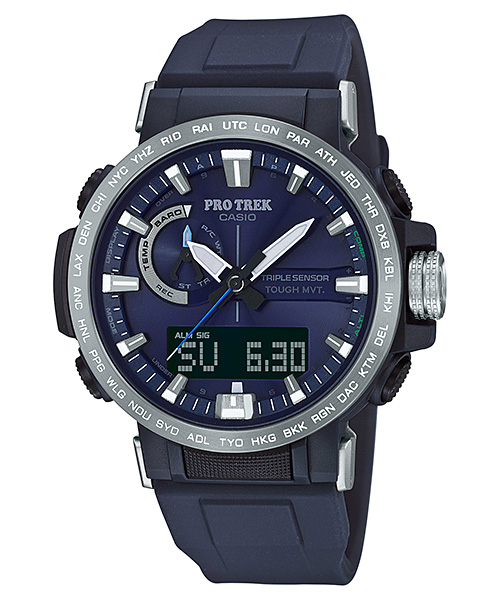 Official Marketing Focus from Casio
From the PRO TREK lineup of serious outdoor gear timepieces with Triple Sensor Version 3, introducing the new PRW-60 Climber Line series of watches. This new model have been designed and engineered to enable a much smaller configuration and easier-to-use functions.
A smaller spring inside the crown and a new CROSS FRAME STRUCTURE that incorporates the case-band link into the watch's back cover make it possible to pack Triple Sensor, MULTIBAND 6, Tough Solar, 100-meter water resistance and more into a compact configuration. The case is smaller by 7 mm vertically and 3.3 mm horizontally, making this model the perfect choice for wear when trekking, climbing or engaged in other outdoor activities.
Official PRW-60 Specs / Features *for base version PRW-60-2A
Case / bezel material: Resin / Stainless steel
Silicon band
Mineral Glass
Neobrite
Screw Lock Crown
100-meter water resistance
Double LED light
LED light for the face (Full auto LED light, Neon illuminator, selectable illumination duration (1.5 seconds or 3 seconds), afterglow)
LED backlight for the digital display (Full auto LED light, selectable illumination duration (1.5 seconds or 3 seconds), afterglow)
Tough Solar (Solar powered)
Low-temperature resistant (–10°C/14°F)
Time calibration signal reception
Auto receive up to six* times a day (remaining auto receives canceled as soon as one is successful)
*5 times a day for the Chinese calibration signal
Manual receive
The latest signal reception results
Time Calibration Signals
Station name: DCF77 (Mainflingen, Germany)
Frequency: 77.5 kHz
Station name: MSF (Anthorn, England)
Frequency: 60.0 kHz
Station name: WWVB (Fort Collins, United States)
Frequency: 60.0 kHz
Station name: JJY (Fukushima, Fukuoka/Saga, Japan)
Frequency: 40.0 kHz (Fukushima) / 60.0 kHz (Fukuoka/Saga)
Station name: BPC (Shangqiu City, Henan Province, China)
Frequency: 68.5 kHz
The auto hand home position correction
Digital compass
Measures and displays direction as one of 16 points
Measuring range: 0 to 359°
Measuring unit: 1°
60 seconds continuous measurement
Hand indication of north
Bidirectional calibration
Magnetic declination correction
Altimeter
Measuring range: –700 to 10,000 m (–2,300 to 32,800 ft.)
Measuring unit: 1 m (5 ft.)
Hand indication of altitude differential
Manual memory measurements (up to 30 records, each including altitude, date, time)
Auto log data (High/low altitudes, cumulative ascent and descent)
Others: Relative altitude readings (±100 m /±1000 m), Selectable measurement interval: 5 seconds or 2 minutes
*1 second for first 3 minutes only
*Changeover between meters (m) and feet (ft)
Barometer
Display range: 260 to 1,100 hPa (7.65 to 32.45 inHg)
Display unit: 1 hPa (0.05 inHg)
Hand indication of pressure differential
Atmospheric pressure tendency graph
Barometric pressure tendency information alarm (beep and arrow indicates significant changes in pressure)
*Changeover between hPa and inHg
Thermometer
Display range: –10 to 60°C (14 to 140°F)
Display unit: 0.1°C (0.2°F)
*Changeover between Celsius (°C) and Fahrenheit (°F)
World time
29 time zones (29 cities + coordinated universal time), One-touch UTC Time Zone Access, daylight saving on/off, Home city/World time city swapping
1/100-second stopwatch
Measuring capacity: 23:59'59.99″
Measuring modes: Elapsed time, split time, 1st-2nd place times
Countdown timer
Measuring unit: 1 second
Countdown range: 60 minutes
Countdown start time setting range: 1 minute to 60 minutes (1-minute increments)
5 daily alarms
Hourly time signal
Hand shift feature (manual or auto (during altitude, barometric pressure, and temperature measurement))
Battery level indicator
Power Saving (display goes blank and hands stop to save power when the watch is left in the dark)
Full auto-calendar (to year 2099)
12/24-hour format
Button operation tone on/off
Regular timekeeping:
Analog: 3 hands (hour, minute (hand moves every 10 seconds), second)
Digital: Hour, minute, second, am/pm, month, date, day
Accuracy: ±15 seconds per month (with no signal calibration)
Approx. battery operating time:
6 months on rechargeable battery (operation period with normal use without exposure to light after charge)
25 months on rechargeable battery (operation period when stored in total darkness with the power save function on after full charge)
Size of case : 50.5×47.2×13.3mm
Total weight : 69g
Recent News about PRW-60
---
You ask, we answer…
What does Tough Solar in PRW-60 mean?
CASIO's original solar-charging system converts not only sunlight but also light from fluorescent lamps and other sources into power.
What is Altimeter in PRW-60?
It's the electronic mechanism that "estimates" the altitude based on the air pressure.
How does Digital compass in PRW-60 work?
It measures and displays direction as one of 16 points.
What does Barometer in PRW-60 do?
It measures the air pressures and displays tendencies in the weather.