| | |
| --- | --- |
| Size | ★★★ |
| Weight | ★★★★★ |
| Functions | ★★★★ |
| Materials | ★★★★★ |
| Battery Years | ★★★★★ |
| Price | ★★★ |
---
PRW-61 Model Range *may be updated
*Want to be the first to know about new ProTrek Updates? Here we store all recent Monthly ProTrek Updates →
---
Quick Content Guide
---
General Information
Price
may be available *average Amazon Price, we may earn commission from purchases
Year of First Release
2022
Model Range
RADIO-CONTROLLED
Battery Type
Solar Powered (ProTrek Batteries

)

Manual
5673 (official)
---
Enjoy Japanese Unique Features in PRW-61!
First Casio watch to use biomass plastics.
For the first time in a PRO TREK or any Casio watch, the case and band are made from eco-friendly biomass plastics instead of conventional resins. The use of biomass plastics also delivers uncompromising resistance to hard use as well as comfort on the wrist. We are proud of this new material application for our line of premiere outdoor tools, PRO TREK.
Case back made from biomass engineered plastics.
For optimal wear resistance and an airtight seal, the case back is made from high-strength engineered plastics made from biomass materials. The case back has a wider flat surface, as well, for better torsional resistance.
High-contrast dial.
Dial contrast has been enhanced by using vivid white for the large bar indexes and hour and the minute hands, delivering optimum visibility in the field. The stainless steel bezel is engraved with city codes for an outdoor gear look.
Compact design never impedes movement. The smaller design never impedes wrist movement in the outdoors, while delivering uncompromising dial visibility and ease of use.
Triple sensor (digital compass, barometer/altimeter, and thermometer) senses natural changes.
Multi Band 6 radio-controlled solar watch for accurate time keeping
Super Illuminator
(high-brightness full-auto double LED light)
for readability in the dark
---
Official ProTrek PRW-61 Video
---
The most distinctive specs of PRW-61
*Editorial
— Biomass plastics in the case, band, and case back (the environmentally friendly biomass plastics are produced using materials derived from castor seeds and corn, as well as other raw materials)
— Solar Powered (Tough Solar provides constant behind-the-scenes power)
— Radio-controlled Watch; Multi band 6 (additional way for time sync. This watch receives time calibration radio signals that keep the displayed time accurate)
— Thermometer (can measure and display the outside temperature in a range from -10 C to 60 C)
— Barometer (measures the air pressures and displays tendencies in the weather)
— Altimeter (The electronic mechanism "estimates" the altitude based on the air pressure)
— Digital compass (measures and displays direction as one of 16 points)
---
ProTrek PRW-61 on the wrist!
---
Enjoy our PROTREK PRW-61 Watch Review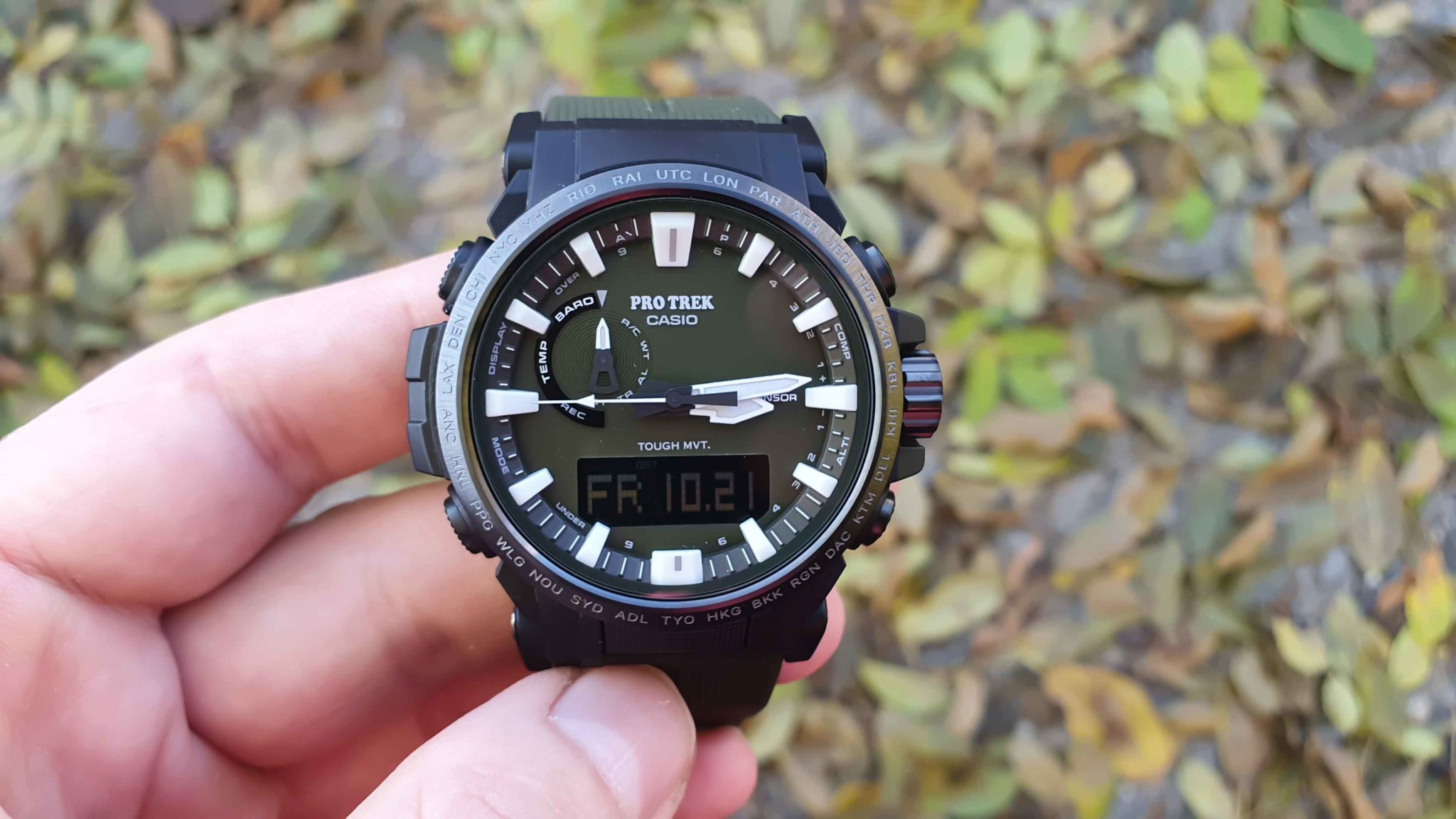 Let's not forget, we are dealing with a new material that has its own special density, strength, and durability characteristics. During one interview, the guys from CASIO pointed out that it was the back cover that had the most problems in terms of maintaining water resistance [sorry, I lost the original source]. As a reminder, the new PRW-61Y-3 got 100m water resistance, as did all PROTREKs, which means the problem was solved. I would also like to mention a very pleasant tactile feeling while wearing the PRW-61Y-3 on the wrist. The feeling of softness and warmth never leaves). Read Full Review →
---
Official PRW-61 Specs / Features *for base version PRW-61-1A
Case/Bezel Material: Resin/Stainless Steel
Dura soft band
Mineral glass
100-meters water resistance
Alarm
5 independent daily alarms, hourly time signal
Altimeter
Measuring range: -700 m to 10,000 m (-2,300 ft. to 32,800 ft.); measuring unit: 1 m (5 ft.); manual memory measurements (up to 30 records, each including altitude, date, time); auto log data (high/low altitudes, cumulative ascent and descent); altitude change indicator (±100m/5m, ±1000m/50m); other: relative altitude readings; measurement interval setting (every 5 seconds / every 2 minutes)
Barometer
This model measures atmospheric pressure. You can forecast weather changes using it.
Measuring range: 260 hPa to 1,100 hPa (7.65 inHg to 32.45 inHg); measuring unit: 1hPa (0.05inHg); atmospheric pressure change indicator (±10hPa/1hPa); atmospheric pressure tendency graph; barometric pressure tendency information alarm
Cold Resistance
This watch will work when others freeze.
Low-temperature resistant (–10°C/14°F)
Digital Compass
You will never go astray with this watch.
Measures and displays direction as one of 16 points; measuring range: 0° to 359°; 60 seconds continuous measurement; hand indication of north; bidirectional calibration and magnetic declination correction
Thermometer
This function allows you to know the current temperature.
Measuring range: -10°C to 60°C (14°F to 140°F); measuring unit: 0.1°C (0.2°F)
Stopwatch
1/100-second; measuring capacity: 23:59'59.99″; measuring modes: elapsed time, split time, 1st and 2nd place times
Countdown Timer
Timer indicates the end of the time period you set.
Measuring unit: 1 second; countdown range: 60 minutes; countdown start time setting range: 1 to 60 minutes (1-minute increments)
Auto hand home position correction
Battery level indicator; power saving
Button operation tone on/off
Hand shift feature (manual or auto [during altitude, barometric pressure, and temperature measurement])
Full auto-calendar; 12/24-hour format
Full auto double LED light (Super Illuminator) with afterglow: 1.5 or 3.0 seconds
Radio Controlled
This watch receives a calibration radio signal, ensuring that the displaying time is always exact.
Solar Powered
This watch can be charged from almost any light source and run few months or more in the dark when fully-charged.
About 6 months after full charge, using all functions but without solar charging
About 25 months with the power-saving function ON after full charge
Size (H×W×D): 51.0 × 47.4 × 14.7 mm
Weight: 53g
Other ProTrek PRW Watches *similar by price and functions but different by cases
These are not all ProTrek PRW Series. Here is a list of All ProTrek PRW Watches →
---
Official Casio Description. PRO TREK is a brand that feels nature, enjoys nature, and loves nature.
The case, band, and back cover are made of plant-based renewable material "biomass plastic," giving consideration to the natural environment.
The material of the case and band has been replaced with environmentally friendly "biomass plastic" from the conventional resin. PRO TREK is, of course, the first attempt as a Casio watch. Quality such as robustness that can withstand hard use and wearability that is familiar to the arm keeps the standard so far. As an outdoor tool, we reviewed how to face nature from the material.
---
PRW-61 Comparison Table with similar PROTREK Watches
Radio-controlled (via atomic watch signals)

Radio-controlled (via atomic watch signals)

Radio-controlled (via atomic watch signals)

STN LCD (more distinct and bigger digits)

"Cross-Frame Structure (disperses impacts, reinforcing the case's)
"

Moon Data (good for fishing and tides)

Double LED light (Auto LED light, Super illuminator)

Double LED light (Auto LED light, Super illuminator)

Neobright and Double LED light

Size (mm) *we consider 48.9×42.8×13.4 to be a traditional watch size (as in DW-5600). So you are to compare how far or close the watch is to this size

Full features (if you want to know more)
---
Recent News about PRW-61 *on casiofanmag.com
---
You ask, we answer…
What does Tough Solar in PRW-61 mean?
CASIO's original solar-charging system converts not only sunlight but also light from fluorescent lamps and other sources into power.
What is Altimeter in PRW-61?
It's the electronic mechanism that "estimates" the altitude based on the air pressure.
How does Digital compass in PRW-61 work?
It measures and displays direction as one of 16 points.
What does Barometer in PRW-61 do?
It measures the air pressures and displays tendencies in the weather.
---
Can't find a ProTrek of your dream? There are more watches!