A watch to leave only positive emotions behind. The kind of watch you want to present to your son for his high school graduation, as you are confident in its reliability and timelessness. No, it's not a G-Shock. It's a strict men's classic named EQB-1000XDC-1A.
"From annoying typicity to modern maximalism" – I would describe the reincarnation of the Edifice watch brand philosophy. After observing this trend's development for more than ten years, I've honestly become cold to the Edifice. Everything became so predictable that each new series's appearance caused only disappointment [nothing new actually].
Since 2019, the Edifice has been changing. The watches have become more expressive, more aggressive, and experiments with other bezel form-factors [not just round], thickness [the thinnest], and smart features [synchronization with the phone] have started. I don't know exactly how it is, but apparently, this results from growing competition in the smartwatch market and the planned waning of "old-school" case sales.
In any case, my interest in this watch direction has returned along with the experiments, and I consider the EQB-1100 to be the most successful Edifice Watch in the brand's history.
The EQB-1000XDC-1A captivates with its masculine charm. There's no doubt about the seriousness of what's going on here: no pompous lines, no blown accents, or similar elements to attract attention.
The EQB-1000XDC-1A is a perfect match for existing materials and improvements. The Japanese had the following: the possibility of using a thinner body [30% thinner than its predecessors], already developed Bluetooth technology, proven in-house technologies [solar power and caliber], premium materials [sapphire crystal, ionized case]. The only thing they had to do is to "package" all this stuff correctly. And they did it.
We got a very masculine, very classic, very functional, and reliable watch in a beautiful slim case. It's a very different type of watch, which G-Shock watches will never be. My point is that a traditional watch of this type will always find its fans.
Case slimness [8.9 mm] is the crucial reason for its success. It's the thinnest thing that makes the watch fit unobtrusively on your wrist. And the hands. I've always loved sharp hands, where, of course, the blue second hand is at the head of this perfection.
If you have to choose between steel and black EQB-1000, I will go with black.
My point today is more about the fact that the Edifice brand must exist and please the world with affordable watches of this high quality. It's a worthy answer to the Swiss classics, which is minimal in functions, but the price tag is several times more expensive than today's hero.
EQB-1000 Comparison Table with similar Edifice Watches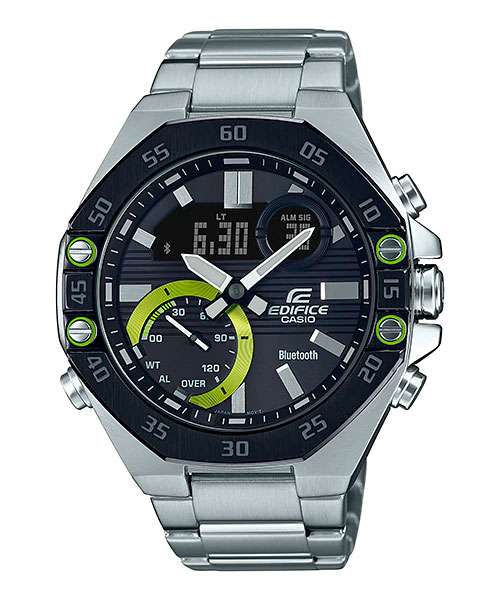 Bluetooth (via phone app)

Bluetooth (via phone app)

Bluetooth (via phone app)

Measuring unit: 1 second
Countdown range: 24 hours
Countdown start time setting range: 1 second to 24 hours (1-second increments, 1-minute increments and 1-hour increments)

Measuring unit: 1/10 second
Countdown range: 24 hours
Countdown start time setting range: 1 second to 24 hours (1-second increments, 1-minute increments and 1-hour increments)

Double LED light (Auto LED light, Super illuminator)

Double LED light (Auto LED light, Super illuminator)

Sapphire Glass with non-reflective coating

Size (mm) *we consider 48.9×42.8×13.4 to be a traditional watch size (as in DW-5600). So you are to compare how far or close the watch is to this size

Full features (if you want to know more)
---
Author Valdemar, special for casioblog.ru and casiofanmag.com. All Rights Reserved…
Edifice EQB-1000 Photo Gallery
---
EQB-1000 Profile / Casio Edifice
Average Amazon Price: $330 (yes, we may earn a commission on qualifying purchases from our links to Amazon)
Year of first release: 2019
Nominations: best design, best materials, best functions, best size
The most distinctive specs:
– 100-meter water resistance (good for swimming but not for deep diving)
– Edifice Connected App (you may manage all watch settings through your phone)
– Mobile link (Wireless linking using Bluetooth(R)) (for time sync with your phone data)
– Tough Solar (CASIO's original solar-charging system converts not only sunlight but also light from fluorescent lamps and other sources into power)
– Sapphire crystal (no scratches, no flares)
– Last Lap Differential Indicator (When using the watch to measure lap times, the difference between the current lap and the last lap is indicated by a dial within a range of –5 to +1 seconds)
– Dual Dial World Time (A dial on the face of the watch always shows the current time in another zone whenever you need it. A sub-dial also indicates a.m. or p.m. at a glance)
Other colors and full specs: EQB-1000 Wiki Page